Open Access
ARTICLE
A Circular Economy Use of Post-Consumer Polypropylene Packaging for Low Thermal Conductive and Fire-Retardant Building Material Applications
1 Faculty of Engineering and Technology, King Mongkut's University of Technology North Bangkok, Rayong, 21120, Thailand
2 Expert Center of Innovative Materials, Thailand Institute of Scientific and Technological Research, Pathum Thani, 12120, Thailand
3 Department of Chemical Engineering, Faculty of Engineering, Srinakharinwirot University, Nakhon Nayok, 26120, Thailand
* Corresponding Author: Nawadon Petchwattana. Email:
Journal of Renewable Materials 2023, 11(9), 3567-3582. https://doi.org/10.32604/jrm.2023.029308
Received 12 February 2023; Accepted 31 March 2023; Issue published 20 July 2023
Abstract
Wastes from polypropylene (PP) packages are accumulating every year because it is one of the most widely consumed and short lifecycle products. This paper aims to develop low thermal conductive and fire-retardant materials from post-consumer PP (pPP) packages. Ammonium polyphosphate (APP) and hollow glass microsphere (HGM) were further added to improve the fire retardancy and thermal conductivity of pPP. The influence of APP and HGM on the mechanical and thermal properties, fire retardancy and thermal conductivity of pPP were investigated and compared with that of virgin PP (vPP). HGM was constantly added at 5 wt% while the content of APP was varied from 5 to 20 wt%. Experimental results showed that the tensile and flexural strengths were reduced with increasing APP concentrations. A morphological study confirmed the poor interfacial adhesion and debonding of each component during the applied load. Formulations containing APP less than 10 wt% did not show a satisfying fire retardancy rating due to the long self-extinguishing time. Further flame dipping and cotton ignition were observed for these formulations. With 15 and 20 wt% APP, the fire rating was signifi- cantly improved from no rating to V-0. The conductive heat transfer coefficient (
k
) was reduced by the presence of HGM. Based on these results, the formulation with 15 and 20 wt% could be used as a low
k
, fire-retardant building material.
---
Graphical Abstract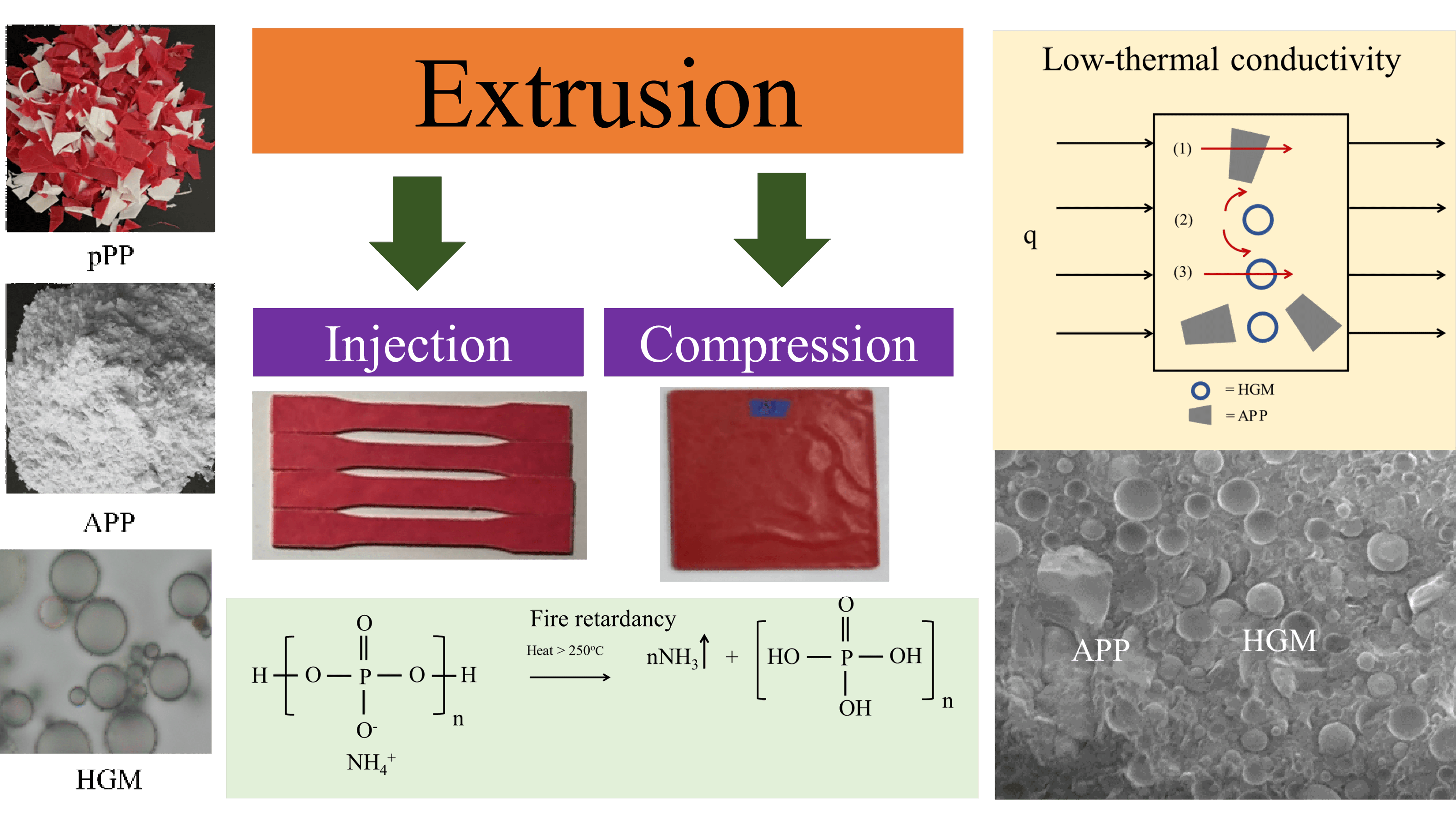 ---
Keywords
---
This work is licensed under a Creative
Commons Attribution 4.0 International License
, which permits unrestricted use, distribution, and reproduction in any medium, provided the original work is properly cited.