Open Access
ARTICLE
Polo-like kinase 1 suppresses lung adenocarcinoma immunity through necroptosis
1 Department of Oncology, The Third Affiliated Hospital of Zhejiang Chinese Medical University, Hangzhou, China
2 Department of Oncology, Anhui Zhongke Gengjiu Hospital, Hefei, China
3 Department of Oncology, The First Affiliated Hospital of Anhui University of Chinese Medicine, Hefei, China
4 Department of Biochemistry and Molecular Biology, School of Integrated Chinese and Western Medicine, Anhui University of Chinese Medicine, Hefei, China
* Corresponding Authors: PENGCHENG ZHANG. Email:
; WEIPING ZHANG. Email:
(This article belongs to this Special Issue: Multi-Omics Approaches for Precision Medicine)
Oncology Research 2023, 31(6), 937-953. https://doi.org/10.32604/or.2023.030933
Received 04 May 2023; Accepted 05 June 2023; Issue published 15 September 2023
Abstract
Polo-like kinase 1 (PLK1) plays a crucial role in cell mitosis and has been associated with necroptosis. However, the role of PLK1 and necroptosis in lung adenocarcinoma (LA) remains unclear. In this study, we analyzed The Cancer Genome Atlas (TCGA) and Genotype-Tissue Expression databases to evaluate the prognostic value and mechanistic role of PLK1 in LA. PLK1 was found to be highly expressed in LA and was positively associated with advanced disease staging and poor survival outcomes. Functional enrichment analysis showed that PLK1 was involved in cell mitosis, neurotransmitter transmission, and drug metabolism. Further analysis using single-sample gene set enrichment analysis and ESTIMATE algorithm revealed a correlation between PLK1 expression and immune infiltration in LA. Silencing of PLK1 using miRNA transfection in LA cells reduced cell proliferation and increased apoptosis, as well as upregulating the expression of necroptosis-related proteins, such as RIPK1, RIPK3, and MLKL. Additionally, nude mouse transplantation tumor experiments demonstrated that silencing PLK1 reduced the growth capacity of LA cells. These findings suggest that PLK1 plays a critical role in LA progression by regulating necroptosis and immune infiltration, and may serve as a potential therapeutic target for immunotherapy. Furthermore, PLK1 expression can be used as a prognostic biomarker for LA patients.
---
Graphical Abstract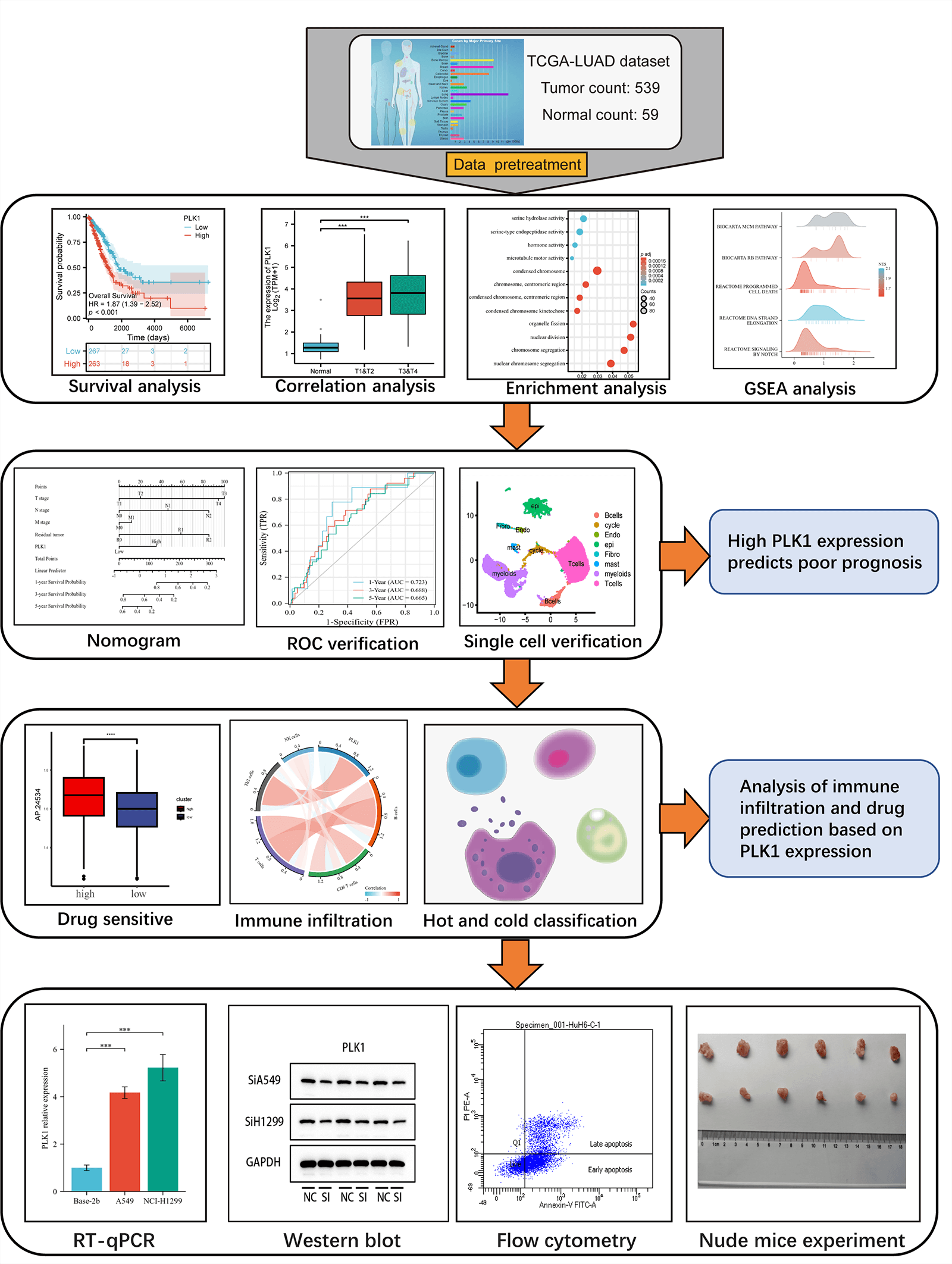 ---
Keywords
---
Supplementary Material
Supplementary Material File
---
This work is licensed under a Creative
Commons Attribution 4.0 International License
, which permits unrestricted use, distribution, and reproduction in any medium, provided the original work is properly cited.