Open Access
ARTICLE
Development of Antioxidant Packaging Film Based on Chinese Bayberry Tannin Extract and Polyvinyl Alcohol
1 Beijing Forestry University, Beijing, 100083, China
2 Yunnan Provincial Key Laboratory of Wood Adhesives and Glued Products, Southwest Forestry University, Kunming, 650224, China
3 Zhejiang Academy of Forestry, Hangzhou, 310023, China
4 Department of Polymers and Pigments, National Research Centre, Cairo, 12622, Egypt
* Corresponding Authors: Xiaojian Zhou. Email:
; Guanben Du. Email:
(This article belongs to this Special Issue: Food Packaging Materials Based on Renewable Resources)
Journal of Renewable Materials 2022, 10(1), 19-31. https://doi.org/10.32604/jrm.2021.016152
Received 10 February 2021; Accepted 06 March 2021; Issue published 27 July 2021
Abstract
The current work explores the potential use of commercial Chinese bayberry tannin (BT) to develop antioxidant PVA-based films using solvent casting process for packaging applications. The effect of BT concentration on opacity, water resistance and antioxidant capacity of resulting films was investigated. Properties like tensile strength, thermal behavior, and morphological aspects were also characterized. The experimental results showed that PVA/BT films formed with uniformly brown color and generally good transparency, offering good antioxidant ability. The PVA film containing BT presented slightly higher water resistance according to the results of moisture content and water vapor permeability, especially at low BT content (<10 wt%). The PVA can be compounded with up to 10 wt% BT without any obvious deterioration in the tensile strength. The PVA/BT films exhibited better thermal degradation behavior compared with PVA alone because of the chemical bonds of PVA-BT and the formation of char at high temperature. Based on the results, PVA incorporated with Chinese bayberry tannin may provide broader formulation options for packaging materials with antioxidant action.
---
Graphical Abstract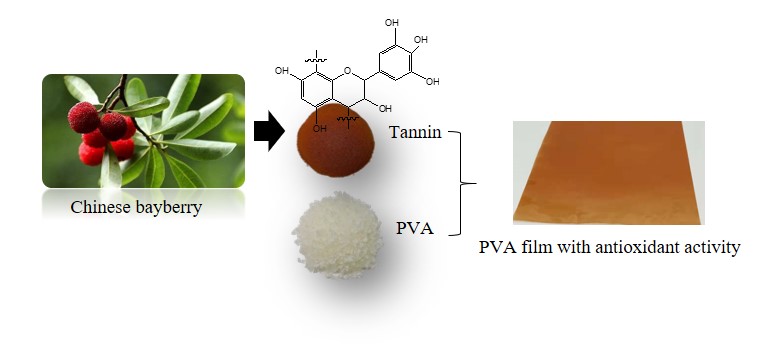 ---
Keywords
---
Cite This Article
Liao, J., Li, J., Wang, H., Zhu, Y., Essawy, H. et al. (2022). Development of Antioxidant Packaging Film Based on Chinese Bayberry Tannin Extract and Polyvinyl Alcohol. Journal of Renewable Materials, 10(1), 19–31.
Citations
This work is licensed under a Creative
Commons Attribution 4.0 International License
, which permits unrestricted use, distribution, and reproduction in any medium, provided the original work is properly cited.