Open Access
ARTICLE
Fully Bio-Based Composites of Poly (Lactic Acid) Reinforced with Cellulose-Graft-Poly-(ε-Caprolactone) Copolymers
1 College of Materials and Metallurgy, Guizhou University, Guiyang, China
2 National Engineering Research Center for Compounding and Modification of Polymer Materials (Guizhou Material Industrial Technology Institute), Guiyang, China
3 College of Materials Science & Engineering, University of Nanchang, Nanchang, China
* Corresponding Author: Haibo Xie. Email:
(This article belongs to this Special Issue: Polylactide Based Biopolymeric Systems)
Journal of Renewable Materials 2023, 11(3), 1137-1152. https://doi.org/10.32604/jrm.2022.021473
Received 16 January 2022; Accepted 23 May 2022; Issue published 31 October 2022
Abstract
Due to the increasing demand for modified polylactide (PLA) meeting "double green" criteria, the research on sustainable plasticizers for PLA has attracted broad attentions. This study reported an open-ring polymerization method to fabricate cellulose (MCC)-g-PCL (poly (ε-caprolactone)) copolymers with a fully sustainable and biodegradable component. MCC-g-PCL copolymers were synthesized, characterized, and used as green plasticizers for the PLA toughening. The results indicated that the MCC-g-PCL derivatives play an important role in the compatibility, crystallization, and toughening of the PLA/MCC-g-PCL composites. The mechanical properties of the fully bio-based PLA/MCC-g-PCL composites were optimized by adding 15 wt% MCC-g-PCL, that is, the elongation at break was 22.6% (~376% higher than that of neat PLA), the tensile strength was 47.3 MPa (comparable to that of neat PLA), and the impact strength was 26 J/m (~130% higher than that of neat PLA). DSC results indicated that MCC-g-PCL reduced the Tg of the PLA blend. When the addition amount was 15 wt%, the Tg of the blend was 58.4°C. Compared with MCC, MCC-g-PCL polyester plasticizer has better thermal stability, T5% (°C) can still be maintained above 300°C. The rheological results showed that MCC-g-PCL acted as a plasticizer, the introduction of PCL flexible chain increased the mobility of PLA molecular chain, and decreased the complex viscosity, storage modulus and loss modulus of PLA blends. The MCC-g-PCL derivatives, as a new green plastic additive, have shown an interesting prospect to prepare fully bio-based composites.
---
Graphical Abstract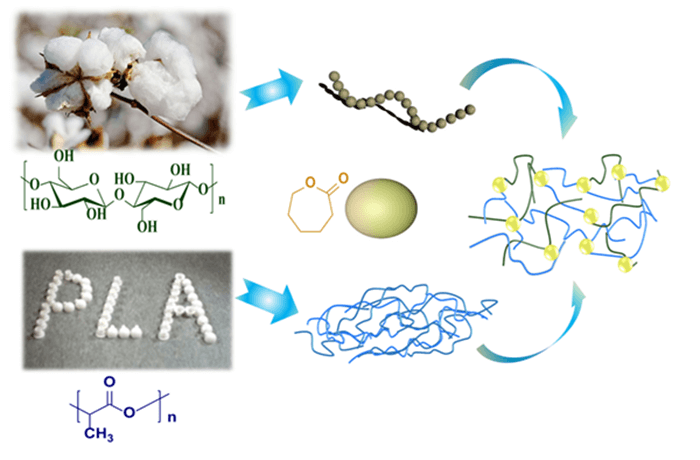 ---
Keywords
---
This work is licensed under a Creative
Commons Attribution 4.0 International License
, which permits unrestricted use, distribution, and reproduction in any medium, provided the original work is properly cited.