Open Access
ARTICLE
Effects of Cationic Surfactant on Fresh and Hardened Properties of Cement-Based Mortar
Laboratory of Energy and Materials, LabEM-LR11ES34, University of Sousse, Sousse, Tunisia
* Corresponding Author: Fadhel Aloulou. Email:
(This article belongs to this Special Issue: Nanocelluloses: Sources, Isolation, and Their Utilization)
Journal of Renewable Materials 2023, 11(5), 2345-2365. https://doi.org/10.32604/jrm.2023.026170
Received 21 August 2022; Accepted 20 October 2022; Issue published 13 February 2023
Abstract
The objective of this study is to analyze the effects of using surfactant (CTAB) and cellulose nanofibers (NFC) as an admixture in cement mortars. We examined composite properties as porosity, compression energy, thermal conductivity and hydration. The results showed that with the addition of 0.7% by weight of NFC per emulsion in the presence of a cationic surfactant (CTAB). The new material produced presented a dry porosity between 4.7% and 4.4%, compressive strength between 9.8 and 22.9 MPa, and thermal conductivity between 0.95 and 2.25 W·m−1·K−1. Thus we show better mechanical and thermal performance than that traditional Portland cement mortar with a density similar. In addition, the mortar made by emulsion of ordinary portland cement, cellulose nanofiber and organophilic clay (OC) treated with cetyltrimethylammonium bromide (CTAB) obtained has good resistance under high temperature and water, as well as excellent thermal insulation performance under high temperature and humidity conditions. This study verified that the presence of NFC promotes hydration, leading to the production of more calcium silicate and portlandite gel.
---
Graphical Abstract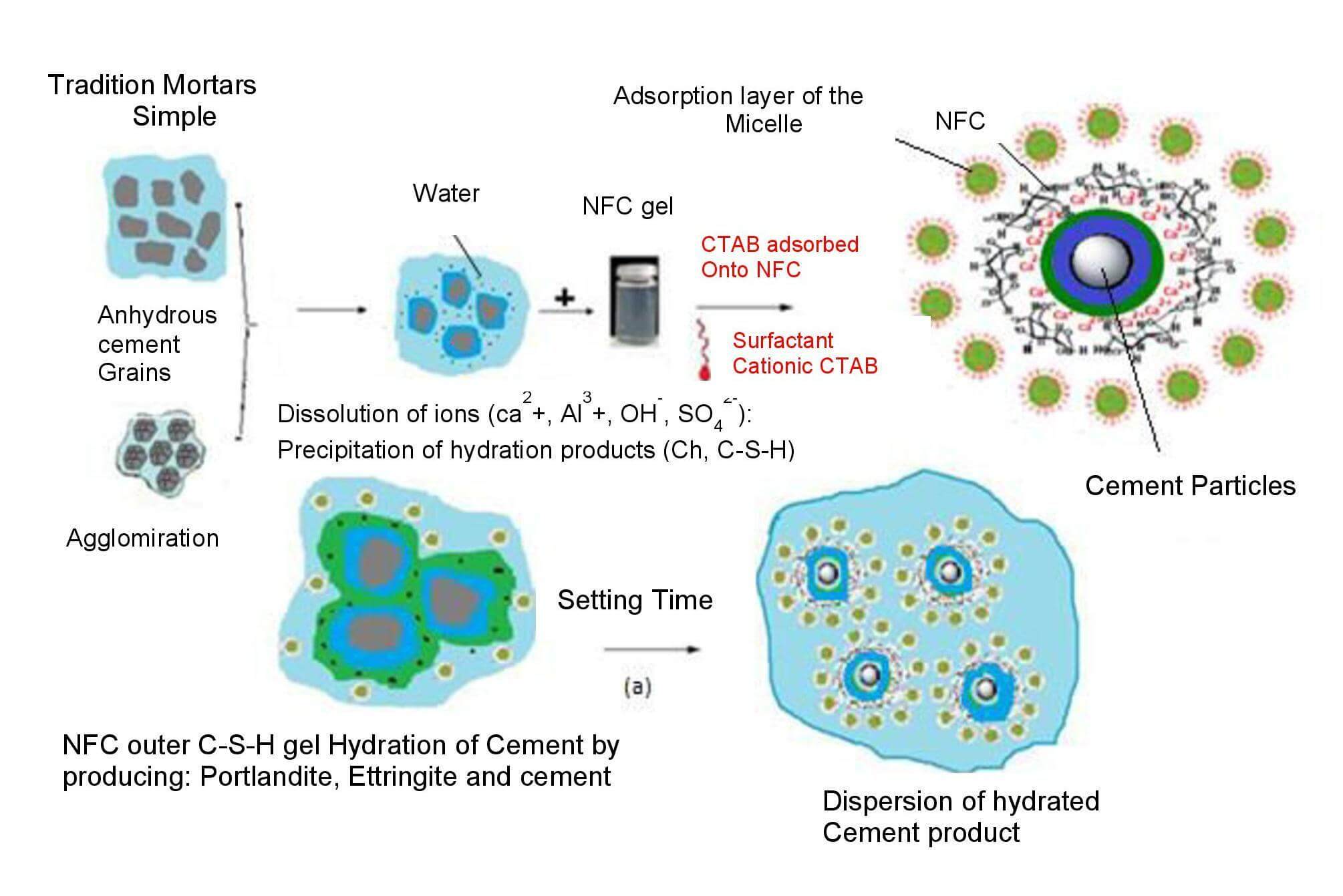 ---
Keywords
---
This work is licensed under a Creative
Commons Attribution 4.0 International License
, which permits unrestricted use, distribution, and reproduction in any medium, provided the original work is properly cited.