Open Access
ARTICLE
Deoxynortryptoquivaline: A unique antiprostate cancer agent
1 Institute of Microbial Chemistry (BIKAKEN), Numazu Branch, Microbial Chemistry Research Foundation, Numazu, 410-0301, Japan
2 Institute of Microbial Chemistry (BIKAKEN), Laboratory of Oncology, Microbial Chemistry Research Foundation, Shinagawa-ku, 141-0021, Japan
* Corresponding Author: YOHKO YAMAZAKI. Email:
(This article belongs to this Special Issue: Approach from Chemical Biology for Cancer Research)
Oncology Research 2023, 31(6), 845-853. https://doi.org/10.32604/or.2023.030266
Received 24 April 2023; Accepted 26 June 2023; Issue published 15 September 2023
Abstract
The androgen receptor (AR) is a critical target in all the clinical stages of prostate cancer. To identify a new AR inhibitor, we constructed a new screening system using the androgen-dependent growth of prostate cancer cell lines as a screening indicator. We screened 50,000 culture broths of microorganisms using this screening system and found that the fermentation broth produced by a fungus inhibited androgen-dependent growth of human prostate cancer LNCaP cells without cytotoxicity. Purification of this culture medium was performed, and this resulted in deoxynortryptoquivaline (DNT) being identified as a novel inhibitor of AR function. DNT showed potent inhibition of androgen-dependent growth of human prostate cancer LNCaP cells. The AR competitor assay was performed, and DNT did not act as an AR antagonist. However, DNT inhibited AR-dependent transcriptional activity and AR nuclear translocation, it suggested that the suppression of AR function leads to inhibition activity against androgen-dependent growth.
---
Graphical Abstract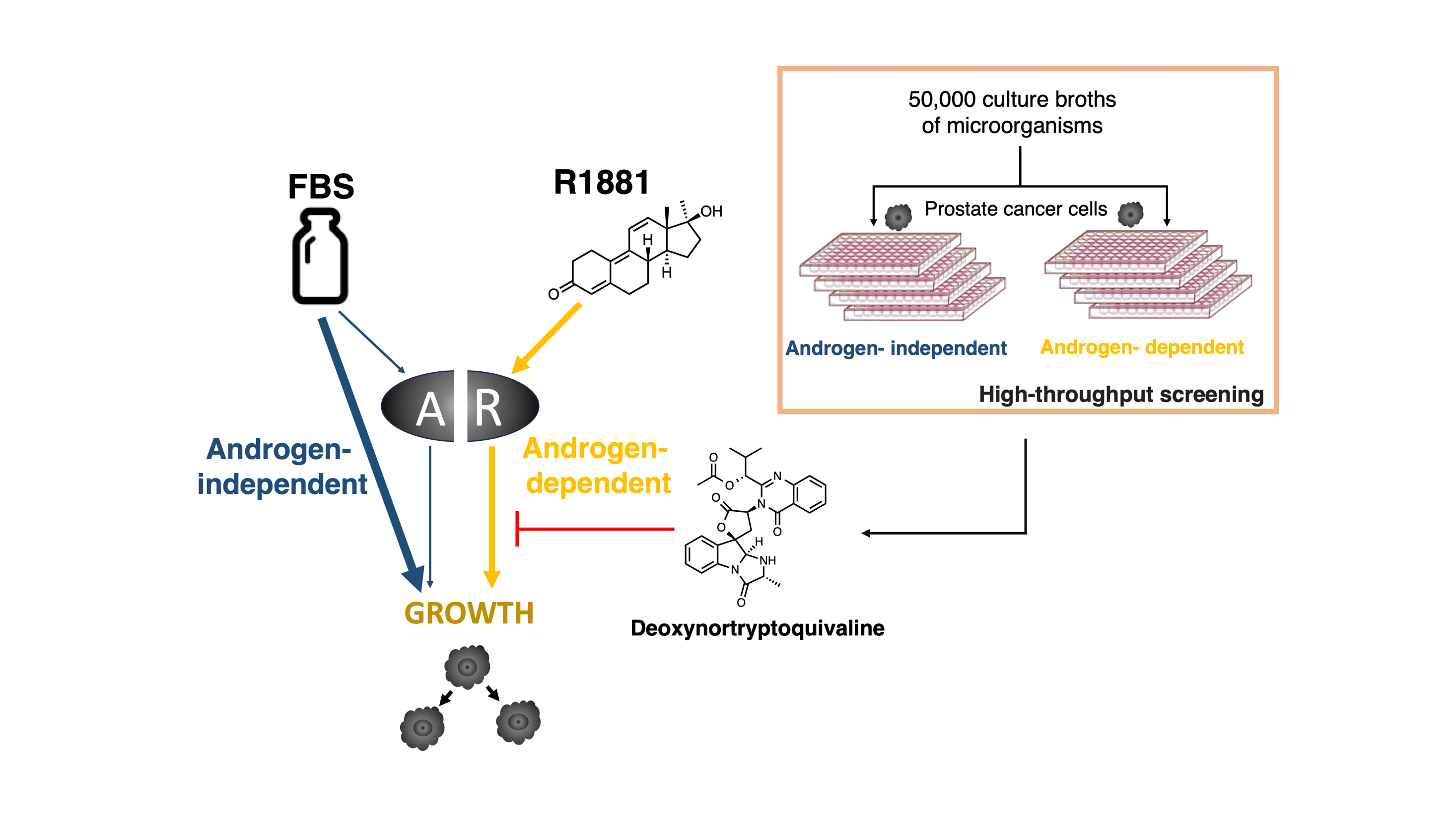 ---
Keywords
---
This work is licensed under a Creative
Commons Attribution 4.0 International License
, which permits unrestricted use, distribution, and reproduction in any medium, provided the original work is properly cited.