Open Access
ARTICLE
Qualitative Exploration and Correction Strategies of the Criminal Psychological Mechanism of the Burglars
1 Postdoctoral Station, China University of Political Science and Law, Beijing, 100088, China
2 College of Humanities and Management, Guilin Medical College, Guilin, 541000, China
3 School of Social Sciences, China University of Political Science and Law, Beijing, 100088, China
* Corresponding Author: Bo Yang. Email:
International Journal of Mental Health Promotion 2023, 25(4), 595-611. https://doi.org/10.32604/ijmhp.2023.027321
Received 24 October 2022; Accepted 12 December 2022; Issue published 01 March 2023
Abstract
In order to explore the criminal psychological mechanism of burglars, this study adopts the qualitative research method of grounded theory to conduct in-depth interviews with 41 burglars in two prisons in Jiangxi Province, China. Nvivo 11.0 was used to code-construct and qualitatively analyze the interview content in order to refine the influencing factors and psychological evolution process of burglary behavior. The findings revealed that (1) burglary risk factors include burglary cognition, burglary motivation, burglary decision-making, delinquent peers, burglary opportunity, and incomplete reformation. (2) There are three stages in the psychological evolution process of burglars: cognitive formation, motivational dominance, and behavioral decision. (3) The interpretation of the criminal psychological mechanism of burglars is a comprehensive and dynamic outcome of the interaction of internal and external factors that shape the individual. Participants' inspection and non-participants' inspection were adapted to verify the research results' validity, which showed that the results were reliable.
---
Graphical Abstract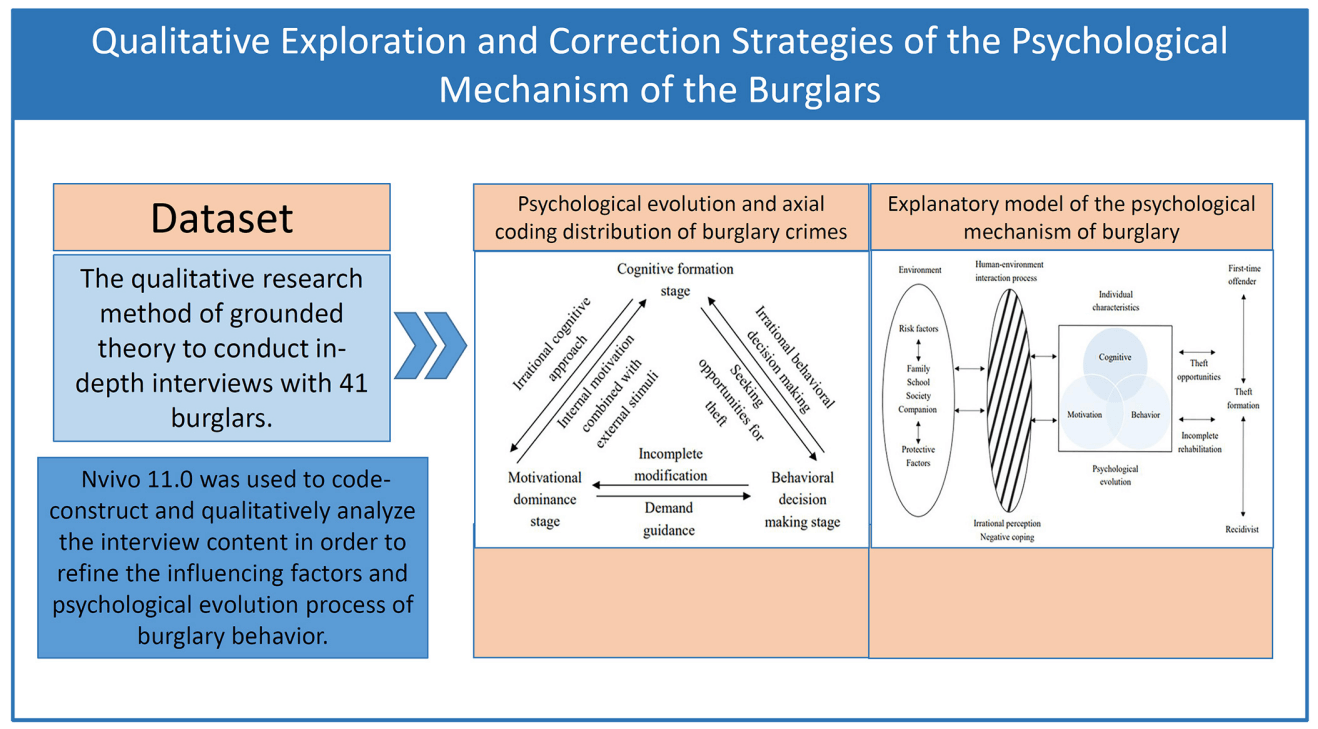 ---
Keywords
---
This work is licensed under a Creative
Commons Attribution 4.0 International License
, which permits unrestricted use, distribution, and reproduction in any medium, provided the original work is properly cited.