Open Access
ARTICLE
The Management of Mental Health, and Service Networks in Italy
Political and Legal Sciences Department, University of Messina, Messina, 98029, Italy
* Corresponding Author: Silvia Carbone. Email:
International Journal of Mental Health Promotion 2023, 25(8), 927-935. https://doi.org/10.32604/ijmhp.2023.027784
Received 15 November 2022; Accepted 08 February 2023; Issue published 06 July 2023
Abstract
Madness has attracted and frightened for centuries, and talking about this means discussing how this diversity was built and managed in different social contexts and historical periods. Not all societies have had, and still have, the same relationship with madness. It is only with the affirmation of the Modern State, and of Capitalism, that the idea of "normality" indispensable to be able to conceive diversity as something dangerously distant and different from the norm takes over. In our post-modern society, people with mental illness in Italy can resort to specialists and social-health services. But the heterogeneous answers given after the approval of law 180 appear to be increasingly diversified. In this research, much attention will be paid to how the social and health services, located in different areas of Italy (Messina, Rome, Trento) face the current growing risk of social, housing and economic isolation of these fragile subjects. The aim of the research is to explore the possibility of a new relationship between the social-health service and the local community. On the one hand, research investigates what the contribution of the services could be. On the other what the spaces of protagonism and participation of the community could be in inclusion process account. In order to better understand the differences between these two dimensions, a qualitative research approach was chosen through the conduct of in-depth interviews. In this way it was possible to investigate: (1) the partial representations characteristic of the single individual, family members, operators and stackholders in general; (2) the services around the topic dealt with is articulated. From the first results of the research it emerges that the territory can no longer be considered as an abstract entity, but becomes the social space within which the construction of a new community welfare can and must take place.
---
Graphical Abstract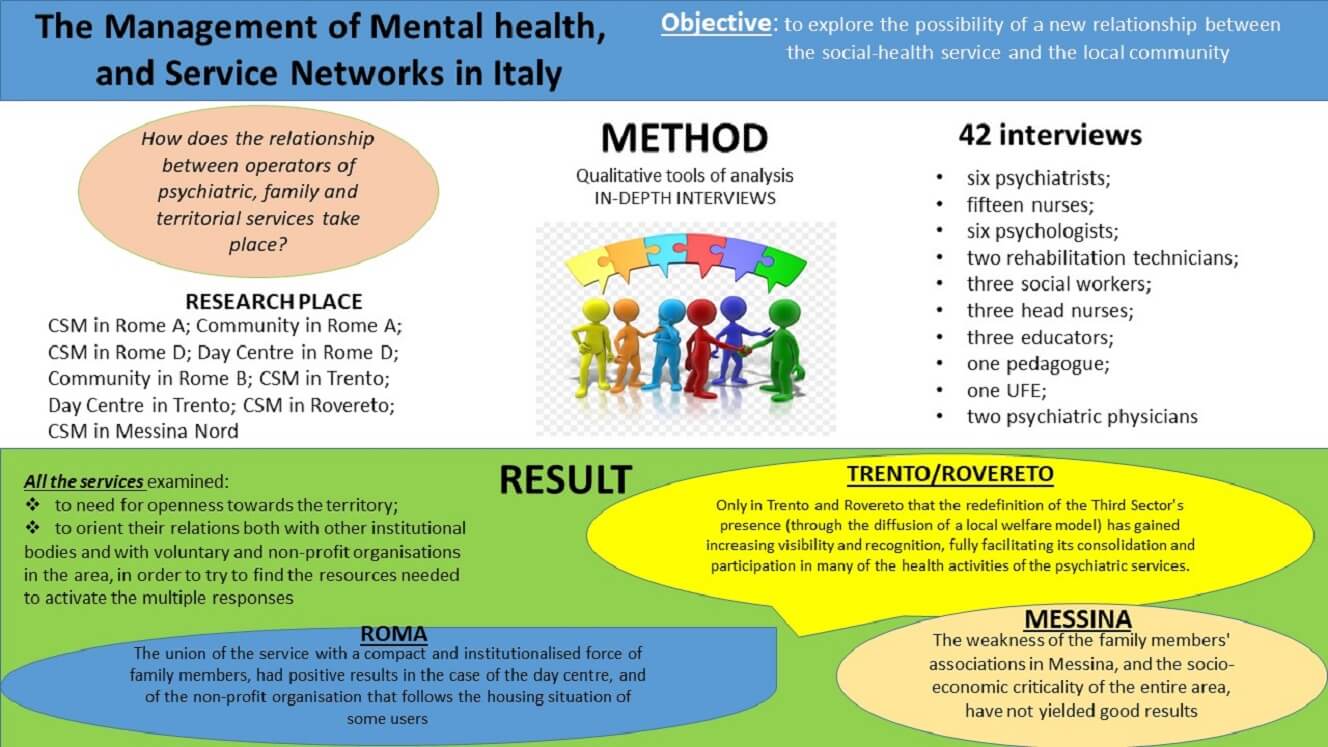 ---
Keywords
---
This work is licensed under a Creative
Commons Attribution 4.0 International License
, which permits unrestricted use, distribution, and reproduction in any medium, provided the original work is properly cited.