Open Access
ARTICLE
Blue LED promotes the chemosensitivity of human hepatoma to Sorafenib by inducing DNA damage
1 Department of Pharmacy (The University Key Laboratory of Drug Research, Heilongjiang Province), The Second Affiliated Hospital of Harbin Medical University, Harbin, China
2 Department of General Surgery, The First Affiliated Hospital of Harbin Medical University, Harbin, China
3 National Key Laboratory of Frigid Cardiovascular Disease, Harbin, China
4 Department of Pharmacology (The State-Province Key Laboratories of Biomedicine Pharmaceutics of China, Key Laboratory of Cardiovascular Research, Ministry of Education), College of Pharmacy, Harbin Medical University, Harbin, China
5 Department of Clinical Pharmacology, College of Pharmacy, Harbin Medical University, Harbin, China
* Corresponding Authors: LINQIANG LI. Email:
; YE YUAN. Email:
(This article belongs to this Special Issue: Application of Deep Learning in Cancer)
BIOCELL 2023, 47(8), 1811-1820. https://doi.org/10.32604/biocell.2023.029120
Received 01 February 2023; Accepted 14 April 2023; Issue published 28 August 2023
Abstract
Background:
Phototherapies based on sunlight, infrared, ultraviolet, visible, and laser-based treatments present advantages like high curative effects, small invasion, and negligible adverse reactions in cancer treatment. We aimed to explore the potential therapeutic effects of blue light emitting diode (LED) in human hepatoma cells and decipher the underlying cellular and molecular mechanisms.
Methods:
Wound healing and transwell assays were employed to probe the inhibition of the invasion and migration of hepatocellular carcinoma cells in the presence of blue LED. The sphere-forming test was used to evaluate the effect of LED blue light irradiation on cancer stem cell properties. Immunofluorescence and western blotting were used to detect the changes in γ-H2AX. The Cell Counting Kit-8 assay, 5-ethynyl-2′-deoxyuridine staining, and colony formation assay were used to detect the combined effect of blue LED and sorafenib on cell proliferation inhibition.
Results:
We demonstrated that the irradiation of blue LED light in hepatoma cells could lead to cell proliferation reduction along with the increase of cell apoptosis. Simultaneously, blue LED irradiation also markedly suppressed the migration and invasion ability of human hepatoma cells. Sphere formation analysis further revealed the decreased cancer stemness of hepatoma cells upon blue LED irradiation. Mechanistically, blue LED irradiation significantly promoted the expression of the phosphorylation of the core histone protein H2AX (γ-H2AX), a sensitive molecular marker of DNA damage. In addition, we found that the combined treatment of blue LED irradiation and sorafenib increased cancer cell sensitivity to sorafenib.
Conclusion:
Collectively, we demonstrated that blue LED irradiation exhibited anti-tumor effects on liver cancer cells by inducing DNA damage and could enhance chemosensitivity of cancer cells, which represents a potential approach for human hepatoma treatment.
---
Graphical Abstract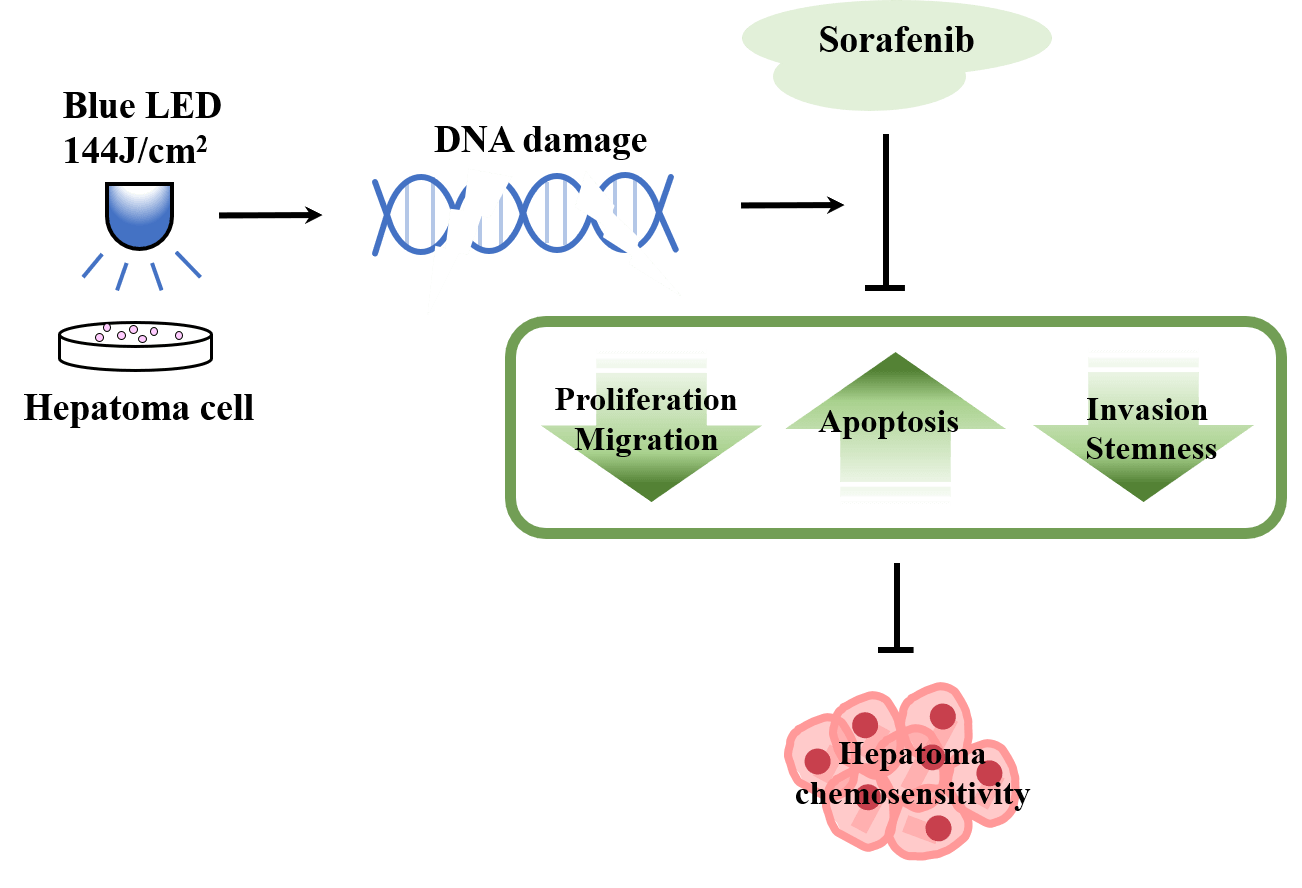 ---
Keywords
---
This work is licensed under a Creative
Commons Attribution 4.0 International License
, which permits unrestricted use, distribution, and reproduction in any medium, provided the original work is properly cited.