Open Access
CASE REPORT
A Rare Case of Transcatheter Closure of Both Inlet and Outlet of a Left Coronary Artery-to-Left Ventricular Fistula with Giant Coronary Artery Aneurysm
1 Department of Pediatric Cardiology, Guangdong Cardiovascular Institute, Guangdong Provincial People's Hospital, Guangdong Academy of Medical Sciences, Guangdong Provincial Key Laboratory of South China Structural Heart Disease, Guangzhou, China
2 Department of Cardiac Surgery, Guangdong Cardiovascular Institute, Guangdong Provincial People's Hospital, Guangdong Academy of Medical Sciences, Guangdong Provincial Key Laboratory of South China Structural Heart Disease, Guangzhou, China
* Corresponding Author: Zhiwei Zhang. Email:
(This article belongs to this Special Issue: Nightmare Case Reports in Congenital Heart Disease)
Congenital Heart Disease 2022, 17(5), 541-549. https://doi.org/10.32604/chd.2022.024907
Received 13 June 2022; Accepted 08 July 2022; Issue published 06 September 2022
Abstract
A congenital coronary artery fistula (CCAF) combined with giant coronary aneurysm (CAA) is a rare congenital cardiac abnormality. We reported an 8-year-old patient who underwent transcatheter closure of both inlet and outlet of a proximal left coronary artery (LCA)-to-left ventricular (LV) fistula with CAA of 41 mm × 28 mm in diameter, during which acute occlusion of left anterior descending coronary artery (LAD) occurred immediately after device implantation at the inlet of fistula. We managed to prevent the patient from major adverse cardiac events by conservative therapy with dual antiplatelet agents instead of surgical removal of the device. The patient recovered well and had been follow-up for 2 years with no late complications reported.
---
Graphical Abstract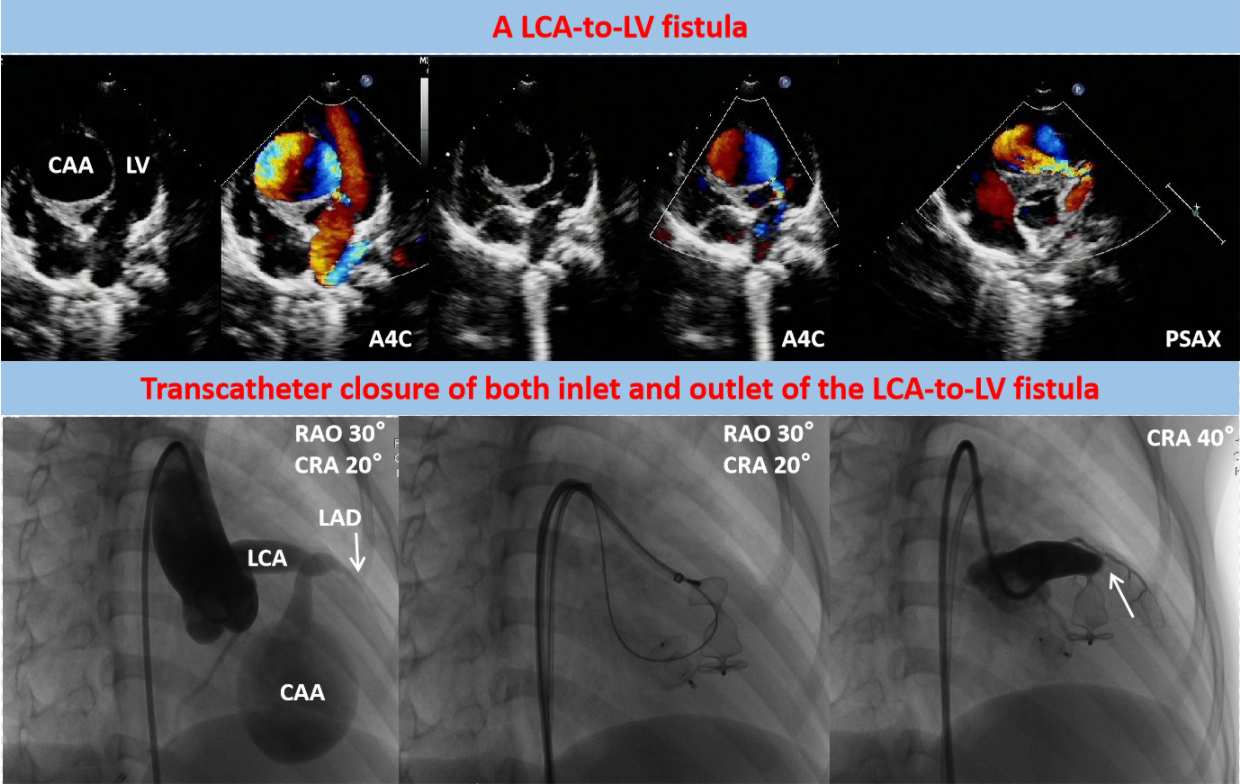 ---
Keywords
---
This work is licensed under a Creative
Commons Attribution 4.0 International License
, which permits unrestricted use, distribution, and reproduction in any medium, provided the original work is properly cited.