Congenital Heart Disease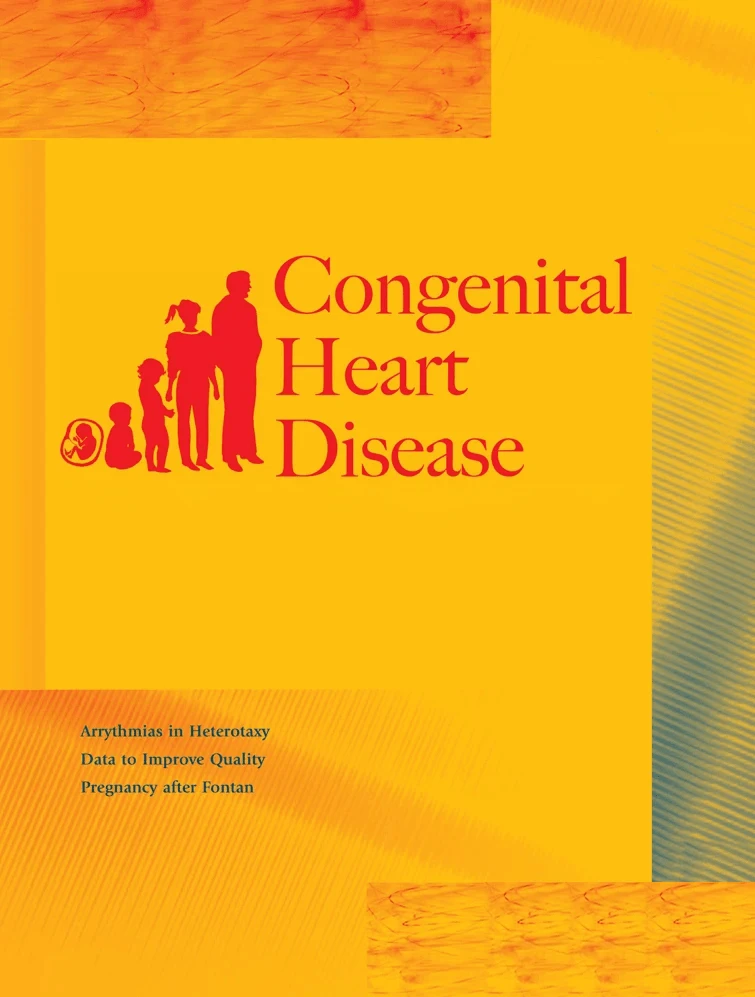 ISSN: 1747-079X (print)

Impact Factor: 2.007

ISSN: 1747-0803 (online)

Publication Frequency: Bi-monthly
About the Journal
Congenital Heart Disease is the first journal focused exclusively on the study and treatment of congenital heart defects in children and adults. We are committed to publishing research articles, reviews, editorials, guidelines and case reports (mainly by invitation). All manuscripts (including invited) will undergo a rigorous and thorough editorial procedure to promote reliable research findings.
Indexing and Abstracting
Science Citation Index Expanded (Clarivate Analytics): 2020 Impact Factor: 2.007; Scopus CiteScore (Impact per Publication 2021): 4.0; SNIP (Source Normalized Impact per Paper 2021): 1.268; Journal Citation Report/Science Edition (JCR); etc.
OPEN ACCESS

ARTICLE

Combined Echocardiography and Lung Ultrasound for Extubation Outcome Prediction in Children after Cardiac Surgery
Muzi Li1,4, Hong Meng1,4,*, Liang Zhang2, Yuzi Zhou3, Chao Liang4, Zhiling Luo4, Hao Wang1,*

Congenital Heart Disease, Vol.17, No.3, pp. 231-244, 2022, DOI:10.32604/chd.2022.019480

Abstract Background: Children are at risk of extubation failure after congenital heart disease surgery. Such cases should be identified to avoid possible adverse consequences of failed extubation. This study aimed to identify ultrasound predictors of successful extubation in children who underwent cardiac surgery. Methods: Children aged 3 months to 6 years who underwent cardiac surgery (if they were intubated for >6 h and underwent a spontaneous breathing trial) were included in this study. Results: We included 83 children who underwent surgery for congenital heart disease. Transthoracic echocardiography and lung ultrasound were performed immediately before spontaneous breathing trials. Upon spontaneous breathing trial… More
OPEN ACCESS

ARTICLE

Predictors of Health-Related Quality of Life in Children with Cyanotic Heart Disease Who Underwent Palliative and Total Repair
Jutarat Tanasansuttiporn1, Maliwan Oofuvong1,*, Wirat Wasinwong1, Voravit Chittithavorn2, Pongsanae Duangpakdee2, Jirayut Jarutach3, Qistina Yunuswangsa1

Congenital Heart Disease, Vol.17, No.3, pp. 245-267, 2022, DOI:10.32604/chd.2022.021778

Abstract Background: Studies on predictors of health-related quality of life (HRQOL) in pediatric patients with cyanotic heart disease who are waiting for the next stage and those who have undergone total repair are scarce. Therefore, we aimed to identify such predictors in children who received the modified Blalock–Taussig shunt (MBTS) and those who underwent total repair. Methods: In this historical cohort and concurrent follow-up study, data of children who underwent MBTS at the age of 0–3 years between January 2005 and December 2016 at a super-tertiary care hospital in Southern Thailand were obtained. Children who were alive in December 2017 were… More

Graphical Abstract
OPEN ACCESS

ARTICLE

Mid-Term Preliminary Results for Safety and Patency of the Occlutech Atrial Flow Regulator in an Animal Model
Kamel Shibbani1, Daniel McLennan2, Dunbar Ivy3, Gareth Morgan3,*

Congenital Heart Disease, Vol.17, No.3, pp. 269-280, 2022, DOI:10.32604/chd.2022.019973

Abstract Objective: The Atrial Flow Regulator (AFR) is a double disc device made of self-expanding Nitinol wire mesh, structured around a central lumen. Once deployed via the transfemoral route, the device stents the atrial septum leaving a preselected fixed diameter atrial communication. We sought to evaluate the mid-term performance of the AFR by implanting the device in 5 healthy porcine hearts to assess safety and patency of the device fenestration over a period of 150 days. Method: Five AFR devices were implanted in 5 female Yucatan adult minipigs. The animals were survived to 150 days with periodic assessments at days +3,… More

Graphical Abstract
OPEN ACCESS

ARTICLE

Hye Won Kwon1,2, Mi Kyoung Song1, Sang Yun Lee1, Gi Beom Kim1, Sungkyu Cho2, Jae Gun Kwak2, Woong-Han Kim2, Whal Lee3, Eun Jung Bae1,*

Congenital Heart Disease, Vol.17, No.3, pp. 281-295, 2022, DOI:10.32604/chd.2022.019065

Abstract Background: Mechanisms and clinical manifestations of coronary artery complications after right ventricular outflow tract reconstruction surgery are not well known. Methods: Patients who had coronary artery complications after pulmonary valve replacement or the Rastelli procedure at a single tertiary centre were retrospectively analysed. Results: Coronary artery complications were identified in 20 patients who underwent right ventricular outflow tract reconstruction surgery. The median age at diagnosis of coronary artery complication was 21 years (interquartile range: 13–25 years). Mechanisms of coronary artery complications were compression by adjacent materials in 12 patients, dynamic compression of intramural course of coronary artery in two patients,… More
OPEN ACCESS

ARTICLE

Coronary Artery Anomalies in D-Transposition of the Great Artery Following Arterial Switch Operation
Thita Pacharapakornpong, Jarupim Soongswang*, Chodchanok Vijarnsorn, Paweena Chungsomprasong, Kritvikrom Durongpisitkul, Prakul Chanthong, Supaluck Kanjanauthai

Congenital Heart Disease, Vol.17, No.3, pp. 297-311, 2022, DOI:10.32604/chd.2022.019279

Abstract Background: The survival rate of patients following arterial switch operation (ASO) exceeds 95%, but coronary artery anomalies (CAA) contribute to a 2% incidence of sudden cardiac arrest later in life. Therefore, we aimed to assess abnormal findings of coronary arteries in post-ASO patients. Methods: Coronary computed tomography angiography (CCTA) is performed on post-ASO patients who meet institutional criteria. Intraoperative findings of coronary artery patterns were retrospectively reviewed and categorized using the Leiden classification system. Coronary artery anomalies were detected by CCTA and associations with coronary artery compromise were explored. Results: Forty-three patients who had CCTA with a median age of… More
OPEN ACCESS

ARTICLE

Onur Doyurgan1,*, Osman Akdeniz2, Fatih Özdemir1, Yiğit Kılıç1, Bedri Aldudak3

Congenital Heart Disease, Vol.17, No.3, pp. 313-323, 2022, DOI:10.32604/chd.2022.018479

Abstract Background: Vascular access used for pediatric cardiac catheterization is one of the most important factors that affects the success of the procedure. We aimed to compare the effect, success, and complications of cardiac catheterizations performed by carotid cut-down or femoral puncture in newborns or young infants. Methods: We included who underwent catheterization in our department between 28 January 2017 and 15 April 2021. These patients underwent balloon aortic valvuloplasty, balloon coarctation angioplasty, ductal stenting, diagnostic procedures for aortic arch pathologies, and modified Blalock-Taussig in-shunt intervention. Patients were divided into two groups: femoral puncture (group = 1) and carotid cut-down (CC,… More
OPEN ACCESS

ARTICLE

Predictors and Effects of Persistent Hypertension after Successful Treatment of Coarctation of the Aorta
Mohamed Saber Hafez*, Alaa Roushdy, Dina Ezzeldin

Congenital Heart Disease, Vol.17, No.3, pp. 325-333, 2022, DOI:10.32604/chd.2022.019025

Abstract Background: Coarctation of the aorta is a congenital heart disease that sometimes remains clinically silent until adulthood, usually presenting with arterial hypertension. It is well known that after coarctation treatment, many patients remain hypertensive despite successful repair. In this study we approached the predictors and effects of residual hypertension after successful coarctation therapy. Methods: It was a cross sectional observational study involving 50 patients who underwent Coarctation repair/angioplasty in Ain Shams university hospitals. We divided the patients into two groups (hypertensive and normotensive) and we studied their demographic data (e.g., age, gender, age at first repair, follow up period, etc.)… More
OPEN ACCESS

ARTICLE

Long-Term Outcome and Risk Factor Analysis of Surgical Pulmonary Valve Replacement in Congenital Heart Disease
Woo Young Park1, Gi Beom Kim1,*, Sang Yun Lee1, Mi Kyoung Song1, Hye Won Kwon1, Hyo Soon An1, Eun Jung Bae1, Sungkyu Cho2, Jae Gun Kwak2, Woong-Han Kim2

Congenital Heart Disease, Vol.17, No.3, pp. 335-350, 2022, DOI:10.32604/chd.2022.018666

Abstract Objectives: To establish long-term outcome of surgical pulmonary valve replacement (PVR) in congenital heart disease (CHD) and to identify risk factors for overall mortality, operative mortality, and repetitive PVR. Methods: This is a retrospective study of 375 surgical PVR in 293 patients who underwent surgical PVR for CHD between January 2000 and May 2020. We only included patients with index PVR with previous open-heart surgery regardless of the number of PVRs. The previous surgical history of patients who underwent PVR during the study period was also included. Patients who underwent the Rastelli operation, and those who underwent single PVR without… More
OPEN ACCESS

ARTICLE

Prediction of Pulmonary Arterial Pressure Level after Repair of Congenital Cardiac Communications and Discharge from the Hospital: Role of Down Syndrome and Early Postoperative Hemodynamics
Eloisa Sassá Carvalho#, Maria Francilene S. Souza, Kelly Cristina O. Abud, Claudia R. P. Castro, Juliano G. Penha, Ana Maria Thomaz, Vanessa A. Guimarães, Antonio Augusto Lopes*

Congenital Heart Disease, Vol.17, No.3, pp. 351-363, 2022, DOI:10.32604/chd.2022.019382

Abstract Background: Postoperative pulmonary hypertension limits the success of surgical treatment in some patients with unrestrictive congenital cardiac communications. Identifying patients at risk of developing postoperative pulmonary hypertension is important to individualize follow-up strategies. Methods: We analyzed a prospective cohort of 52 pediatric patients (age 3 to 35 months) looking for perioperative predictors of mildly elevated pulmonary arterial pressure 6 months after surgery, defined as a systolic pressure greater than 30 mmHg by transthoracic echocardiography. This corresponds to a mean pulmonary arterial pressure of >20 mmHg. Clinical, echocardiographic and hemodynamic parameters were investigated. Perioperative hemodynamics was assessed by directly measuring pulmonary and systemic… More
OPEN ACCESS

ARTICLE

Effectiveness of Bilateral Pulmonary Artery Banding in Patients with Hypoplastic Left Heart Syndrome and Congenital Heart Defects with A Functional Single Ventricle: A Single-Center Retrospective Study
Vitaliy Suvorov1,*, Vladimir Zaitcev1, Karolina Andrzejczyk2

Congenital Heart Disease, Vol.17, No.3, pp. 365-374, 2022, DOI:10.32604/chd.2022.019126

Abstract Background: Bilateral banding of the branches of the pulmonary artery in patients with hypoplastic left heart syndrome (HLHS) and other duct dependent critical neonatal heart malformations can significantly reduce the incidence of severe complications in the postoperative period, especially in severely unstable patients. In our study we compared different surgical techniques of bilateral pulmonary artery banding (PAB) in respect to their success in balancing systemic and pulmonary blood flow. Methods: We included 44 neonates with a HLHS and congenital heart diseases (CHD) with a functional single ventricle underwent a hybrid operation: bilateral PAB and patent ductus arteriosus stenting. The hybrid… More