Open Access
CASE REPORT
Emergency Hybrid Correction in a Newborn with Critical Aortic Valve Stenosis with Acute Pulmonary Edema in the First Hour after Birth
Saint Petersburg State Pediatric Medical University, Saint-Petersburg, Russia
* Corresponding Author: Vitaliy Suvorov. Email:
(This article belongs to this Special Issue: Nightmare Case Reports in Congenital Heart Disease)
Congenital Heart Disease 2023, 18(1), 57-65. https://doi.org/10.32604/chd.2023.025522
Received 20 July 2022; Accepted 22 October 2022; Issue published 09 January 2023
Abstract
Critical aortic valve stenosis in newborns is the cause of a severe clinical condition with the onset of symptoms during first hours after birth. We present a clinical case of a successful surgical correction of a critical aortic stenosis using a hybrid method applied in a newborn during the first day of life. The infant was diagnosed with a hypoplastic left heart complex with an intact atrial septum (aortic and mitral valves stenosis variant), that led to the cardiogenic shock and acute pulmonary edema. The procedure included bilateral banding of the pulmonary artery branches and atrioseptostomy with stenting of the interatrial septum. The surgery was performed through a median sternotomy.
---
Graphical Abstract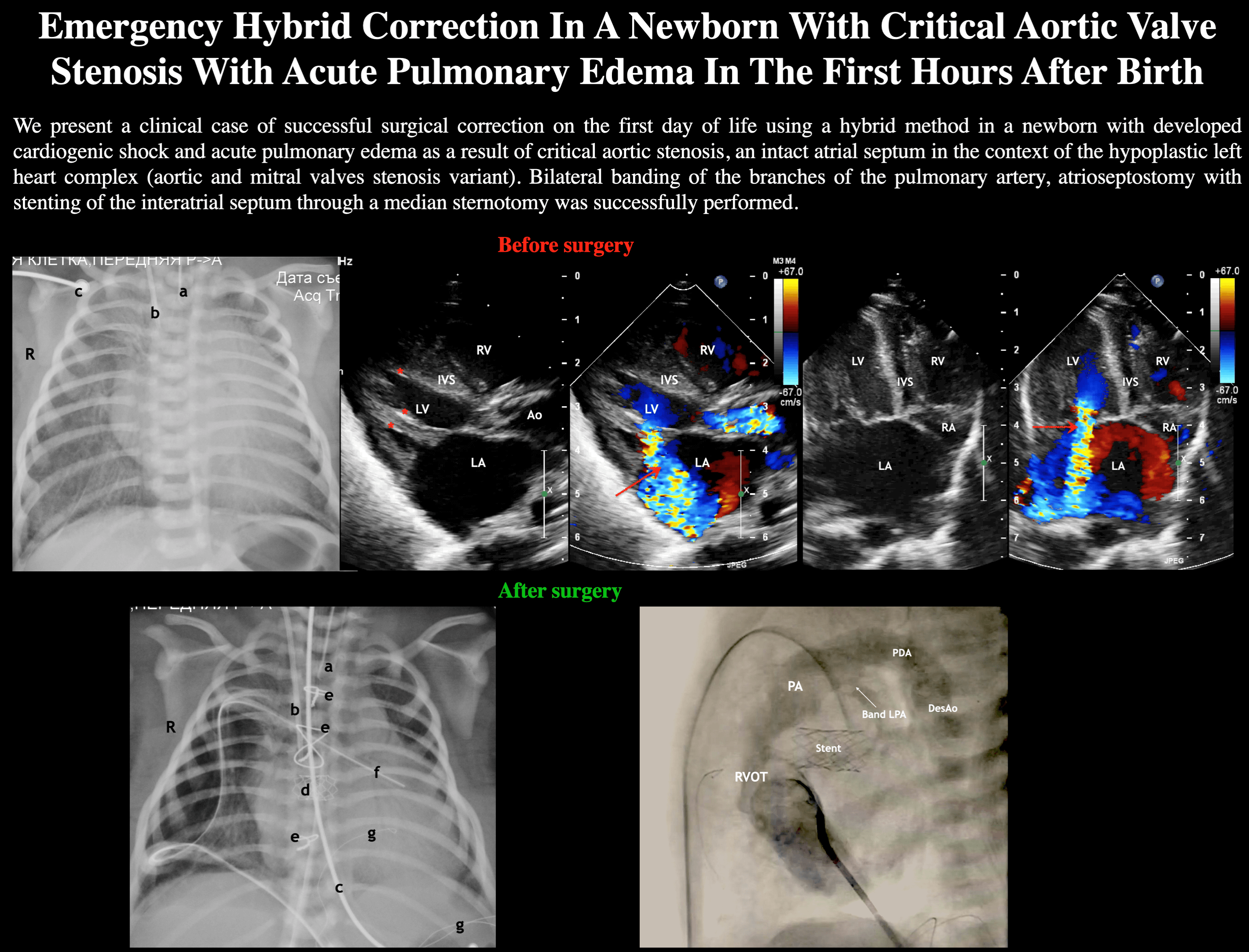 ---
Keywords
---
This work is licensed under a Creative
Commons Attribution 4.0 International License
, which permits unrestricted use, distribution, and reproduction in any medium, provided the original work is properly cited.