Open Access
ARTICLE
Extraction and Characterization of Litopenaeus vannamei's Shell as Potential Sources of Chitosan Biopolymers
1 Higher Institution Centre of Excellence (HICoE), Institute of Tropical Aquaculture and Fisheries (AKUATROP), Universiti Malaysia, Terengganu, Malaysia
2 East Coast Environmental Research Institute (ESERI), Universiti Sultan Zainal Abidin (UniSZA), Terengganu Darul Iman, Malaysia
3 Faculty of Bioresources and Food Industry, Universiti Sultan Zainal Abidin (UniSZA), Terengganu Darul Iman, Malaysia
4 Faculty of Innovative Design and Technology, Universiti Sultan Zainal Abidin, Terengganu Darul Iman, Malaysia
5 Faculty of Marine Science and Fisheries, Hasanuddin University, Makassar, Indonesia
* Corresponding Author: Nor Azman Kasan. Email:
(This article belongs to this Special Issue: Bio-based Composite/Hybrid Structures and Components)
Journal of Renewable Materials 2023, 11(3), 1181-1197. https://doi.org/10.32604/jrm.2023.022755
Received 24 March 2022; Accepted 30 June 2022; Issue published 31 October 2022
Abstract
Chitin is the second most abundant polysaccharide, produced mainly as an industrial waste stream during crustacean processing. Chitin can be derived into chitosan through the deacetylation process. Conversion of shrimp waste into chitosan via the deacetylation process could be considered a practical approach for shell waste remediation. In this study, chitosan's physicochemical characteristics extracted from two types of Pacific white leg shrimp,
L. vannamei
's shell (i.e., rough and smooth), were compared with commercial chitosan. The yield, moisture, ash, solubility, water and fat binding capacity were measured. The degree of deacetylation (DDA) was calculated using FTIR, and their chemical Structure was confirmed using XRD and SEM-EDS. Both extracted chitosan showed no significant difference in yield, moisture, ash, solubility and water binding capacity but showed a significant difference with commercial chitosan. Moreover, the fat binding capacity of commercial chitosan showed the lowest percentage (408.34 ± 0.83%) as compared to extracted chitosan (smooth shell 549.59 ± 12.48%; rough shell 500.55 ± 12.10%). The DDA indicated that extracted chitosan from the smooth and rough shell was considered good chitosan as compared to commercial chitosan with 84.08 ± 1.27%, 80.78 ± 0.79% and 74.99 ± 1.48%, respectively. Additionally, the presence of hydroxyl and amino groups from FTIR and a good crystallinity index was recorded using XRD of extracted chitosan. Based on observed characteristics, shrimp shell waste from
L. vannamei
can achieve chitosan standard quality as a biopolymer and highly potential to be applied in various industrial applications.
---
Graphical Abstract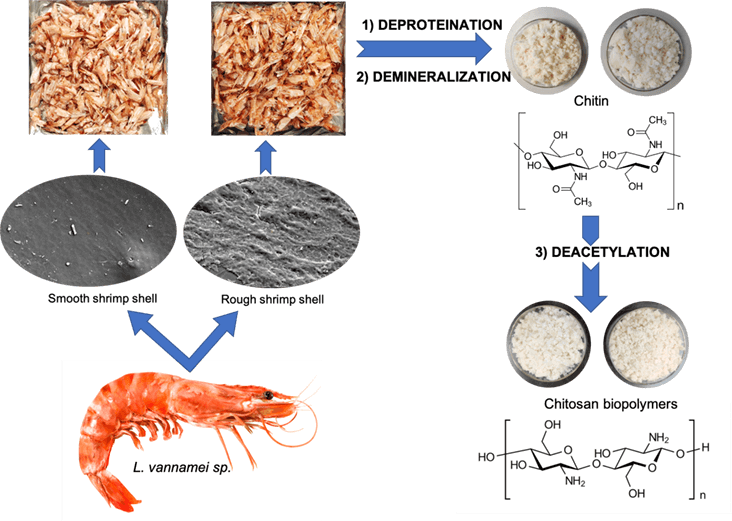 ---
Keywords
---
This work is licensed under a Creative
Commons Attribution 4.0 International License
, which permits unrestricted use, distribution, and reproduction in any medium, provided the original work is properly cited.