Open Access
ARTICLE
Nano-CaO2 Promotes the Release of Carbon Sources from Municipal Sludge and the Preparation of Double-Network Hydrogels with High Swelling Ratios
1 School of College of Environmental and Biological Engineering, Henan University of Engineering, Zhengzhou, 451191, China
2 School of Civil Engineering, Architecture and Environment, Hubei University of Technology, Wuhan, 430068, China
* Corresponding Author: Yalin Li. Email:
Journal of Renewable Materials 2023, 11(3), 1237-1253. https://doi.org/10.32604/jrm.2022.022972
Received 03 April 2022; Accepted 06 June 2022; Issue published 31 October 2022
Abstract
In this study, hydrogels were prepared from municipal sludge to recycle and realize the value-added utilization of the carbon components in this abundant waste material. The carbon sources were extracted from the municipal sludge using synthesised nano CaO2 as an oxidant, and the carbon sources were graft copolymerised with acrylic acid monomer using N, N′-methylenebisacrylamide as a crosslinking agent and ammonium persulfate as an initiator. The factors influencing the hydrogel preparation were investigated by single-factor experiments. Based on the results of the single-factor experiments, a hydrogel with a swelling ratio of up to 19768.4% at 12 h was prepared with an oxidant dosage of 0.20 g, a monomer dosage of 5.8 g, a neutralisation degree of the monomer of 70%, an initiator dosage of 0.15 g, and a crosslinking agent dosage of 0.15 g. The hydrogel preparation conditions were optimized using the response surface method, and the interactions between the different reaction conditions were analysed to obtain the best preparation conditions. X-ray diffraction results showed that hydrogels were amorphous in structure. Scanning electron microscopy images showed that the SiO2 particles from the sludge acted as crosslinking points between different layers of hydrogel chains. The crosslinking polymerisation and crosslinking agent worked together to form hydrogels with an inorganic-organic double network structure, and this structure was highly stretchable, resulting in hydrogels with good swelling properties.
---
Graphical Abstract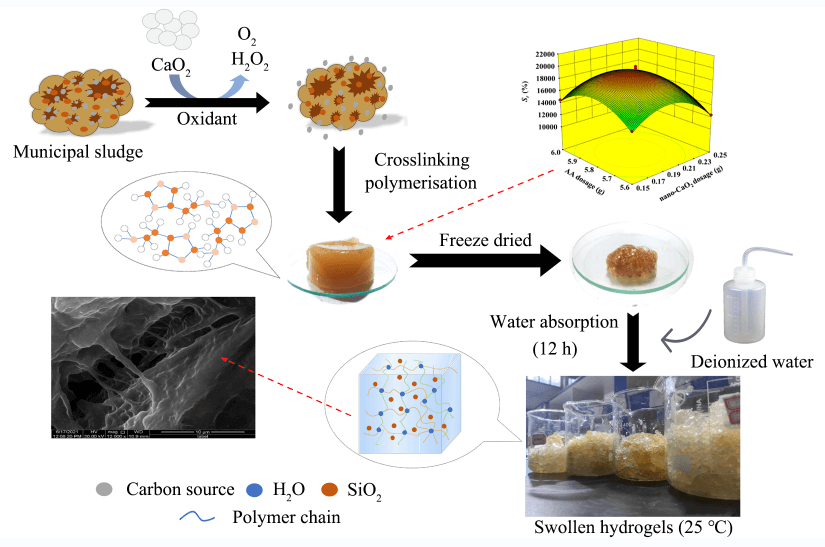 ---
Keywords
---
This work is licensed under a Creative
Commons Attribution 4.0 International License
, which permits unrestricted use, distribution, and reproduction in any medium, provided the original work is properly cited.