Open Access
ARTICLE
Structural and Physicochemical Properties of Dust and Their Effect on Solar Modules Efficiency in Agadir-Morocco
Materials and Renewable Energies Laboratory, University Ibn Zohr, Agadir, 80000, Morocco‎
* Corresponding Author: Abdellah Asbayou. Email:
Journal of Renewable Materials 2023, 11(5), 2249-2264. https://doi.org/10.32604/jrm.2023.025456
Received 13 July 2022; Accepted 19 September 2022; Issue published 13 February 2023
Abstract
Experiments of soiling effects on the performances of a PV panel have been performed using dust collected from two sites in the region of Agadir-Morocco. The optical transmittance of the front glass was found to depend on the nature and density of dust. The nature of dust was studied by means of scanning electron microscopy and energy dispersive x-ray spectroscopy. It was found that the granulometry of dust particles depends on the study area. For a dust density of around 20 g/m², the maximum power Pmax of the solar panel decreases drastically from 30 to 20 W for the (HP) site, and no more than 14 W for the (AD) site. The diversity of the behavior of the soiled panel was explained in terms of the size of the particles collected from each area. The transmission of light across the front glass of the PV panel is more affected when the sizes of particles are small.
---
Graphical Abstract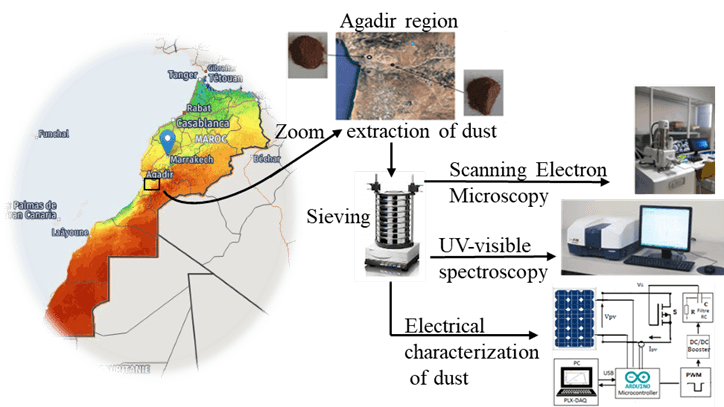 ---
Keywords
---
This work is licensed under a Creative
Commons Attribution 4.0 International License
, which permits unrestricted use, distribution, and reproduction in any medium, provided the original work is properly cited.