Open Access
REVIEW
Progress on diagnostic and prognostic markers of pancreatic cancer
1 The State Key Laboratory of Bioactive Substance and Function of Natural Medicines, Beijing, 100050, China
2 Key Laboratory of Drug Target Research and Drug Screen, Institute of Materia Medica, Chinese Academy of Medical Science and Peking Union Medical College, Beijing, 100050, China
3 Department of Pancreatic Cancer, Tianjin Medical University Cancer Institute and Hospital, National Clinical Research Center for Cancer, Tianjin's Clinical Research Center for Cancer, Key Laboratory of Cancer Prevention and Therapy, Tianjin, 300060, China
* Corresponding Author: JINHUA WANG. Email:
Oncology Research 2023, 31(2), 83-99. https://doi.org/10.32604/or.2023.028905
Received 17 January 2023; Accepted 15 February 2023; Issue published 10 April 2023
Abstract
Pancreatic cancer is a malignant disease characterized by low survival and high recurrence rate, whose patients are mostly at the stage of locally advanced or metastatic disease when first diagnosed. Early diagnosis is particularly important because prognostic/predictive markers help guide optimal individualized treatment regimens. So far, CA19-9 is the only biomarker for pancreatic cancer approved by the FDA, but its effectiveness is limited by low sensitivity and specificity. With recent advances in genomics, proteomics, metabolomics, and other analytical and sequencing technologies, the rapid acquisition and screening of biomarkers is now possible. Liquid biopsy also occupies a significant place due to its unique advantages. In this review, we systematically describe and evaluate the available biomarkers that have the greatest potential as vital tools in diagnosing and treating pancreatic cancer.
---
Graphical Abstract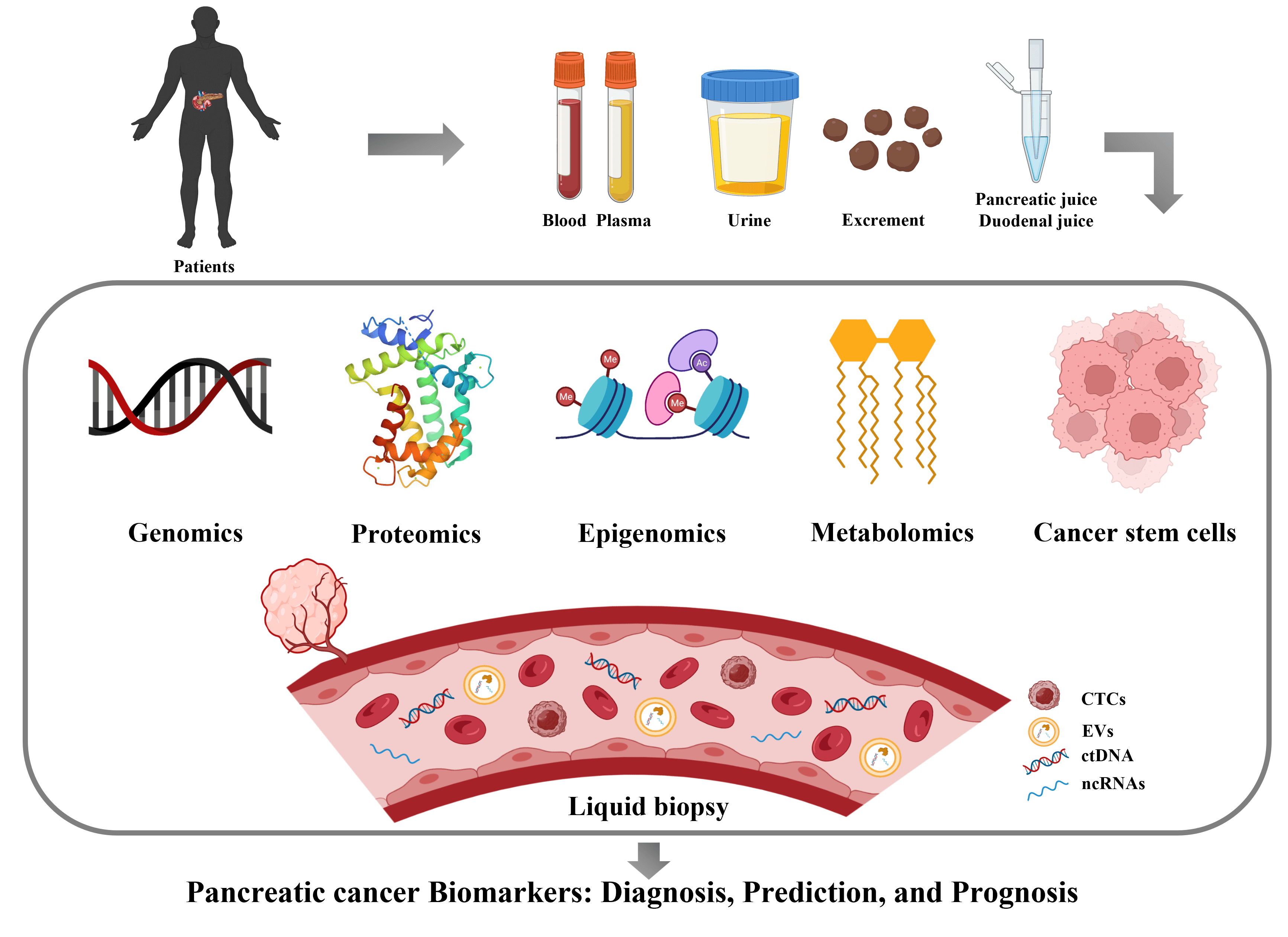 ---
Keywords
---
This work is licensed under a Creative
Commons Attribution 4.0 International License
, which permits unrestricted use, distribution, and reproduction in any medium, provided the original work is properly cited.