Open Access
ARTICLE
Examination of the Illness Representations among Children with T1DM in Relation to Mental Health Factors
1 Faculty of Medicine Department of Pediatrics, Pediatric Psychology and Psychosomatic Unit, Kálmán Laki Doctoral School, University of Debrecen, Debrecen, 4032, Hungary
2 Department of Behavioural Sciences, University of Debrecen, Debrecen, 4032, Hungary
* Corresponding Author: Brigitta Munkácsi.
International Journal of Mental Health Promotion 2023, 25(8), 961-969. https://doi.org/10.32604/ijmhp.2023.027319
Issue published 06 July 2023
Abstract
The most common comorbid psychiatric disorders in children with type 1 diabetes mellitus (T1DM) are depression, anxiety and behavioral disorders. Patients with comorbid psychopathology are less capable of psychically adjusting to the new life situation resulting from T1DM, which may negatively affect glycemic control and adherence related to the treatment. We aimed to investigate the association between mental health and type 1 diabetes including illness representation. 115 children and adolescents with T1DM were recruited through the outpatient clinic in Debrecen, Hungary. Measures: PRISM-D, Child Depression Inventory (CDI), Cantril Ladder and Self-Rated Health, Glycosylaeted haemoglobin (HbA1C) were measured. Children having depressive symptoms drew fewer circles with less area. Children not drawing any important relationships possessed more depressive symptoms. Those diagnosed at a younger age displayed smaller distance between the Self- and Illness-circles. The PRISM-D test can be a promising tool to analyse emotional and cognitive representations and the psychological burden of T1DM.
---
Graphical Abstract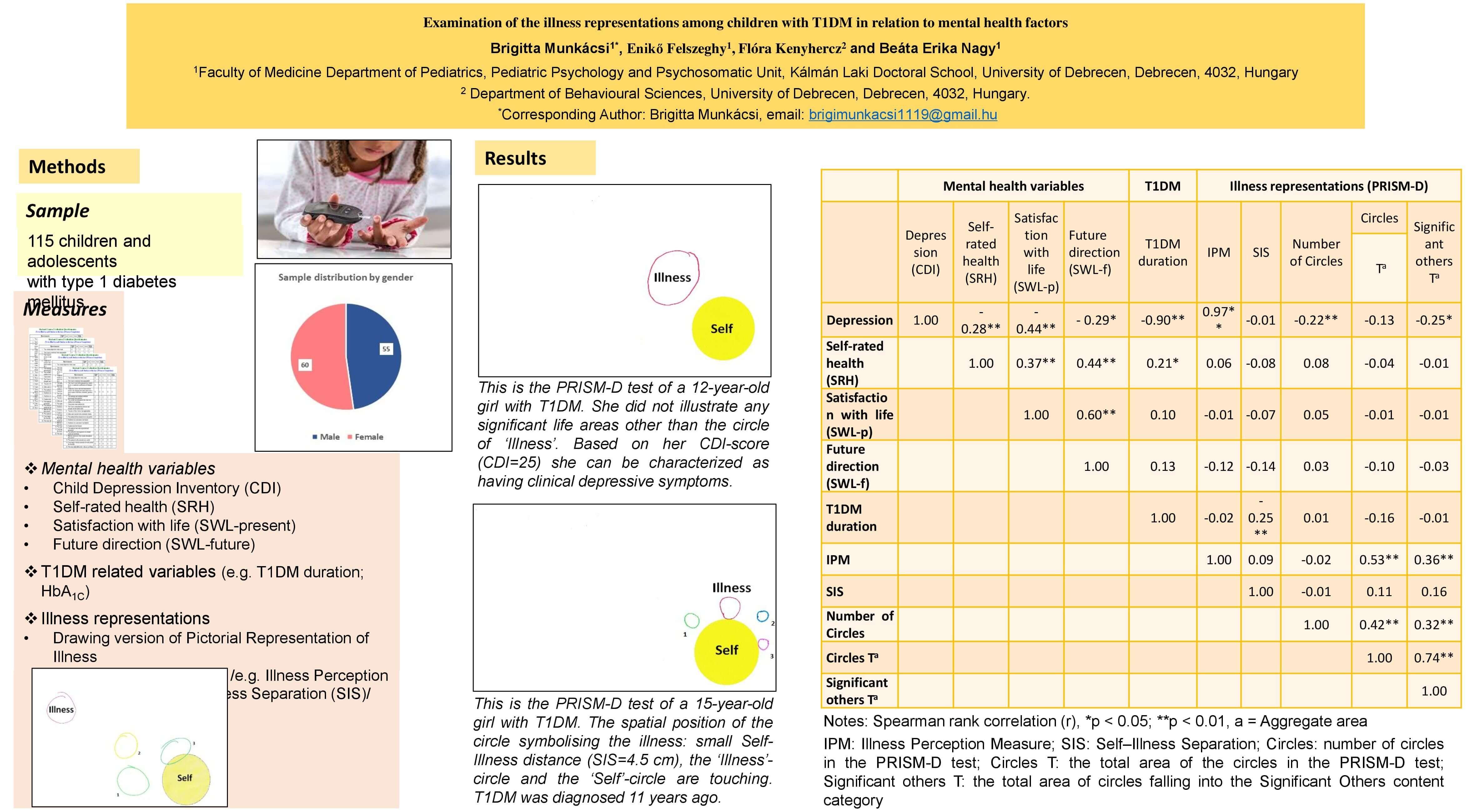 ---
Keywords
---
This work is licensed under a Creative
Commons Attribution 4.0 International License
, which permits unrestricted use, distribution, and reproduction in any medium, provided the original work is properly cited.