Open Access
ARTICLE
Synthesis, Characterization and Remedial Action of Biogenic Silver Nanoparticles and Chitosan-Silver Nanoparticles against Bacterial Pathogens
1 Department of Life Sciences, School of Basic Sciences and Research, Sharda University, Greater Noida, 201310, Uttar Pradesh, India
2 Viyen Biotech LLP, Coimbatore, Tamil Nadu, 641031, India
3 Department of Biotechnology, Kongunadu Arts and Science College, Coimbatore, Tamil Nadu, 641029, India
4 Department of Biotechnology, Graphic Era Deemed to be University, Dehradun, Uttarakhand, 248002, India
5 Department of Clinical Laboratories Sciences, The Faculty of Applied Medical Sciences, Taif University, Taif, 21944, Saudi Arabia
6 Biorefining and Advanced Materials Research Center, SRUC, Edinburgh, EH9 3JG, UK
7 Department of Mechanical Engineering, School of Engineering, Shiv Nadar University, Noida, Greater Noida, 201314, India
8 School of Engineering, University of Petroleum & Energy Studies (UPES), Dehradun, Uttarakhand, 248007, India
* Corresponding Authors: R. Ranjithkumar. Email:
; Vijay Kumar Thakur. Email:
Journal of Renewable Materials 2022, 10(12), 3093-3105. https://doi.org/10.32604/jrm.2022.019335
Received 17 September 2021; Accepted 08 November 2021; Issue published 30 May 2022
Abstract
Custard apple is a dry land fruit. Its leaves exhibit different pharmacological activities. In the present study, both silver (Ag) nanoparticles and chitosan-coated Ag (Chi-Ag) nanoparticles were fabricated using the aqueous leaf extract of the custard apple plant. During preliminary phytochemical analysis, various types of phytocompounds were found in the aqueous leaf extract of the same plant. Next, both nanoparticles were physiochemically characterized. FTIR analysis exhibited the fingerprint vibrational peaks of active bioactive compounds in plant extract, Ag nanoparticles, and Chi-Ag nanoparticles. UV/Visible spectral analysis revealed the highest absorbance peak at 419 nm, indicating the presence of Ag nanoparticles. XRD analysis presented the face-centered cubic (FCC) structure of both prepared nanomaterials. Further, the average crystalline size of both Ag nanoparticles and Chi-Ag nanoparticles was calculated to be 23 and 74 nm, respectively. FESEM analysis showed the spherical and cubical shapes of Ag nanoparticles and Chi-Ag nanoparticles, respectively. EDS analysis indicated a peak around 3.29 keV, conforming to the binding energies of Ag ions. The biogenic nanomaterial also showed strong antibacterial activity against all tested bacterial pathogens.
---
Graphical Abstract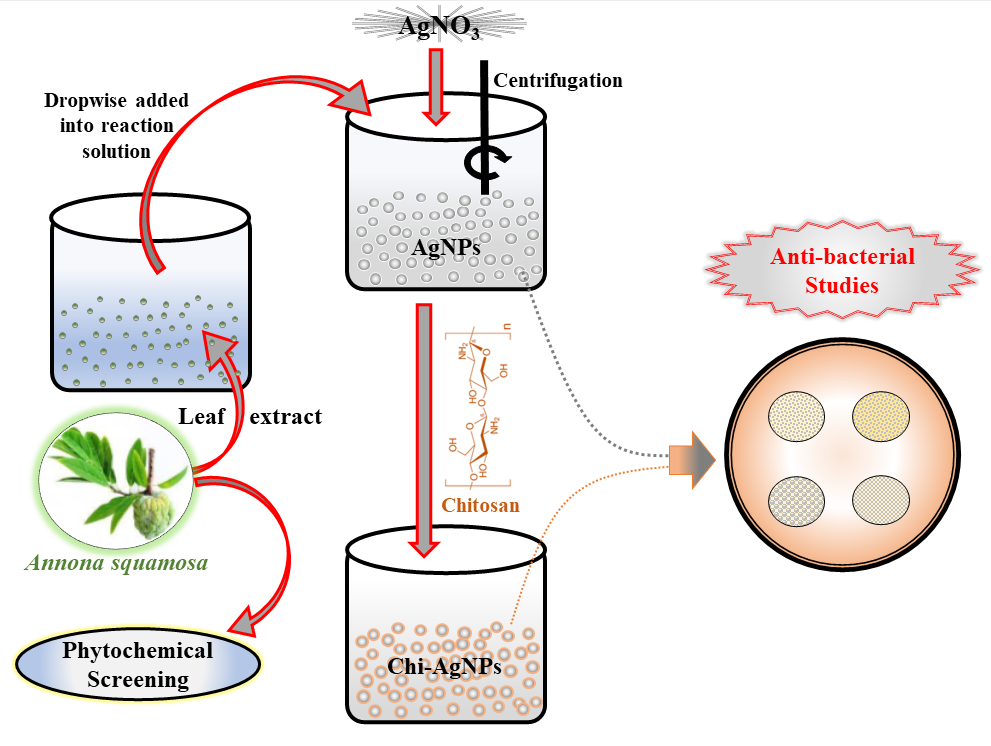 ---
Keywords
---
Cite This Article
Gupta, P. K., Kumar, D. K., Thaveena, M., Pandit, S., Sinha, S. et al. (2022). Synthesis, Characterization and Remedial Action of Biogenic Silver Nanoparticles and Chitosan-Silver Nanoparticles against Bacterial Pathogens. Journal of Renewable Materials, 10(9), 1–13.
This work is licensed under a Creative
Commons Attribution 4.0 International License
, which permits unrestricted use, distribution, and reproduction in any medium, provided the original work is properly cited.