Open Access
ARTICLE
Antibacterial Chitosan-Gelatin Microcapsules Modified with Green-Synthesized Silver Nanoparticles for Food Packaging
Engineering Research Center of Food Thermal-Processing Technology, College of Food Science and Technology, Shanghai Ocean University, Shanghai, 201306, China
* Corresponding Author: Li Li. Email:
Journal of Renewable Materials 2023, 11(1), 291-307. https://doi.org/10.32604/jrm.2022.021456
Received 15 January 2022; Accepted 01 March 2022; Issue published 10 August 2022
Abstract
Silver nanoparticles (Ag NPs) are an effective antibacterial agent, but their application in food packaging is limited due to their easy agglomeration and oxidation. In this study, antibacterial microcapsules were fabricated using
Ginkgo biloba
essential oil (GBEO) as core material and chitosan and type B gelatin biopolymer as capsule materials. These antibacterial microcapsules were then modified with green-synthesized Ag NPs, blended into the biopolymer polylactic acid (PLA), and finally formed as films. Physicochemical properties and antibacterial activity against
Escherichia coli
(
E. coli
) and
Staphylococcus aureus
(
S. aureus
) were evaluated. Results showed that the prepared antibacterial PLA films exhibited excellent antibacterial activity against foodborne pathogens. Its TVC exceeded the limit value of 7 log CFU/g at 7 days compared with the 5 days of pure PLA films. Therefore, these films can extend the shelf life of grass carp fillets by 2–3 days under refrigeration.
---
Graphical Abstract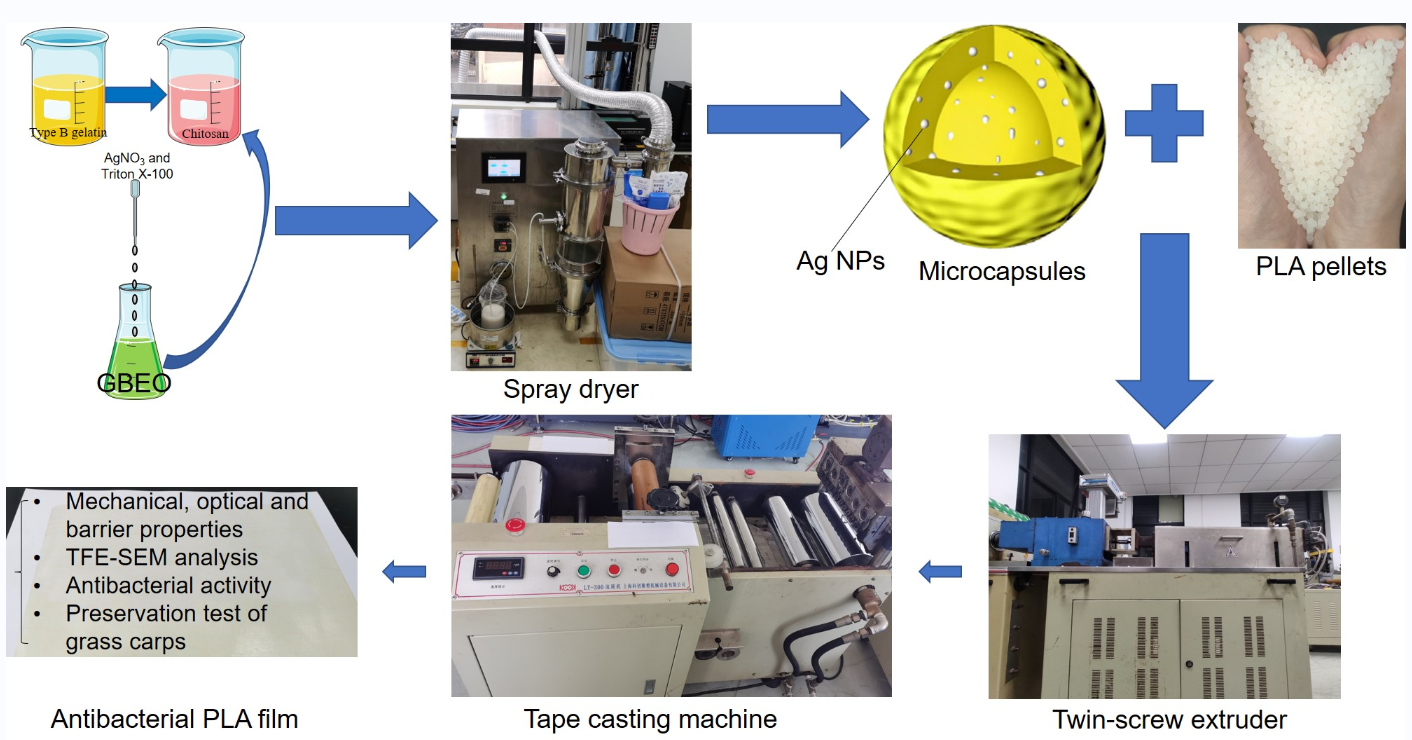 ---
Keywords
---
This work is licensed under a Creative
Commons Attribution 4.0 International License
, which permits unrestricted use, distribution, and reproduction in any medium, provided the original work is properly cited.