Open Access
ARTICLE
Novel Pectin/Chia-Mucilage Membranes: Human Serum Albumin Adsorption, Biocompatibility, and Physical-Chemical Properties
1 Departamento de Investigación en Polímeros y Materiales, Universidad de Sonora, Hermosillo, Sonora, México
2 Departamento de Ciencias de la Salud, Campus Cajeme, Universidad de Sonora, Cd. Obregón, Sonora, México
3 Departamento de Nutrición Pública y Salud, Coordinación de Nutrición, Centro de Investigación en Alimentación y Desarrollo, A. C., Hermosillo, Sonora, México
4 Departamento de Física, Universidad de Sonora, Hermosillo, Sonora, México
* Corresponding Author: M. A. López-Mata. Email:
(This article belongs to this Special Issue: Advancement of Biopolymers in Biomedical Materials)
Journal of Renewable Materials 2023, 11(6), 2647-2663. https://doi.org/10.32604/jrm.2023.027372
Received 27 October 2022; Accepted 22 December 2022; Issue published 27 April 2023
Abstract
This study aimed to characterize the physical-chemical and biological properties of pectin (PC)/chia seed mucilage (CM) membranes. PC/CM [100/0 (control), 80/20%, 60/40%, and 40/60% w/w] membranes were prepared using the casting method. The membranes (PC/CM) were thin, yellow, lightly opaque (≈10%) and capable of blocking light UVB (between 66 at 52%). SEM analysis showed the presence of aggregates in the shape of a sphere (≈13 µm) and ovoid (≈25 µm). The proportion of 80/20 showed an increase in tensile strength (29%) and elastic modulus (19%) when compared to the control. FTIR analysis exhibited intermolecular interactions between PCPC, PC-CM, and CM-CM in the membranes. The thermal analysis (600°C) showed a slight improvement in the percentage of residual mass-loss of 3.31% (80/20) that control. The 40/60 membrane showed the lowest percentage of hemolysis (2.94%) but limited human albumin adsorption capacity. These results suggested that the blend PC/CM may be considered as a biomaterial for medical applications.
---
Graphical Abstract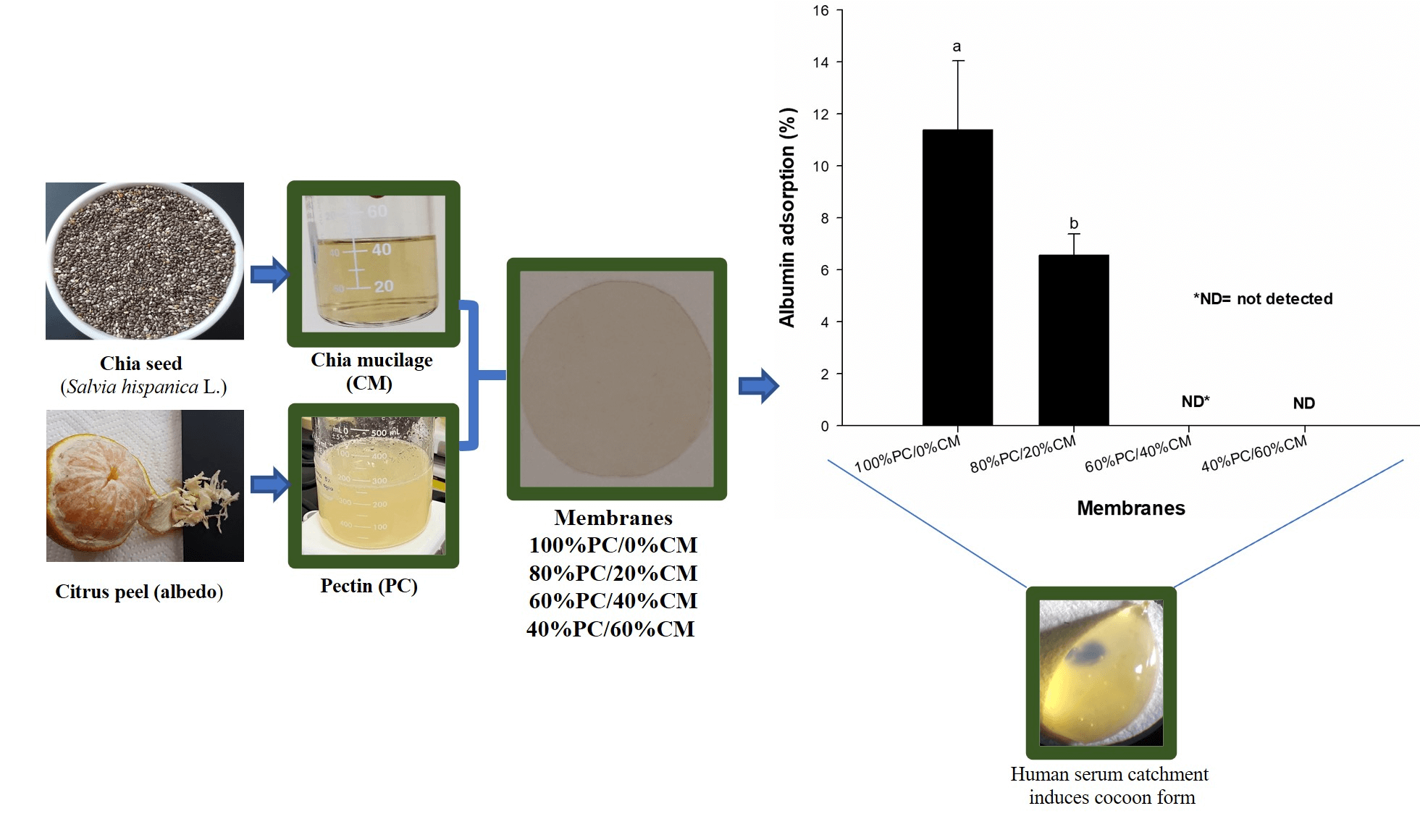 ---
Keywords
---
Cite This Article
Burruel-Ibarra, S. E., Esquer-Osuna, R. A., Valdez-Melchor, R. G., Cuevas-Acuña, D. A., QuihuiCota, L. et al. (2023). Novel Pectin/Chia-Mucilage Membranes: Human Serum Albumin Adsorption, Biocompatibility, and Physical-Chemical Properties. Journal of Renewable Materials, 11(6), 2647–2663.
This work is licensed under a Creative
Commons Attribution 4.0 International License
, which permits unrestricted use, distribution, and reproduction in any medium, provided the original work is properly cited.