Open Access
ARTICLE
Structure, Dynamic-Mechanical and Acoustic Properties of Oil Palm Trunk Modified by Melamine Formaldehyde
1 Department of Physics, Faculty of Science and Data Analytics, Institut Teknologi Sepuluh Nopember, Surabaya, 60111, Indonesia
2 Physics Study Program, Faculty of Mathematics and Natural Sciences, Universitas Lambung Mangkurat, Banjarbaru, 70714, Indonesia
* Corresponding Authors: Tetti Novalina Manik. Email:
; Darminto. Email:
(This article belongs to this Special Issue: Renewable Material from Agricultural Waste and By-Product and Its Applications)
Journal of Renewable Materials 2021, 9(9), 1647-1660. https://doi.org/10.32604/jrm.2021.016089
Received 05 February 2021; Accepted 23 February 2021; Issue published 23 April 2021
Abstract
The performance of oil palm trunk wastes from Banjarbaru of South Kalimantan was improved with the help of chemical modification in a two-step treatment. The first was formalization with formaldehyde solution with varying pH, and the second was impregnation with melamine-formaldehyde resin under 5 bar pressure for an hour. In these processes, the samples were cured at 120°C for 10 min and then dried in an oven at (103 ± 2)°C in order to attain a moisture content of less than 6%. These treatments improved the physical properties (density, moisture content, and volume swelling), mechanical resistance, dynamic-mechanical and acoustic performance of the woods. The combination of impregnation and formalization changed the structure and the morphology of the woods such that the surface became flatter and denser. This was confirmed by results from FTIR, SEM, and DMA. Samples with alkaline modification displayed the best results for dimensional stability, storage modulus, and damping factor in varied frequencies. The treatments in this study also heightened acoustic performances as evidenced by the resulting characteristics of sound absorption coefficient and acoustic impedance.
---
Graphical Abstract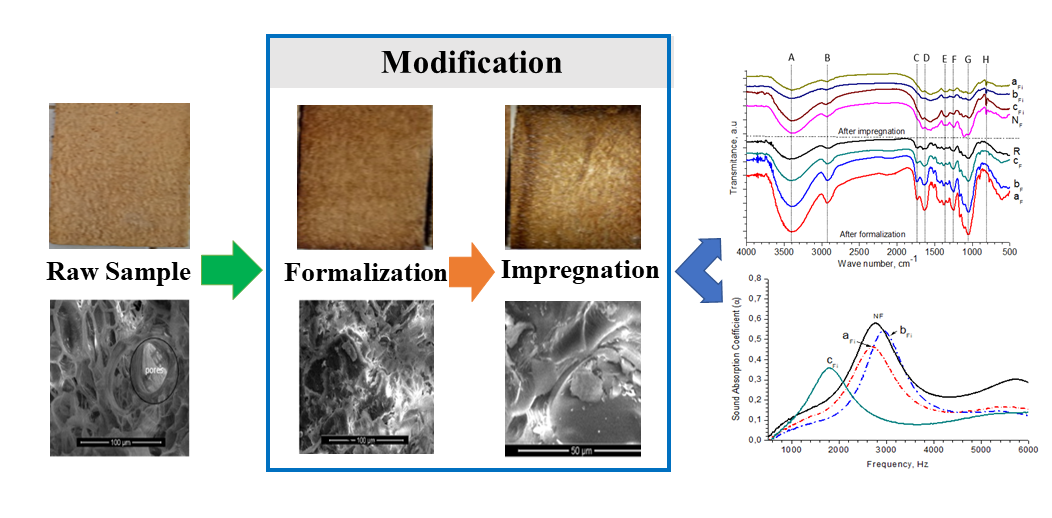 ---
Keywords
---
This work is licensed under a Creative
Commons Attribution 4.0 International License
, which permits unrestricted use, distribution, and reproduction in any medium, provided the original work is properly cited.