Open Access
ARTICLE
Macrophage-derived SHP-2 inhibits the metastasis of colorectal cancer via Tie2-PI3K signals
1 Department of Gastrointestinal Surgery, Tianjin Medical University Nankai Hospital, Tianjin, 300100, China
2 93868 Troop of the Chinese People's Liberation Army, Yinchuan, 750021, China
3 Clinical Laboratory, Hebei General Hospital, Shijiazhuang, 050051, China
4 Department of General Surgery, The First Affiliated Hospital of Hebei North University, Zhangjiakou, 075000, China
5 Tianjin Key Laboratory of Acute Abdomen Disease Associated Organ Injury and ITCWM Repair, Institute of Integrative Medicine for Acute Abdominal Diseases, Integrated Chinese and Western Medicine Hospital, Tianjin University, Tianjin, 300100, China
6 School of Basic Medicine, Fourth Military Medical University, Xi'an, 710032, China
* Corresponding Authors: Ximo Wang,
; Qi Zhang,

# Equal contribution
Oncology Research 2023, 31(2), 125-139. https://doi.org/10.32604/or.2023.028657
Received 30 December 2022; Accepted 27 February 2023; Issue published 10 April 2023
Abstract
This research aimed to explore the influence of Src homology-2 containing protein tyrosine phosphatase (SHP- 2) on the functions of tyrosine kinase receptors with immunoglobulin and EGF homology domains 2 (Tie2)-expressing monocyte/macrophages (TEMs) and the influence of the angiopoietin(Ang)/Tie2-phosphatidylinositol-3-kinase (PI3K)/protein kinase B (Akt)/mammalian target of rapamycin (mTOR) (Ang/Tie2-PI3K/Akt/mTOR) signaling pathway on the tumor microvascular remodeling in an immunosuppressive microenvironment. In vivo, SHP-2- deficient mice were used to construct colorectal cancer (CRC) liver metastasis models. SHP-2-deficient mice had significantly more metastatic cancer and inhibited nodules on the liver surface than wild-type mice, and the high-level expression of p-Tie2 was found in the liver tissue of the macrophages' specific SHP-2-deficient mice (SHP-2MACKO) + planted tumor mice. Compared with the SHP-2 wild type mice (SHP-2WT) + planted tumor group, the SHP-2MAC-KO + planted tumor group experienced increased expression of p-Tie2, p-PI3K, p-Akt, p-mTOR, vascular endothelial growth factor (VEGF), cyclooxygenase-2 (COX-2), matrix metalloproteinase 2 (MMP2), and MMP9 in the liver tissue. TEMs selected by in vitro experiments were co-cultured with remodeling endothelial cells and tumor cells as carriers. It was found that when Angpt1/2 was used for stimulation, the SHP-2MAC-KO + Angpt1/2 group displayed evident increases in the expression of the Ang/Tie2-PI3K/Akt/mTOR pathway. The number of cells passing through the lower chamber and the basement membrane and the number of blood vessels formed by cells compared with the SHP-2WT + Angpt1/2 group, while these indexes were subjected to no changes under the simultaneous stimulation of Angpt1/2 + Neamine. To sum up, the conditional knockout of SHP-2 can activate the Ang/Tie2-PI3K/Akt/mTOR pathway in TEMs, thereby strengthening tumor micro angiogenesis in the microenvironment and facilitating CRC liver metastasis.
---
Graphical Abstract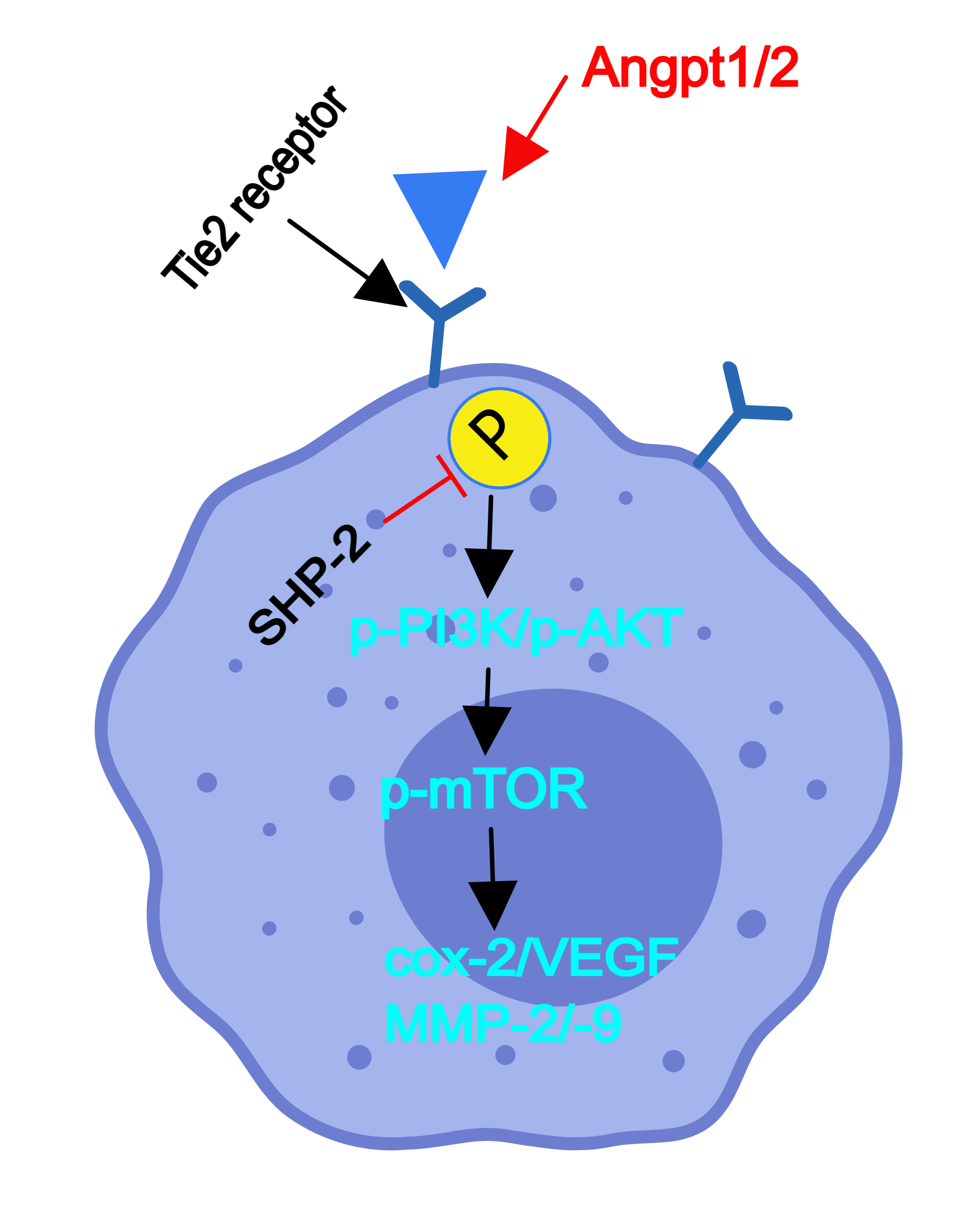 ---
Keywords
---
This work is licensed under a Creative
Commons Attribution 4.0 International License
, which permits unrestricted use, distribution, and reproduction in any medium, provided the original work is properly cited.