Open Access
REVIEW
Biological, pathological, and multifaceted therapeutic functions of exosomes to target cancer
1 Department of Pharmacology, Manipal College of Pharmaceutical Sciences, Manipal Academy of Higher Education, Manipal, Karnataka, 576104, India
2 Department of Forensic Medicine and Toxicology, Kasturba Medical College, Manipal Academy of Higher Education, Manipal, Karnataka, 576104, India
3 School of Health and Community Services, Durham College, Oshawa, Ontario, L1G2G5, Canada
4 Department of Pharmaceutical Regulatory Affairs and Management, Manipal College of Pharmaceutical Sciences, Manipal Academy of Higher Education, Manipal, Karnataka, 576104, India
5 Department of Clinical Psychology, Manipal College of Health Professions, Manipal Academy of Higher Education, Manipal, Karnataka, 576104, India
6 Department of Speech and Hearing, Manipal College of Health Professions, Manipal Academy of Higher Education, Manipal, Karnataka, 576104, India
7 Department of Pharmacy Practice, Manipal College of Pharmaceutical Sciences, Manipal Academy of Higher Education, Manipal, Karnataka, 576104, India
* Corresponding Author: K. SREEDHARA RANGANATH PAI. Email:
Oncology Research 2024, 32(1), 73-94. https://doi.org/10.32604/or.2023.030401
Received 06 April 2023; Accepted 25 July 2023; Issue published 15 November 2023
Abstract
Exosomes, small tiny vesicle contains a large number of intracellular particles that employ to cause various diseases and prevent several pathological events as well in the human body. It is considered a "double-edged sword", and depending on its biological source, the action of exosomes varies under physiological conditions. Also, the isolation and characterization of the exosomes should be performed accurately and the methodology also will vary depending on the exosome source. Moreover, the uptake of exosomes from the recipients' cells is a vital and initial step for all the physiological actions. There are different mechanisms present in the exosomes' cellular uptake to deliver their cargo to acceptor cells. Once the exosomal uptake takes place, it releases the intracellular particles that leads to activate the physiological response. Even though exosomes have lavish functions, there are some challenges associated with every step of their preparation to bring potential therapeutic efficacy. So, overcoming the pitfalls would give a desired quantity of exosomes with high purity.
---
Graphical Abstract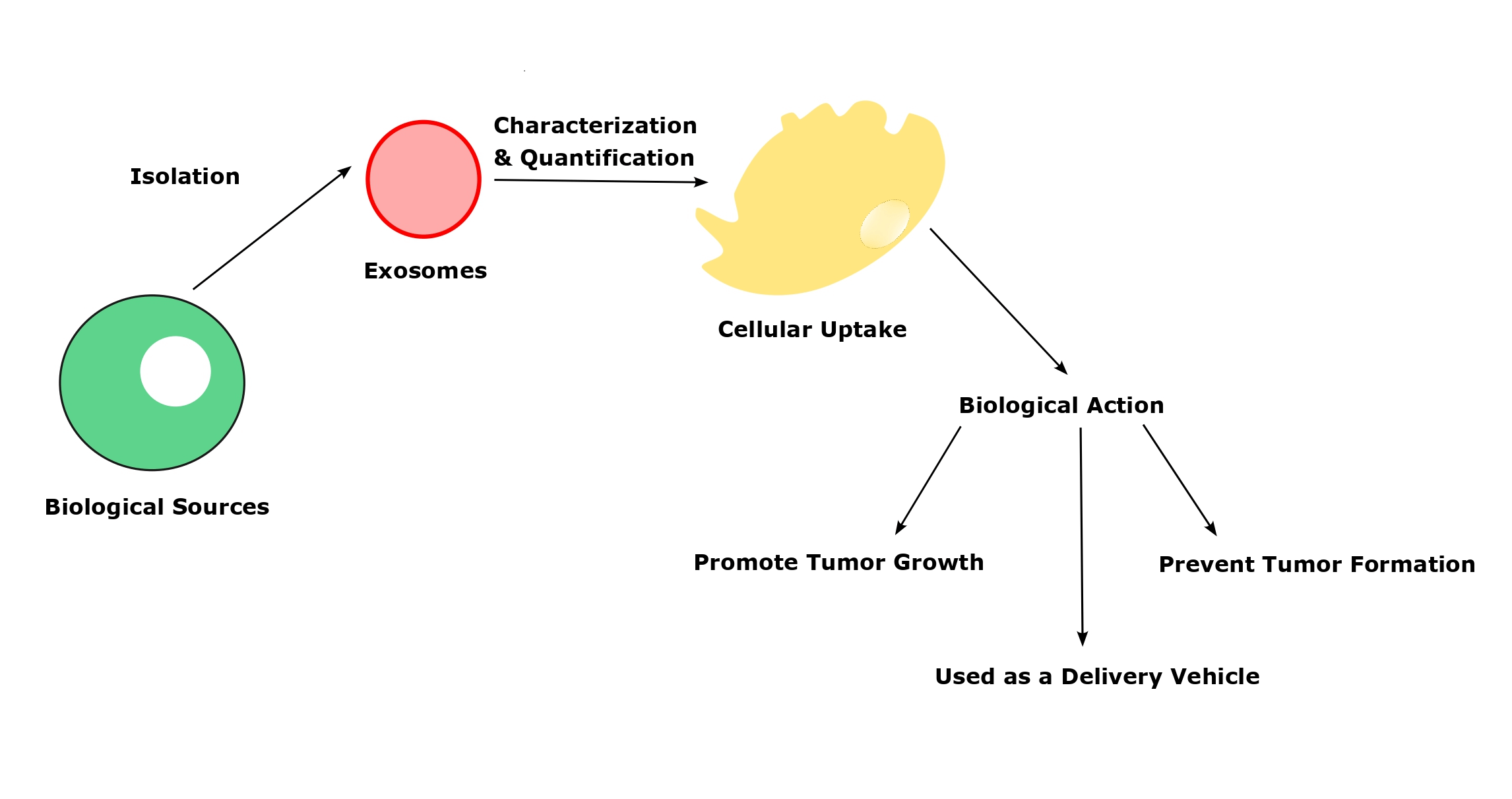 ---
Keywords
---
This work is licensed under a Creative
Commons Attribution 4.0 International License
, which permits unrestricted use, distribution, and reproduction in any medium, provided the original work is properly cited.