Open Access
REVIEW
Application of exosomal miRNA mediated macrophage polarization in colorectal cancer: Current progress and challenges
1 Department of Oncology, School of Clinical Medicine, Ningxia Medical University, Yinchuan, China
2 General Hospital of Ningxia Medical University, Yinchuan, China
3 School of Basic Medical Sciences, Ningxia Medical University, Yinchuan, China
4 Department of Surgical Oncology, Tumor Hospital, The General Hospital of Ningxia Medical University, Yinchuan, China
* Corresponding Author: TAO LI. Email:
Oncology Research 2024, 32(1), 61-71. https://doi.org/10.32604/or.2023.043481
Received 03 July 2023; Accepted 06 September 2023; Issue published 15 November 2023
Abstract
Colorectal cancer (CRC) is a major global health problem with high morbidity and mortality rates. Surgical resection is the main treatment for early-stage CRC, but detecting it early is challenging. Therefore, effective therapeutic targets for advanced patients are still lacking. Exosomes, tiny vesicles in body fluids, play a crucial role in tumor metastasis, immune regulation, and drug resistance. Interestingly, they can even serve as a biomarker for cancer diagnosis and prognosis. Studies have shown that exosomes can carry miRNA, mediate the polarization of M1/M2 macrophages, promote the proliferation and metastasis of cancer cells, and affect the prognosis of CRC. Since the gastrointestinal tract has many macrophages, understanding the mechanism behind exosomal miRNA-mediated macrophage polarization in CRC treatment is crucial. This article summarizes recent advancements in the study of exosomal miRNAs in CRC and their potential as diagnostic and prognostic markers.
---
Graphical Abstract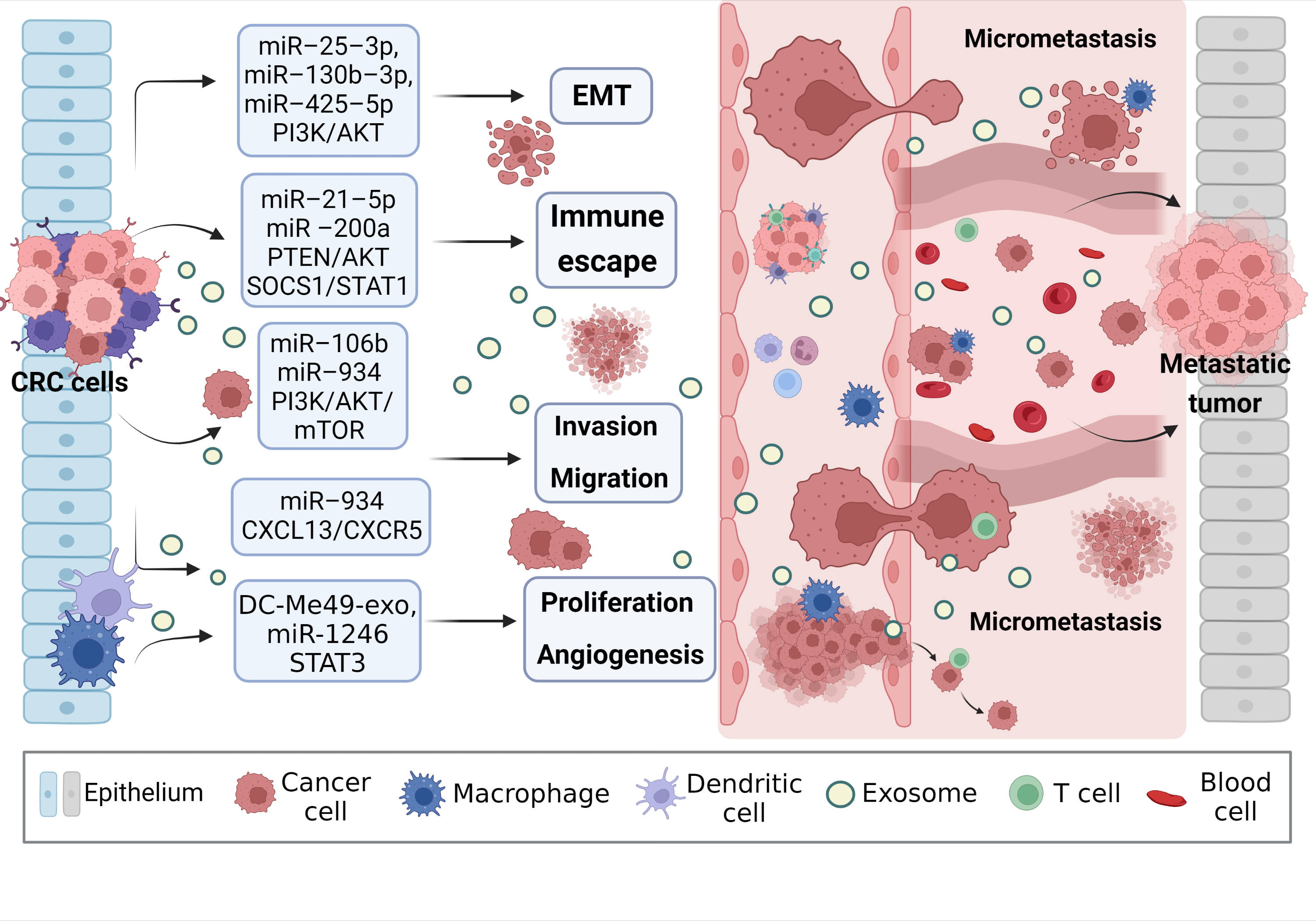 ---
Keywords
---
This work is licensed under a Creative
Commons Attribution 4.0 International License
, which permits unrestricted use, distribution, and reproduction in any medium, provided the original work is properly cited.