Vol.91, No.9, 2022, pp.1859-1877, doi:10.32604/phyton.2022.021734
OPEN ACCESS
REVIEW
Antagonistic Potential of Bacterial Species against Fungal Plant Pathogens (FPP) and Their Role in Plant Growth Promotion (PGP): A Review
Amjad Ali1, Yasir Iftikhar2,*, Mustansar Mubeen2, Haider Ali3, Muhammad Ahmad Zeshan2, Zohaib Asad4, Muhammad Zafar-ul-Hye5, Malik Abdul Rehman6, Mazhar Abbas7, Muhammad Rafique8, Muhammad Usman Ghani9
1 Department of Plant Protection, Sivas University of Science and Technology, Sivas, 58140, Turkey
2 Department of Plant Pathology, College of Agriculture, University of Sargodha, Sargodha, 40100, Pakistan
3 College of Bioscience, University of Birmingham, Birmingham, B152TT, UK
4 Department of Plant Pathology, PMAS University of Arid Agriculture, Rawalpindi, 43490, Pakistan
5 Department of Soil Science, Faculty of Agricultural Sciences and Technology, Bahauddin Zakariya University, Multan, 60800, Pakistan
6 Citrus Research Institute, Sargodha, 40100, Pakistan
7 Department of Agriculture and Agribusiness Management, University of Karachi, 75270, Karachi, Pakistan
8 Pest warning & Quality Control of Pesticides, Sahiwal, Punjab, 40210, Pakistan
9 Institute of Soil and Environmental Sciences, University of Agriculture, Faisalabad, 38000, Pakistan
* Corresponding Author: Yasir Iftikhar. Email:
Received 01 February 2022; Accepted 09 March 2022; Issue published 13 May 2022
Abstract
Since the 19th century to date, the fungal pathogens have been involved in causing devastating diseases in plants. All types of fungal pathogens have been observed in important agricultural crops that lead to significant pre and postharvest losses. The application of synthetic fungicide against the fungal plant pathogens (FPP) is a traditional management practice but at the same time these fungicides kill other beneficial microbes, insects, animal, and humans and are harmful to environment. The antagonistic microorganism such as bacteria are being used as an alternate strategy to control the FPP. These antagonistic species are cost-effective and eco-friendly in nature. These biocontrol bacteria have a broad mechanism against fungal pathogens present in the phyllosphere and rhizosphere of the plant. The antagonistic bacteria have different strategies against the FPP, by producing siderophore, biofilm, volatile organic compounds (VOCs), through parasitism, antibiosis, competition for limited resources and induce systemic resistance (ISR) in the host plant by activating the immune systems. The commercial bio-products synthesized by the major bacterial species Pseudomonas syringae, Burkholderia cepacia, Streptomyces griseoviridis, Pseudomonas fluorescens and Bacillus subtilis are used to control Fusarium, Pythium, Rhizoctonia, Penicillium, Alternaria, and Geotrichum. The commercial bio-formulations of bacteria act as both antifungal and plant growth regulators. The Plant growth-promoting rhizobacteria (PGPR) played a significant role in improving plant health by nitrogen-fixing, phosphorus solubilization, phytohormones production, minimizing soil metal contamination, and by ACC deaminase antifungal activities. Different articles are available on the specific antifungal activity of bacteria in plant diseases. Therefore, this review article has summarized the information on biocontrol activity of bacteria against the FPP and the role of PGPR in plant growth promotion. This review also provided a complete picture of scattered information regarding antifungal activities of bacteria and the role of PGPR.
Graphical Abstract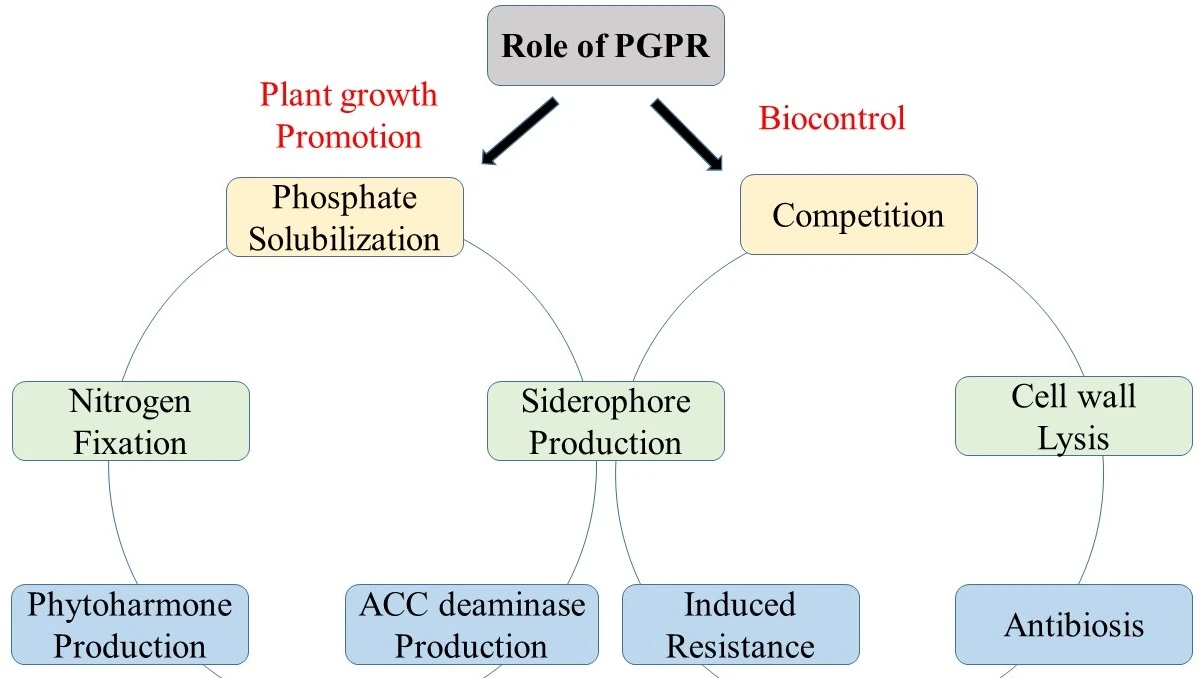 Keywords
Fungi; plant pathogens; synthetic fungicide; antagonism; bio-products; PGPR
Cite This Article
Ali, A., Iftikhar, Y., Mubeen, M., Ali, H., Zeshan, M. A. et al. (2022). Antagonistic Potential of Bacterial Species against Fungal Plant Pathogens (FPP) and Their Role in Plant Growth Promotion (PGP): A Review. Phyton-International Journal of Experimental Botany, 91(9), 1859–1877.
This work is licensed under a Creative
Commons Attribution 4.0 International License
, which permits unrestricted use, distribution, and reproduction in any medium, provided the original work is properly cited.