Open Access
REVIEW
Fabrication and Modification Strategies of Metal Halide Perovskite Absorbers
Experimental Centre for Advanced Materials, School of Materials Science and Engineering, Beijing Institute of Technology, Beijing, 100081, China
* Corresponding Authors: Yang Bai. Email:
; Qi Chen. Email:
(This article belongs to this Special Issue: Perovskite Solar Cells)
Journal of Renewable Materials 2023, 11(1), 61-77. https://doi.org/10.32604/jrm.2023.022773
Received 26 March 2022; Accepted 16 May 2022; Issue published 10 August 2022
Abstract
Due to the long carrier lifetime, high carrier mobility, and high absorption coefficient of perovskite materials, the power conversion efficiency (PCE) of perovskite solar cells (PSCs) has increased from 3.8% in 2009 to 25.7% in 2021, which have already surpassed the PCE of thin-film solar cells and closes to the efficiency of Si-based photovoltaics (26.7%). Therefore, PSCs have become a promising clean energy technology for commercialization. However, the low defect formation energy of perovskite leads to a higher defect density than other conventional photovoltaic materials. It results in severe non-radiative recombination, limiting its further development and the commercialization. In this review, we summarize the mechanism and strategies for high-quality perovskite absorber fabrications to minimize the bulk and surface/interface defects of halide perovskite, including film quality development and interface modification. Strategies are proposed for further promoting the film quality and the corresponding device performance. Finally, we highlight the challenges that need to be overcome to control over the defect properties of halide perovskite.
---
Graphical Abstract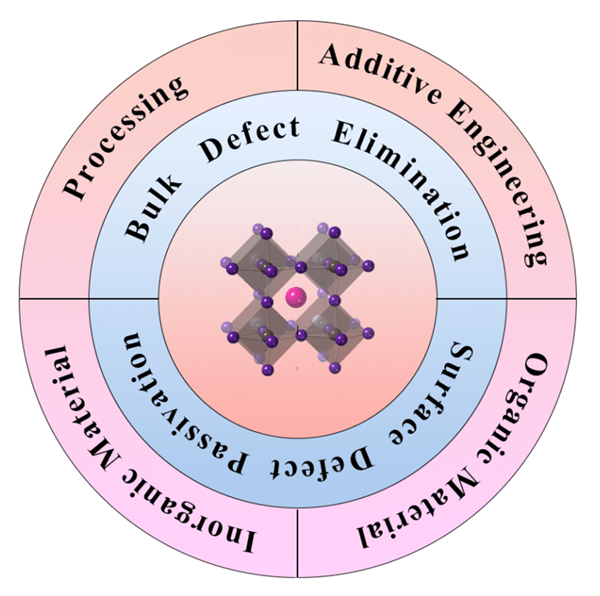 ---
Keywords
---
This work is licensed under a Creative
Commons Attribution 4.0 International License
, which permits unrestricted use, distribution, and reproduction in any medium, provided the original work is properly cited.