Open Access
ARTICLE
Preparation of Film Based on Polyvinyl Alcohol Modified by Alkaline Starch and Lignin Fiber
1 Yunnan Provincial Key Laboratory of Wood Adhesives and Glued Products, Southwest Forestry University, Kunming, 650224, China
2 Department of Polymers and Pigments, National Research Centre, Dokki, Cairo, 12622, Egypt
* Corresponding Authors: Xiaojian Zhou. Email:
; Jun Zhang. Email:
Journal of Renewable Materials 2023, 11(2), 837-852. https://doi.org/10.32604/jrm.2022.022792
Received 26 March 2022; Accepted 23 May 2022; Issue published 22 September 2022
Abstract
This study presents an easily prepared film based on alkaline starch-polyvinyl alcohol hybrid and lignin fiber as an additive (SPL film). The SPL film was prepared under acidic conditions through a polycondensation reaction of PVA and a mixture incorporating alkaline starch and lignin fiber from agriculture or forest source. The examination using scanning electron microscopy (SEM) showed that the surface of SPL film was smooth and the lignin fiber had good compatibility within the film hybrid. Electrospray ionization mass spectroscopy (ESI-MS) and fourier transform infrared (FTIR) investigations indicated that alkaline starch and lignin fiber reacted with PVA under acidic conditions and that –CH
2
–O– groups were involved in the cross-linking of the SPL system. In addition, the SPL film exhibited only 4% light transmittance, which effectively reduces the ultraviolet and visible light (UV-Vis) penetration, along with good performance when exposed to thermal degradation, in which the mass loss reached around 60% at 400°C. Moreover, the SPL film acquired excellent tensile strength, which is much higher than that of PVA-lignin (PL) composite film.
---
Graphical Abstract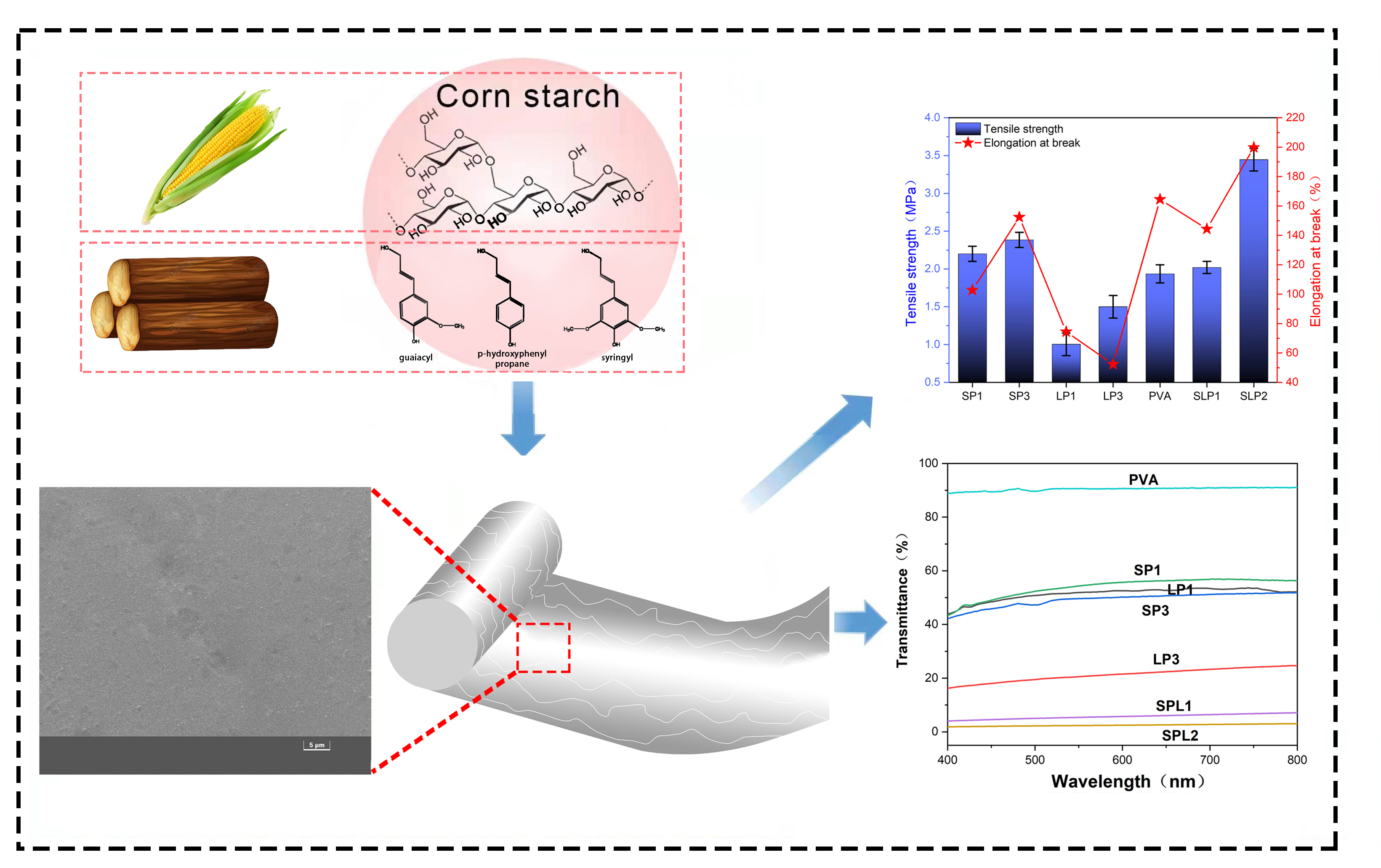 ---
Keywords
---
This work is licensed under a Creative
Commons Attribution 4.0 International License
, which permits unrestricted use, distribution, and reproduction in any medium, provided the original work is properly cited.