Open Access
REVIEW
Thermomechanical Energy Converters for Harvesting Thermal Energy: A Review
V. Lashkaryov Institute of Semiconductor Physics, NAS of Ukraine, Kyiv, 03028, Ukraine
* Corresponding Author: Oleg P. Dimitriev. Email:
(This article belongs to this Special Issue: New Insights on Renewable Materials for Energy Related Applications)
Journal of Renewable Materials 2023, 11(4), 1555-1600. https://doi.org/10.32604/jrm.2023.024772
Received 08 June 2022; Accepted 02 August 2022; Issue published 01 December 2022
Abstract
Thermal energy, i.e., the electromagnetic energy in the infrared range that originates from the direct solar radiation, outgoing terrestrial radiation, waste heat from combustion of fuels, heat-emitting electrical devices, decay of radioactive isotopes, organic putrefaction and fermentation, human body heat, and so on, constitutes a huge energy flux circulating on the earth surface. However, most energy converters designed for the conversion of electromagnetic energy into electricity, such as photovoltaic cells, are mainly focused on using a narrow part of the solar energy lying in the visible spectrum, while thermomechanical engines that are fueled by heat in the broad energy range and then convert it into mechanical work or store it as mechanical deformation, are paid less attention. Although the efficiency of thermomechanical devices is relatively low, they can be applied to collect waste heat which otherwise contributes to negative climate changes. In this review, operational principles of thermomechanical energy converters and a description of basic devices and materials that utilize thermal energy are given. In addition to conventional macroscopic engines, based on thermoacoustic, thermomagnetic, thermoelastic, hydride heat converters, and shape memory alloys, the emergent devices are described which are classified as smart actuators, breathing frameworks, thermoacoustic micro-transducers, nanomechanical resonators, plasmomechanical systems, and optothermal walkers. The performance of the different types of thermomechanical energy converters is described and compared.
---
Graphical Abstract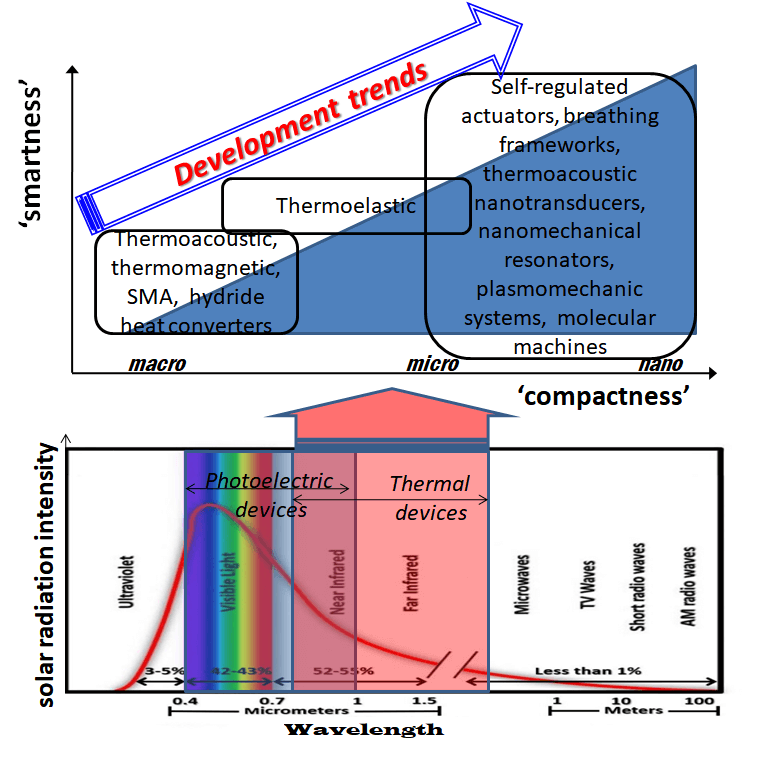 ---
Keywords
---
This work is licensed under a Creative
Commons Attribution 4.0 International License
, which permits unrestricted use, distribution, and reproduction in any medium, provided the original work is properly cited.