Open Access
ARTICLE
N-Doped rGO-Like Carbon Prepared from Coconut Shell: Structure and Specific Capacitance
1 Department of Physics, Faculty of Science and Data Analytics, Institut Teknologi Sepuluh Nopember, Surabaya, 60111, Indonesia
2 Department of Electrical Engineering, Faculty of Engineering, University of Muhammadiyah Malang, Malang, 65144, Indonesia
3 Geopolymer & Green Technology Centre of Excellence, Universiti Malaysia Perlis, Arau, Perlis, 02600, Malaysia
4 Applied Electromagnetic Laboratory 1, Department of Physics, Faculty of Science, Universiti Putra Malaysia, Selangor, 43400, Malaysia
5 Synchrotron Light Research Institute (SLRI), Nakhon Ratchasima, 3000, Thailand
* Corresponding Authors: Imam Khambali. Email:
; Darminto. Email:
(This article belongs to this Special Issue: Renewable and Green Materials for Supercapacitors)
Journal of Renewable Materials 2023, 11(4), 1823-1833. https://doi.org/10.32604/jrm.2023.025026
Received 18 June 2022; Accepted 25 August 2022; Issue published 01 December 2022
Abstract
An rGO−like carbon compound has been synthesized from biomass, i.e., old coconut shell, by a carbonization process followed by heating at 400°C for 5 h. The nitrogen doping was achieved by adding the urea (CH
4
N
2
O) and stirring at 70°C for 14 h. The morphology and structure of the rGO-like carbon were investigated by electron microscopies and Raman spectroscopy. The presence of C-N functional groups was analyzed by Fourier transform infrared and synchrotron X-ray photoemission spectroscopy, while the particle and the specific capacitance were measured by particle sizer and cyclic voltammetry. The highest specific capacitance of 72.78 F/g is achieved by the sample with 20% urea, having the smallest particles size and the largest surface area. The corresponding sample has shown to be constituted by the appropriate amount of C–N pyrrolic and pyridinic defects.
---
Graphical Abstract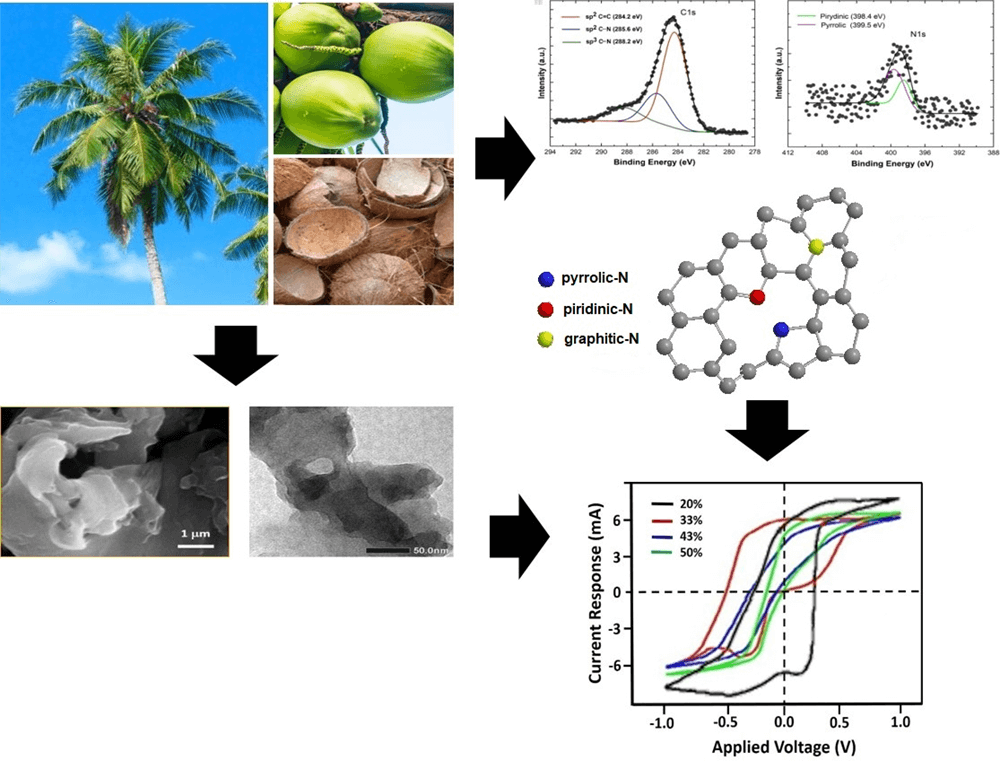 ---
Keywords
---
This work is licensed under a Creative
Commons Attribution 4.0 International License
, which permits unrestricted use, distribution, and reproduction in any medium, provided the original work is properly cited.