Computer Systems Science and Engineering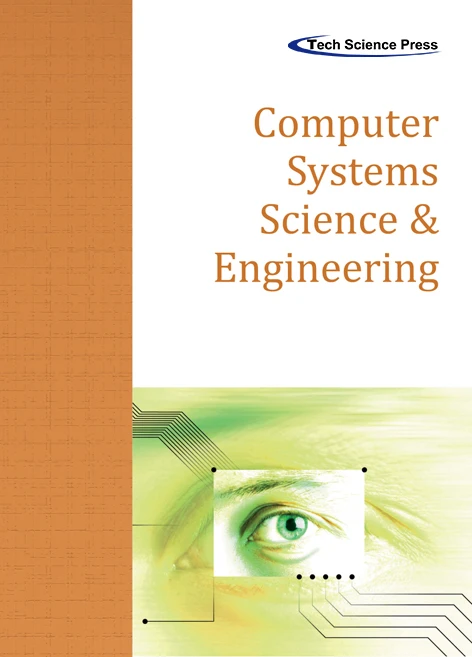 ISSN: 0267-6192 (print)

Impact Factor: 4.397

Publication Frequency: Monthly
About the Journal
The Computer Systems Science and Engineering journal is devoted to the publication of high quality papers on theoretical developments in computer systems science, and their applications in computer systems engineering. Original research papers, state-of-the-art reviews and technical notes are invited for publication. Computer Systems Science and Engineering is published monthly by Tech Science Press.
Indexing and Abstracting
Science Citation Index (Web of Science): 2021 Impact Factor 4.397; Scopus Cite Score (Impact per Publication 2021): 1.9; SNIP (Source Normalized Impact per Paper 2021): 0.827; ACM Digital Library.
OPEN ACCESS

ARTICLE

E. Dhiravidachelvi1, M.Suresh Kumar2, L. D. Vijay Anand3, D. Pritima4, Seifedine Kadry5, Byeong-Gwon Kang6, Yunyoung Nam7,*

Computer Systems Science and Engineering, Vol.44, No.2, pp. 961-977, 2023, DOI:10.32604/csse.2023.024612

Abstract Human Activity Recognition (HAR) has been made simple in recent years, thanks to recent advancements made in Artificial Intelligence (AI) techniques. These techniques are applied in several areas like security, surveillance, healthcare, human-robot interaction, and entertainment. Since wearable sensor-based HAR system includes in-built sensors, human activities can be categorized based on sensor values. Further, it can also be employed in other applications such as gait diagnosis, observation of children/adult's cognitive nature, stroke-patient hospital direction, Epilepsy and Parkinson's disease examination, etc. Recently-developed Artificial Intelligence (AI) techniques, especially Deep Learning (DL) models can be deployed to accomplish effective outcomes on HAR process.… More
OPEN ACCESS

ARTICLE

Narendran Sobanapuram Muruganandam, Umamakeswari Arumugam*

Computer Systems Science and Engineering, Vol.44, No.2, pp. 979-989, 2023, DOI:10.32604/csse.2023.024943

Abstract In forecasting real time environmental factors, large data is needed to analyse the pattern behind the data values. Air pollution is a major threat towards developing countries and it is proliferating every year. Many methods in time series prediction and deep learning models to estimate the severity of air pollution. Each independent variable contributing towards pollution is necessary to analyse the trend behind the air pollution in that particular locality. This approach selects multivariate time series and coalesce a real time updatable autoregressive model to forecast Particulate matter (PM) PM2.5. To perform experimental analysis the data from the Central Pollution… More
OPEN ACCESS

ARTICLE

Sathit Prasomphan*

Computer Systems Science and Engineering, Vol.44, No.2, pp. 991-1007, 2023, DOI:10.32604/csse.2023.025452

Abstract Establishing a system for measuring plant health and bacterial infection is critical in agriculture. Previously, the farmers themselves, who observed them with their eyes and relied on their experience in analysis, which could have been incorrect. Plant inspection can determine which plants reflect the quantity of green light and near-infrared using infrared light, both visible and eye using a drone. The goal of this study was to create algorithms for assessing bacterial infections in rice using images from unmanned aerial vehicles (UAVs) with an ensemble classification technique. Convolution neural networks in unmanned aerial vehicles image were used. To convey this… More
OPEN ACCESS

ARTICLE

Mini Prince1,*, P. M. Joe Prathap2

Computer Systems Science and Engineering, Vol.44, No.2, pp. 1009-1024, 2023, DOI:10.32604/csse.2023.024277

Abstract Most modern technologies, such as social media, smart cities, and the internet of things (IoT), rely on big data. When big data is used in the real-world applications, two data challenges such as class overlap and class imbalance arises. When dealing with large datasets, most traditional classifiers are stuck in the local optimum problem. As a result, it's necessary to look into new methods for dealing with large data collections. Several solutions have been proposed for overcoming this issue. The rapid growth of the available data threatens to limit the usefulness of many traditional methods. Methods such as oversampling and… More
OPEN ACCESS

ARTICLE

S. R. Sylaja Vallee Narayan1,*, R. Jemila Rose2

Computer Systems Science and Engineering, Vol.44, No.2, pp. 1025-1038, 2023, DOI:10.32604/csse.2023.022564

Abstract Cervical cancer is a disease that develops in the cervix's tissue. Cervical cancer mortality is being reduced due to the growth of screening programmers. Cervical cancer screening is a big issue because the majority of cervical cancer screening treatments are invasive. Hence, there is apprehension about standard screening procedures, as well as the time it takes to learn the results. There are different methods for detecting problems in the cervix using Pap (Papanicolaou-stained) test, colposcopy, Computed Tomography (CT), Magnetic Resonance Image (MRI) and ultrasound. To obtain a clear sketch of the infected regions, using a decision tree approach, the captured… More
OPEN ACCESS

ARTICLE

Hani Al-Mimi1,*, Yousef Alrabanah2, Mosleh M. Abualhaj3, Sumaya N. Al-khatib3

Computer Systems Science and Engineering, Vol.44, No.2, pp. 1039-1049, 2023, DOI:10.32604/csse.2023.024338

Abstract The demand for the telecommunication services, such as IP telephony, has increased dramatically during the COVID-19 pandemic lockdown. IP telephony should be enhanced to provide the expected quality. One of the issues that should be investigated in IP telephony is bandwidth utilization. IP telephony produces very small speech samples attached to a large packet header. The header of the IP telephony consumes a considerable share of the bandwidth allotted to the IP telephony. This wastes the network's bandwidth and influences the IP telephony quality. This paper proposes a mechanism (called Smallerize) that reduces the bandwidth consumed by both the speech… More
OPEN ACCESS

ARTICLE

K. Vignesh1,*, A. Askarunisa2, A. M. Abirami3

Computer Systems Science and Engineering, Vol.44, No.2, pp. 1051-1067, 2023, DOI:10.32604/csse.2023.024475

Abstract Crop yield has been predicted using environmental, land, water, and crop characteristics in a prospective research design. When it comes to predicting crop production, there are a number of factors to consider, including weather conditions, soil qualities, water levels and the location of the farm. A broad variety of algorithms based on deep learning are used to extract useful crops for forecasting. The combination of data mining and deep learning creates a whole crop yield prediction system that is able to connect raw data to predicted crop yields. The suggested study uses a Discrete Deep belief network with Visual Geometry… More
OPEN ACCESS

ARTICLE

Waqar Hafeez1, Nazrina Aziz1,2,*

Computer Systems Science and Engineering, Vol.44, No.2, pp. 1069-1079, 2023, DOI:10.32604/csse.2023.022047

Abstract Acceptance sampling is used to decide either the whole lot will be accepted or rejected, based on inspection of randomly sampled items from the same lot. As an alternative to traditional sampling plans, it is possible to use Bayesian approaches using previous knowledge on process variation. This study presents a Bayesian two-sided group chain sampling plan (BTSGChSP) by using various combinations of design parameters. In BTSGChSP, inspection is based on preceding as well as succeeding lots. Poisson function is used to derive the probability of lot acceptance based on defective and non-defective products. Gamma distribution is considered as a suitable… More
OPEN ACCESS

ARTICLE

P. Immaculate Rexi Jenifer1,*, S. Kannan2

Computer Systems Science and Engineering, Vol.44, No.2, pp. 1081-1097, 2023, DOI:10.32604/csse.2023.026128

Abstract Medical image classification becomes a vital part of the design of computer aided diagnosis (CAD) models. The conventional CAD models are majorly dependent upon the shapes, colors, and/or textures that are problem oriented and exhibited complementary in medical images. The recently developed deep learning (DL) approaches pave an efficient method of constructing dedicated models for classification problems. But the maximum resolution of medical images and small datasets, DL models are facing the issues of increased computation cost. In this aspect, this paper presents a deep convolutional neural network with hierarchical spiking neural network (DCNN-HSNN) for medical image classification. The proposed… More
OPEN ACCESS

ARTICLE

B. Dhiyanesh1,*, K. Karthick2, R. Radha3, Anita Venaik4

Computer Systems Science and Engineering, Vol.44, No.2, pp. 1099-1107, 2023, DOI:10.32604/csse.2023.024691

Abstract Cloud computing (CC) is an advanced technology that provides access to predictive resources and data sharing. The cloud environment represents the right type regarding cloud usage model ownership, size, and rights to access. It introduces the scope and nature of cloud computing. In recent times, all processes are fed into the system for which consumer data and cache size are required. One of the most security issues in the cloud environment is Distributed Denial of Service (DDoS) attacks, responsible for cloud server overloading. This proposed system ID3 (Iterative Dichotomiser 3) Maximum Multifactor Dimensionality Posteriori Method (ID3-MMDP) is used to overcome… More
OPEN ACCESS

ARTICLE

Ishani Mishra1,*, Sanjay Jain2, Vivek Maik3

Computer Systems Science and Engineering, Vol.44, No.2, pp. 1109-1123, 2023, DOI:10.32604/csse.2023.025999

Abstract In wireless body sensor network (WBSN), the set of electrocardiogram (ECG) data which is collected from sensor nodes and transmitted to the server remotely supports the experts to monitor the health of a patient. While transmitting these collected data some adversaries may capture and misuse it due to the compromise of security. So, the major aim of this work is to enhance secure transmission of ECG signal in WBSN. To attain this goal, we present Pity Beetle Swarm Optimization Algorithm (PBOA) based Elliptic Galois Cryptography (EGC) with Chaotic Neural Network. To optimize the key generation process in Elliptic Curve Cryptography… More
OPEN ACCESS

ARTICLE

Feslin Anish Mon Solomon1,*, Godfrey Winster Sathianesan2, R. Ramesh3

Computer Systems Science and Engineering, Vol.44, No.2, pp. 1125-1142, 2023, DOI:10.32604/csse.2023.024292

Abstract Internet of Things (IoT) is a popular social network in which devices are virtually connected for communicating and sharing information. This is applied greatly in business enterprises and government sectors for delivering the services to their customers, clients and citizens. But, the interaction is successful only based on the trust that each device has on another. Thus trust is very much essential for a social network. As Internet of Things have access over sensitive information, it urges to many threats that lead data management to risk. This issue is addressed by trust management that help to take decision about trustworthiness… More
OPEN ACCESS

ARTICLE

Kotchaporn Karoon, Yupaporn Areepong*, Saowanit Sukparungsee

Computer Systems Science and Engineering, Vol.44, No.2, pp. 1143-1160, 2023, DOI:10.32604/csse.2023.025420

Abstract The Extended Exponentially Weighted Moving Average (extended EWMA) control chart is one of the control charts and can be used to quickly detect a small shift. The performance of control charts can be evaluated with the average run length (ARL). Due to the deriving explicit formulas for the ARL on a two-sided extended EWMA control chart for trend autoregressive or trend AR(p) model has not been reported previously. The aim of this study is to derive the explicit formulas for the ARL on a two-sided extended EWMA control chart for the trend AR(p) model as well as the trend AR(1)… More
OPEN ACCESS

ARTICLE

Romany F. Mansour1,*, Eatedal Alabdulkreem2

Computer Systems Science and Engineering, Vol.44, No.2, pp. 1161-1169, 2023, DOI:10.32604/csse.2023.023307

Abstract The analysis of remote sensing image areas is needed for climate detection and management, especially for monitoring flood disasters in critical environments and applications. Satellites are mostly used to detect disasters on Earth, and they have advantages in capturing Earth images. Using the control technique, Earth images can be used to obtain detailed terrain information. Since the acquisition of satellite and aerial imagery, this system has been able to detect floods, and with increasing convenience, flood detection has become more desirable in the last few years. In this paper, a Big Data Set-based Progressive Image Classification Algorithm (PICA) system is… More
OPEN ACCESS

ARTICLE

Ligang Yuan1,*, Jiazhi Jin1, Yan Xu2, Ningning Zhang3, Bing Zhang4

Computer Systems Science and Engineering, Vol.44, No.2, pp. 1171-1185, 2023, DOI:10.32604/csse.2023.027221

Abstract Weather is a key factor affecting the control of air traffic. Accurate recognition and classification of similar weather scenes in the terminal area is helpful for rapid decision-making in air traffic flow management. Current researches mostly use traditional machine learning methods to extract features of weather scenes, and clustering algorithms to divide similar scenes. Inspired by the excellent performance of deep learning in image recognition, this paper proposes a terminal area similar weather scene classification method based on improved deep convolution embedded clustering (IDCEC), which uses the combination of the encoding layer and the decoding layer to reduce the dimensionality… More
OPEN ACCESS

ARTICLE

G. Rajeshkumar1,*, M. Vinoth Kumar2, K. Sailaja Kumar3, Surbhi Bhatia4, Arwa Mashat5, Pankaj Dadheech6

Computer Systems Science and Engineering, Vol.44, No.2, pp. 1187-1200, 2023, DOI:10.32604/csse.2023.026137

Abstract A Mobile Ad hoc Network (MANET) is a group of low-power consumption of wireless mobile nodes that configure a wireless network without the assistance of any existing infrastructure/centralized organization. The primary aim of MANETs is to extend flexibility into the self-directed, mobile, and wireless domain, in which a cluster of autonomous nodes forms a MANET routing system. An Intrusion Detection System (IDS) is a tool that examines a network for malicious behavior/policy violations. A network monitoring system is often used to report/gather any suspicious attacks/violations. An IDS is a software program or hardware system that monitors network/security traffic for malicious… More
OPEN ACCESS

ARTICLE

Darpan Majumder1,*, S. Mohan Kumar2

Computer Systems Science and Engineering, Vol.44, No.2, pp. 1201-1217, 2023, DOI:10.32604/csse.2023.024868

Abstract Edge computing is a cloud computing extension where physical computers are installed closer to the device to minimize latency. The task of edge data centers is to include a growing abundance of applications with a small capability in comparison to conventional data centers. Under this framework, Federated Learning was suggested to offer distributed data training strategies by the coordination of many mobile devices for the training of a popular Artificial Intelligence (AI) model without actually revealing the underlying data, which is significantly enhanced in terms of privacy. Federated learning (FL) is a recently developed decentralized profound learning methodology, where customers… More
OPEN ACCESS

ARTICLE

Ashit Kumar Dutta1,*, Manal Al Faraj1, Yasser Albagory2, Mohammad zeid M Alzamil1, Abdul Rahaman Wahab Sait3

Computer Systems Science and Engineering, Vol.44, No.2, pp. 1219-1231, 2023, DOI:10.32604/csse.2023.026467

Abstract A cyber physical energy system (CPES) involves a combination of processing, network, and physical processes. The smart grid plays a vital role in the CPES model where information technology (IT) can be related to the physical system. At the same time, the machine learning (ML) models find useful for the smart grids integrated into the CPES for effective decision making. Also, the smart grids using ML and deep learning (DL) models are anticipated to lessen the requirement of placing many power plants for electricity utilization. In this aspect, this study designs optimal multi-head attention based bidirectional long short term memory… More
OPEN ACCESS

ARTICLE

R.M. Bhavadharini1,*, S. Karthik2

Computer Systems Science and Engineering, Vol.44, No.2, pp. 1233-1250, 2023, DOI:10.32604/csse.2023.025461

Abstract With recent advancements made in wireless communication techniques, wireless sensors have become an essential component in both data collection as well as tracking applications. Wireless Sensor Network (WSN) is an integral part of Internet of Things (IoT) and it encounters different kinds of security issues. Blockchain is designed as a game changer for highly secure and effective digital society. So, the current research paper focuses on the design of Metaheuristic-based Clustering with Routing Protocol for Blockchain-enabled WSN abbreviated as MCRP-BWSN. The proposed MCRP-BWSN technique aims at deriving a shared memory scheme using blockchain technology and determine the optimal paths to… More
OPEN ACCESS

ARTICLE

S. Rajalakshmi1,*, K. R. Santha2

Computer Systems Science and Engineering, Vol.44, No.2, pp. 1251-1262, 2023, DOI:10.32604/csse.2023.024036

Abstract A recommender system is an approach performed by e-commerce for increasing smooth users' experience. Sequential pattern mining is a technique of data mining used to identify the co-occurrence relationships by taking into account the order of transactions. This work will present the implementation of sequence pattern mining for recommender systems within the domain of e-commerce. This work will execute the Systolic tree algorithm for mining the frequent patterns to yield feasible rules for the recommender system. The feature selection's objective is to pick a feature subset having the least feature similarity as well as highest relevancy with the target class.… More
OPEN ACCESS

ARTICLE

Thanh X. Le, An T. Le, Quang H. Nguyen*

Computer Systems Science and Engineering, Vol.44, No.2, pp. 1263-1278, 2023, DOI:10.32604/csse.2023.026234

Abstract In recent years, speech synthesis systems have allowed for the production of very high-quality voices. Therefore, research in this domain is now turning to the problem of integrating emotions into speech. However, the method of constructing a speech synthesizer for each emotion has some limitations. First, this method often requires an emotional-speech data set with many sentences. Such data sets are very time-intensive and labor-intensive to complete. Second, training each of these models requires computers with large computational capabilities and a lot of effort and time for model tuning. In addition, each model for each emotion failed to take advantage… More
OPEN ACCESS

ARTICLE

C. Aswini1,*, M. L. Valarmathi2

Computer Systems Science and Engineering, Vol.44, No.2, pp. 1279-1293, 2023, DOI:10.32604/csse.2023.022023

Abstract In a non-static information exchange network, routing is an overly complex task to perform, which has to satisfy all the needs of the network. Software Defined Network (SDN) is the latest and widely used technology in the future communication networks, which would provide smart routing that is visible universally. The various features of routing are supported by the information centric network, which minimizes the congestion in the dataflow in a network and provides the content awareness through its mined mastery. Due to the advantages of the information centric network, the concepts of the information-centric network has been used in the… More
OPEN ACCESS

ARTICLE

Sathit Prasomphan*

Computer Systems Science and Engineering, Vol.44, No.2, pp. 1295-1307, 2023, DOI:10.32604/csse.2023.025293

Abstract Fine-grained image classification is a challenging research topic because of the high degree of similarity among categories and the high degree of dissimilarity for a specific category caused by different poses and scales. A cultural heritage image is one of the fine-grained images because each image has the same similarity in most cases. Using the classification technique, distinguishing cultural heritage architecture may be difficult. This study proposes a cultural heritage content retrieval method using adaptive deep learning for fine-grained image retrieval. The key contribution of this research was the creation of a retrieval model that could handle incremental streams of… More
OPEN ACCESS

ARTICLE

Junaid Rashid1, Sumera Kanwal2, Muhammad Wasif Nisar2, Jungeun Kim1,*, Amir Hussain3

Computer Systems Science and Engineering, Vol.44, No.2, pp. 1309-1324, 2023, DOI:10.32604/csse.2023.026018

Abstract In project management, effective cost estimation is one of the most crucial activities to efficiently manage resources by predicting the required cost to fulfill a given task. However, finding the best estimation results in software development is challenging. Thus, accurate estimation of software development efforts is always a concern for many companies. In this paper, we proposed a novel software development effort estimation model based both on constructive cost model II (COCOMO II) and the artificial neural network (ANN). An artificial neural network enhances the COCOMO model, and the value of the baseline effort constant A is calibrated to use… More
OPEN ACCESS

ARTICLE

G. Karthikeyan*, G. Kousalya

Computer Systems Science and Engineering, Vol.44, No.2, pp. 1325-1340, 2023, DOI:10.32604/csse.2023.026356

Abstract Generalized Tonic Clonic Seizure (GTCS) is a form of epileptic seizure in which a patient loses control over their entire body, ultimately leading to loss of consciousness. The Vagus Nerve Stimulator (VNS) is a tool/method for treating epileptic episodes that sends counter-electrical stimulations to the Vagus Nerve in order to mitigate epileptic signals from the brain. The machine is a stand-alone device that depends on human decision-making. The proposed framework uses an IoT and Blockchain oversight mechanism to augment the device's transparency. The system counteracts against false-activation by monitoring the patient's vitals through a smart watch and allows only legitimate… More
OPEN ACCESS

ARTICLE

Valliappan Raman1, Khaled ELKarazle2,*, Patrick Then2

Computer Systems Science and Engineering, Vol.44, No.2, pp. 1341-1355, 2023, DOI:10.32604/csse.2023.026674

Abstract Given the current expansion of the computer vision field, several applications that rely on extracting biometric information like facial gender for access control, security or marketing purposes are becoming more common. A typical gender classifier requires many training samples to learn as many distinguishable features as possible. However, collecting facial images from individuals is usually a sensitive task, and it might violate either an individual's privacy or a specific data privacy law. In order to bridge the gap between privacy and the need for many facial images for deep learning training, an artificially generated dataset of facial images is proposed.… More
OPEN ACCESS

ARTICLE

Christy James Jose1,*, M. S. Rajasree2

Computer Systems Science and Engineering, Vol.44, No.2, pp. 1357-1372, 2023, DOI:10.32604/csse.2023.025672

Abstract The predominant method for smart phone accessing is confined to methods directing the authentication by means of Point-of-Entry that heavily depend on physiological biometrics like, fingerprint or face. Implicit continuous authentication initiating to be loftier to conventional authentication mechanisms by continuously confirming users' identities on continuing basis and mark the instant at which an illegitimate hacker grasps dominance of the session. However, divergent issues remain unaddressed. This research aims to investigate the power of Deep Reinforcement Learning technique to implicit continuous authentication for mobile devices using a method called, Gaussian Weighted Cauchy Kriging-based Continuous Czekanowski's (GWCK-CC). First, a Gaussian Weighted… More
OPEN ACCESS

ARTICLE

P. Ramadevi1,*, T. Jayasankar1, V. Dinesh2, M. Dhamodaran3

Computer Systems Science and Engineering, Vol.44, No.2, pp. 1373-1385, 2023, DOI:10.32604/csse.2023.026603

Abstract Recently, with the growth of cyber physical systems (CPS), several applications have begun to deploy in the CPS for connecting the cyber space with the physical scale effectively. Besides, the cloud computing (CC) enabled CPS offers huge processing and storage resources for CPS that finds helpful for a range of application areas. At the same time, with the massive development of applications that exist in the CPS environment, the energy utilization of the cloud enabled CPS has gained significant interest. For improving the energy effectiveness of the CC platform, virtualization technologies have been employed for resource management and the applications… More
OPEN ACCESS

ARTICLE

S. Devi Mahalakshmi*

Computer Systems Science and Engineering, Vol.44, No.2, pp. 1387-1395, 2023, DOI:10.32604/csse.2023.027610

Abstract The kidney is an important organ of humans to purify the blood. The healthy function of the kidney is always essential to balance the salt, potassium and pH levels in the blood. Recently, the failure of kidneys happens easily to human beings due to their lifestyle, eating habits and diabetes diseases. Early prediction of kidney stones is compulsory for timely treatment. Image processing-based diagnosis approaches provide a greater success rate than other detection approaches. In this work, proposed a kidney stone classification method based on optimized Transfer Learning(TL). The Deep Convolutional Neural Network (DCNN) models of DenseNet169, MobileNetv2 and GoogleNet… More
OPEN ACCESS

ARTICLE

Qiuyu Hu1, Wu Zeng1,*, Yi Sheng1, Jian Xu1, Weihua Ou2, Ruochen Tan3

Computer Systems Science and Engineering, Vol.44, No.2, pp. 1397-1408, 2023, DOI:10.32604/csse.2023.027980

Abstract Heart rate is an important vital characteristic which indicates physical and mental health status. Typically heart rate measurement instruments require direct contact with the skin which is time-consuming and costly. Therefore, the study of non-contact heart rate measurement methods is of great importance. Based on the principles of photoelectric volumetric tracing, we use a computer device and camera to capture facial images, accurately detect face regions, and to detect multiple facial images using a multi-target tracking algorithm. Then after the regional segmentation of the facial image, the signal acquisition of the region of interest is further resolved. Finally, frequency detection… More
OPEN ACCESS

ARTICLE

A. M. Almohaimeed1, El Amjed Hajlaoui1,2,*, Ziyad M. Almohaimeed1

Computer Systems Science and Engineering, Vol.44, No.2, pp. 1409-1417, 2023, DOI:10.32604/csse.2023.025738

Abstract This work demonstrates the design of a single band Electromagnetic Band Gap (EBG) antenna by employing an open stub EBG microstrip of a patch antenna for better achievements in terms of its performance to be utilized in a reconfigurable harvester to operate over a wide input power range. The EBG antenna has been used to gather RF energy and a FET-transistor has been obtainable to determine and control the power flow with the intention to operate at the same time for a different level of input power. The measured data of the EBG antenna shows a directivity of 8.52 dBi,… More
OPEN ACCESS

ARTICLE

Ashit Kumar Dutta1,*, Yasser Albagory2, Manal Al Faraj1, Majed Alsanea3, Abdul Rahaman Wahab Sait4

Computer Systems Science and Engineering, Vol.44, No.2, pp. 1419-1432, 2023, DOI:10.32604/csse.2023.027377

Abstract Accurate soil prediction is a vital parameter involved to decide appropriate crop, which is commonly carried out by the farmers. Designing an automated soil prediction tool helps to considerably improve the efficacy of the farmers. At the same time, fuzzy logic (FL) approaches can be used for the design of predictive models, particularly, Fuzzy Cognitive Maps (FCMs) have involved the concept of uncertainty representation and cognitive mapping. In other words, the FCM is an integration of the recurrent neural network (RNN) and FL involved in the knowledge engineering phase. In this aspect, this paper introduces effective fuzzy cognitive maps with… More
OPEN ACCESS

ARTICLE

Tariq Mohammed Alqahtani*

Computer Systems Science and Engineering, Vol.44, No.2, pp. 1433-1449, 2023, DOI:10.32604/csse.2023.025594

Abstract In recent years, huge volumes of healthcare data are getting generated in various forms. The advancements made in medical imaging are tremendous owing to which biomedical image acquisition has become easier and quicker. Due to such massive generation of big data, the utilization of new methods based on Big Data Analytics (BDA), Machine Learning (ML), and Artificial Intelligence (AI) have become essential. In this aspect, the current research work develops a new Big Data Analytics with Cat Swarm Optimization based deep Learning (BDA-CSODL) technique for medical image classification on Apache Spark environment. The aim of the proposed BDA-CSODL technique is… More
OPEN ACCESS

ARTICLE

A. Jameer Basha1, S. Aswini1, S. Aarthini1, Yunyoung Nam2,*, Mohamed Abouhawwash3,4

Computer Systems Science and Engineering, Vol.44, No.2, pp. 1451-1466, 2023, DOI:10.32604/csse.2023.025503

Abstract Wireless Sensor Network (WSN) technology is the real-time application that is growing rapidly as the result of smart environments. Battery power is one of the most significant resources in WSN. For enhancing a power factor, the clustering techniques are used. During the forward of data in WSN, more power is consumed. In the existing system, it works with Load Balanced Clustering Method (LBCM) and provides the lifespan of the network with scalability and reliability. In the existing system, it does not deal with end-to-end delay and delivery of packets. For overcoming these issues in WSN, the proposed Genetic Algorithm based… More
OPEN ACCESS

ARTICLE

A. Alice Blessie1,*, P. Ramesh2

Computer Systems Science and Engineering, Vol.44, No.2, pp. 1467-1484, 2023, DOI:10.32604/csse.2023.025399

Abstract The present progress of visual-based detection of the diseased area of a malady plays an essential part in the medical field. In that case, the image processing is performed to improve the image data, wherein it inhibits unintended distortion of image features or it enhances further processing in various applications and fields. This helps to show better results especially for diagnosing diseases. Of late the early prediction of cancer is necessary to prevent disease-causing problems. This work is proposed to identify lung cancer using lung computed tomography (CT) scan images. It helps to identify cancer cells' affected areas. In the… More
OPEN ACCESS

ARTICLE

Ahmed S. Almasoud*

Computer Systems Science and Engineering, Vol.44, No.2, pp. 1485-1498, 2023, DOI:10.32604/csse.2023.025190

Abstract The latest advancements in computer vision and deep learning (DL) techniques pave the way to design novel tools for the detection and monitoring of forest fires. In this view, this paper presents an intelligent wild forest fire detection and alarming system using deep learning (IWFFDA-DL) model. The proposed IWFFDA-DL technique aims to identify forest fires at earlier stages through integrated sensors. The proposed IWFFDA-DL system includes an Integrated sensor system (ISS) combining an array of sensors that acts as the major input source that helps to forecast the fire. Then, the attention based convolution neural network with bidirectional long short… More
OPEN ACCESS

ARTICLE

Pelin Yildirim Taser*

Computer Systems Science and Engineering, Vol.44, No.2, pp. 1499-1516, 2023, DOI:10.32604/csse.2023.028083

Abstract Predictive Maintenance is a type of condition-based maintenance that assesses the equipment's states and estimates its failure probability and when maintenance should be performed. Although machine learning techniques have been frequently implemented in this area, the existing studies disregard to the natural order between the target attribute values of the historical sensor data. Thus, these methods cause losing the inherent order of the data that positively affects the prediction performances. To deal with this problem, a novel approach, named Ordinal Multi-dimensional Classification (OMDC), is proposed for estimating the conditions of a hydraulic system's four components by taking into the natural… More
OPEN ACCESS

ARTICLE

Ashit Kumar Dutta1,*, Yasser Albagory2, Manal Al Faraj1, Yasir A. M. Eltahir3, Abdul Rahaman Wahab Sait4

Computer Systems Science and Engineering, Vol.44, No.2, pp. 1517-1529, 2023, DOI:10.32604/csse.2023.026482

Abstract The recently developed machine learning (ML) models have the ability to obtain high detection rate using biomedical signals. Therefore, this article develops an Optimal Sparse Autoencoder based Sleep Stage Classification Model on Electroencephalography (EEG) Biomedical Signals, named OSAE-SSCEEG technique. The major intention of the OSAE-SSCEEG technique is to find the sleep stage disorders using the EEG biomedical signals. The OSAE-SSCEEG technique primarily undergoes preprocessing using min-max data normalization approach. Moreover, the classification of sleep stages takes place using the Sparse Autoencoder with Smoothed Regularization (SAE-SR) with softmax (SM) approach. Finally, the parameter optimization of the SAE-SR technique is carried out… More
OPEN ACCESS

ARTICLE

N. Krishnammal1,*, C. Kalaiarasan2, A. Bharathi3

Computer Systems Science and Engineering, Vol.44, No.2, pp. 1531-1549, 2023, DOI:10.32604/csse.2023.024251

Abstract Link asymmetry in wireless mesh access networks (WMAN) of Mobile ad-hoc Networks (MANETs) is due mesh routers' transmission range. It is depicted as significant research challenges that pose during the design of network protocol in wireless networks. Based on the extensive review, it is noted that the substantial link percentage is symmetric, i.e., many links are unidirectional. It is identified that the synchronous acknowledgement reliability is higher than the asynchronous message. Therefore, the process of establishing bidirectional link quality through asynchronous beacons underrates the link reliability of asymmetric links. It paves the way to exploit an investigation on asymmetric links… More
OPEN ACCESS

ARTICLE

Chin-Feng Lee, Kuo-Chung Chan*

Computer Systems Science and Engineering, Vol.44, No.2, pp. 1551-1566, 2023, DOI:10.32604/csse.2023.026294

Abstract Dual-image reversible data hiding (RDH) is a technique for hiding important messages. This technology can be used to safely deliver secret messages to the recipient through dual images in an open network without being easily noticed. The recipient of the image must receive the two stego-images before the secret message can be completely retrieved. Imperceptibility is one of the main advantages of data hiding technology; to increase the imperceptibility, the quality requirements of the stego-images are relatively important. A dual steganographic image RDH method, called a DS-CF scheme that can achieve a better steganographic image quality using the center folding… More
OPEN ACCESS

ARTICLE

R. Gopi1, R. Sheeba2, K. Anguraj3, T. Chelladurai4, Haya Mesfer Alshahrani5, Nadhem Nemri6,*, Tarek Lamoudan7

Computer Systems Science and Engineering, Vol.44, No.2, pp. 1567-1582, 2023, DOI:10.32604/csse.2023.025216

Abstract Rapid increase in the large quantity of industrial data, Industry 4.0/5.0 poses several challenging issues such as heterogeneous data generation, data sensing and collection, real-time data processing, and high request arrival rates. The classical intrusion detection system (IDS) is not a practical solution to the Industry 4.0 environment owing to the resource limitations and complexity. To resolve these issues, this paper designs a new Chaotic Cuckoo Search Optimization Algorithm (CCSOA) with optimal wavelet kernel extreme learning machine (OWKELM) named CCSOA-OWKELM technique for IDS on the Industry 4.0 platform. The CCSOA-OWKELM technique focuses on the design of feature selection with classification… More
OPEN ACCESS

ARTICLE

P. Rahul1,*, N. Kanthimathi1, B. Kaarthick2, M. Leeban Moses1

Computer Systems Science and Engineering, Vol.44, No.2, pp. 1583-1600, 2023, DOI:10.32604/csse.2023.027424

Abstract Recently, the fundamental problem with Hybrid Mobile Ad-hoc Networks (H-MANETs) is to find a suitable and secure way of balancing the load through Internet gateways. Moreover, the selection of the gateway and overload of the network results in packet loss and Delay (DL). For optimal performance, it is important to load balance between different gateways. As a result, a stable load balancing procedure is implemented, which selects gateways based on Fuzzy Logic (FL) and increases the efficiency of the network. In this case, since gateways are selected based on the number of nodes, the Energy Consumption (EC) was high. This… More
OPEN ACCESS

ARTICLE

Ghassan Ahmed Ali1, Thamer Mitib Ahmad Al Sariera2,*, Muhammad Akram1, Adel Sulaiman1, Fekry Olayah1

Computer Systems Science and Engineering, Vol.44, No.2, pp. 1601-1616, 2023, DOI:10.32604/csse.2023.026119

Abstract Damage of the blood vessels in retina due to diabetes is called diabetic retinopathy (DR). Hemorrhages is the first clinically visible symptoms of DR. This paper presents a new technique to extract and classify the hemorrhages in fundus images. The normal objects such as blood vessels, fovea and optic disc inside retinal images are masked to distinguish them from hemorrhages. For masking blood vessels, thresholding that separates blood vessels and background intensity followed by a new filter to extract the border of vessels based on orientations of vessels are used. For masking optic disc, the image is divided into sub-images… More
OPEN ACCESS

ARTICLE

S. Sivanantham1,*, V. Mohanraj2, Y. Suresh2, J. Senthilkumar2

Computer Systems Science and Engineering, Vol.44, No.2, pp. 1617-1631, 2023, DOI:10.32604/csse.2023.025893

Abstract In the network security system, intrusion detection plays a significant role. The network security system detects the malicious actions in the network and also conforms the availability, integrity and confidentiality of data information resources. Intrusion identification system can easily detect the false positive alerts. If large number of false positive alerts are created then it makes intrusion detection system as difficult to differentiate the false positive alerts from genuine attacks. Many research works have been done. The issues in the existing algorithms are more memory space and need more time to execute the transactions of records. This paper proposes a… More
OPEN ACCESS

ARTICLE

Qiang Wu1, Zhaoyang Han2, Ghulam Mohiuddin3, Yongjun Ren1,*

Computer Systems Science and Engineering, Vol.44, No.2, pp. 1633-1646, 2023, DOI:10.32604/csse.2023.030646

Abstract In the data communication system, the real-time information interaction of communication device increases the risk of privacy sensitive data being tampered with. Therefore, maintaining data security is one of the most important issues in network data communication. Because the timestamp is the most important way to authenticate data in information interaction, it is very necessary to provide timestamp service in the data communication system. However, the existing centralized timestamp mechanism is difficult to provide credible timestamp service, and users can conspire with timestamping servers to forge timestamps. Therefore, this paper designs a distributed timestamp mechanism based on continuous verifiable delay… More
OPEN ACCESS

ARTICLE

M. Usharani1,*, B. Sakthivel2, S. Gayathri Priya3, T. Nagalakshmi4, J. Shirisha5

Computer Systems Science and Engineering, Vol.44, No.2, pp. 1647-1657, 2023, DOI:10.32604/csse.2023.027744

Abstract Approximate computing is a popular field for low power consumption that is used in several applications like image processing, video processing, multimedia and data mining. This Approximate computing is majorly performed with an arithmetic circuit particular with a multiplier. The multiplier is the most essential element used for approximate computing where the power consumption is majorly based on its performance. There are several researchers are worked on the approximate multiplier for power reduction for a few decades, but the design of low power approximate multiplier is not so easy. This seems a bigger challenge for digital industries to design an… More
OPEN ACCESS

ARTICLE

Joseph Sathiadhas Esra1,*, Y. Sukhi2

Computer Systems Science and Engineering, Vol.44, No.2, pp. 1659-1678, 2023, DOI:10.32604/csse.2023.025969

Abstract In the design of hearing aids (HA), the real-time speech-enhancement is done. The digital hearing aids should provide high signal-to-noise ratio, gain improvement and should eliminate feedback. In generic hearing aids the performance towards different frequencies varies and non uniform. Existing noise cancellation and speech separation methods drops the voice magnitude under the noise environment. The performance of the HA for frequency response is non uniform. Existing noise suppression methods reduce the required signal strength also. So, the performance of uniform sub band analysis is poor when hearing aid is concern. In this paper, a speech separation method using Non-negative… More
OPEN ACCESS

ARTICLE

Abdullah Alshehri1,*, Nayeem Khan1, Ali Alowayr1, Mohammed Yahya Alghamdi2

Computer Systems Science and Engineering, Vol.44, No.2, pp. 1679-1689, 2023, DOI:10.32604/csse.2023.026526

Abstract This paper proposes a novel framework to detect cyber-attacks using Machine Learning coupled with User Behavior Analytics. The framework models the user behavior as sequences of events representing the user activities at such a network. The represented sequences are then fitted into a recurrent neural network model to extract features that draw distinctive behavior for individual users. Thus, the model can recognize frequencies of regular behavior to profile the user manner in the network. The subsequent procedure is that the recurrent neural network would detect abnormal behavior by classifying unknown behavior to either regular or irregular behavior. The importance of… More
OPEN ACCESS

ARTICLE

K. Saraswathi1,*, V. Mohanraj2, Y. Suresh2, J. Senthilkumar2

Computer Systems Science and Engineering, Vol.44, No.2, pp. 1691-1702, 2023, DOI:10.32604/csse.2023.027987

Abstract Nowadays, review systems have been developed with social media Recommendation systems (RS). Although research on RS social media is increasing year by year, the comprehensive literature review and classification of this RS research is limited and needs to be improved. The previous method did not find any user reviews within a time, so it gets poor accuracy and doesn't filter the irrelevant comments efficiently. The Recursive Neural Network-based Trust Recommender System (RNN-TRS) is proposed to overcome this method's problem. So it is efficient to analyse the trust comment and remove the irrelevant sentence appropriately. The first step is to collect… More
OPEN ACCESS

ARTICLE

V. Arulalan*, Dhananjay Kumar

Computer Systems Science and Engineering, Vol.44, No.2, pp. 1703-1717, 2023, DOI:10.32604/csse.2023.026744

Abstract Object detection and classification are the trending research topics in the field of computer vision because of their applications like visual surveillance. However, the vision-based objects detection and classification methods still suffer from detecting smaller objects and dense objects in the complex dynamic environment with high accuracy and precision. The present paper proposes a novel enhanced method to detect and classify objects using Hyperbolic Tangent based You Only Look Once V4 with a Modified Manta-Ray Foraging Optimization-based Convolution Neural Network. Initially, in the pre-processing, the video data was converted into image sequences and Polynomial Adaptive Edge was applied to preserve… More
OPEN ACCESS

ARTICLE

S. Nandagopal1,*, G. Karthy2, A. Sheryl Oliver3, M. Subha4

Computer Systems Science and Engineering, Vol.44, No.2, pp. 1719-1733, 2023, DOI:10.32604/csse.2023.028003

Abstract Human Action Recognition (HAR) and pose estimation from videos have gained significant attention among research communities due to its application in several areas namely intelligent surveillance, human robot interaction, robot vision, etc. Though considerable improvements have been made in recent days, design of an effective and accurate action recognition model is yet a difficult process owing to the existence of different obstacles such as variations in camera angle, occlusion, background, movement speed, and so on. From the literature, it is observed that hard to deal with the temporal dimension in the action recognition process. Convolutional neural network (CNN) models could… More
OPEN ACCESS

ARTICLE

M. Antony Joans Kumar1,*, C. Christopher Columbus2, E. Ben George3, T. Ajith Bosco Raj4

Computer Systems Science and Engineering, Vol.44, No.2, pp. 1735-1747, 2023, DOI:10.32604/csse.2023.025906

Abstract The sensitive data stored in the public cloud by privileged users, such as corporate companies and government agencies are highly vulnerable in the hands of cloud providers and hackers. The proposed Virtual Cloud Storage Architecture is primarily concerned with data integrity and confidentiality, as well as availability. To provide confidentiality and availability, the file to be stored in cloud storage should be encrypted using an auto-generated key and then encoded into distinct chunks. Hashing the encoded chunks ensured the file integrity, and a newly proposed Circular Shift Chunk Allocation technique was used to determine the order of chunk storage. The… More
OPEN ACCESS

ARTICLE

R. Soundhara Raja Pandian*, C. Christopher Columbus

Computer Systems Science and Engineering, Vol.44, No.2, pp. 1749-1762, 2023, DOI:10.32604/csse.2023.028014

Abstract Currently, e-learning is one of the most prevalent educational methods because of its need in today's world. Virtual classrooms and web-based learning are becoming the new method of teaching remotely. The students experience a lack of access to resources commonly the educational material. In remote locations, educational institutions face significant challenges in accessing various web-based materials due to bandwidth and network infrastructure limitations. The objective of this study is to demonstrate an optimization and queueing technique for allocating optimal servers and slots for users to access cloud-based e-learning applications. The proposed method provides the optimization and queueing algorithm for multi-server… More
OPEN ACCESS

ARTICLE

Mohamed Abbas Ahamed Farook1,*, S. Rukmanidevi2, N. R. Shanker3

Computer Systems Science and Engineering, Vol.44, No.2, pp. 1763-1774, 2023, DOI:10.32604/csse.2023.026260

Abstract Nowadays, smartphones are used as self-health monitoring devices for humans. Self-health monitoring devices help clinicians with big data for accurate diagnosis and guidance for treatment through repetitive measurement. Repetitive measurement of haemoglobin requires for pregnant women, pediatric, pulmonary hypertension and obstetric patients. Noninvasive haemoglobin measurement through conjunctiva leads to inaccurate measurement. The inaccuracy is due to a decrease in the density of goblet cells and acinar units in Meibomian glands in the human eye as age increases. Furthermore, conjunctivitis is a disease in the eye due to inflammation or infection at the conjunctiva. Conjunctivitis is in the form of lines… More
OPEN ACCESS

ARTICLE

Md. Anwar Hussen Wadud1, M. F. Mridha1, Jungpil Shin2,*, Kamruddin Nur3, Aloke Kumar Saha4

Computer Systems Science and Engineering, Vol.44, No.2, pp. 1775-1791, 2023, DOI:10.32604/csse.2023.027841

Abstract Offensive messages on social media, have recently been frequently used to harass and criticize people. In recent studies, many promising algorithms have been developed to identify offensive texts. Most algorithms analyze text in a unidirectional manner, where a bidirectional method can maximize performance results and capture semantic and contextual information in sentences. In addition, there are many separate models for identifying offensive texts based on monolingual and multilingual, but there are a few models that can detect both monolingual and multilingual-based offensive texts. In this study, a detection system has been developed for both monolingual and multilingual offensive texts by… More
OPEN ACCESS

ARTICLE

G. Ignisha Rajathi1, R. Ramesh Kumar2, D. Ravikumar3, T. Joel4, Seifedine Kadry4,5, Chang-Won Jeong6, Yunyoung Nam7,*

Computer Systems Science and Engineering, Vol.44, No.2, pp. 1793-1806, 2023, DOI:10.32604/csse.2023.024674

Abstract Recently, Internet of Medical Things (IoMT) has gained considerable attention to provide improved healthcare services to patients. Since earlier diagnosis of brain tumor (BT) using medical imaging becomes an essential task, automated IoMT and cloud enabled BT diagnosis model can be devised using recent deep learning models. With this motivation, this paper introduces a novel IoMT and cloud enabled BT diagnosis model, named IoMTC-HDBT. The IoMTC-HDBT model comprises the data acquisition process by the use of IoMT devices which captures the magnetic resonance imaging (MRI) brain images and transmit them to the cloud server. Besides, adaptive window filtering (AWF) based… More
OPEN ACCESS

ARTICLE

V. Premanand*, Dhananjay Kumar

Computer Systems Science and Engineering, Vol.44, No.2, pp. 1807-1821, 2023, DOI:10.32604/csse.2023.026742

Abstract On grounds of the advent of real-time applications, like autonomous driving, visual surveillance, and sports analysis, there is an augmenting focus of attention towards Multiple-Object Tracking (MOT). The tracking-by-detection paradigm, a commonly utilized approach, connects the existing recognition hypotheses to the formerly assessed object trajectories by comparing the similarities of the appearance or the motion between them. For an efficient detection and tracking of the numerous objects in a complex environment, a Pearson Similarity-centred Kuhn-Munkres (PS-KM) algorithm was proposed in the present study. In this light, the input videos were, initially, gathered from the MOT dataset and converted into frames.… More
OPEN ACCESS

ARTICLE

B. Jaishankar1,*, Raghunathan Anitha2, Finney Daniel Shadrach1, M. Sivarathinabala3, V. Balamurugan4

Computer Systems Science and Engineering, Vol.44, No.2, pp. 1823-1836, 2023, DOI:10.32604/csse.2023.022938

Abstract In the discipline of Music Information Retrieval (MIR), categorizing music files according to their genre is a difficult process. Music genre classification is an important multimedia research domain for classification of music databases. In the proposed method music genre classification using features obtained from audio data is proposed. The classification is done using features extracted from the audio data of popular online repository namely GTZAN, ISMIR 2004 and Latin Music Dataset (LMD). The features highlight the differences between different musical styles. In the proposed method, feature selection is performed using an African Buffalo Optimization (ABO), and the resulting features are… More
OPEN ACCESS

ARTICLE

Phan Thanh Thao*, Nguyen Thanh Hung, Pham Thi Le My, Nguyen Xuan Hiep, Duy-Nam Phan

Computer Systems Science and Engineering, Vol.44, No.2, pp. 1837-1852, 2023, DOI:10.32604/csse.2023.026502

Abstract In the textile industry, garment manufacturing contains four major processes containing cutting, sewing, finishing, and packaging. Sewing is the most crucial and intricate section, dealing with a large number of varied operations. A successful sewing process needs to be optimized regarding different factors, including time, sewing equipment, and skilled workers. Assembly line flow is combined by a set of operations with a particular sequence. The utmost importance of all garment industry is to arrange the workstations to minimize the number of employees in order to produce at the best productive rate with the most reasonable cost, shortest time, and satisfying… More
OPEN ACCESS

ARTICLE

Nasser Ali Aljarallah1,2, Ashit Kumar Dutta3,*, Majed Alsanea4, Abdul Rahaman Wahab Sait5

Computer Systems Science and Engineering, Vol.44, No.2, pp. 1853-1868, 2023, DOI:10.32604/csse.2023.028755

Abstract A learning management system (LMS) is a software or web based application, commonly utilized for planning, designing, and assessing a particular learning procedure. Generally, the LMS offers a method of creating and delivering content to the instructor, monitoring students' involvement, and validating their outcomes. Since mental health issues become common among studies in higher education globally, it is needed to properly determine it to improve mental stability. This article develops a new seven spot lady bird feature selection with optimal sparse autoencoder (SSLBFS-OSAE) model to assess students' mental health on LMS. The major aim of the SSLBFS-OSAE model is to… More