Open Access
ARTICLE
Enhancing Hydrocarbon-Rich Bio-Oil Production via Catalytic Pyrolysis Fortified with Microorganism Pretreatment
1 Key Laboratory of Energy Thermal Conversion and Control of Ministry of Education, Southeast University, Nanjing, 210096, China
2 School of Energy and Power Engineering, Jiangsu University, Zhenjiang, 212013, China
* Corresponding Author: Bo Zhang. Email:
(This article belongs to this Special Issue: New Trends in Bio-oil Production, Conversion and Utilization )
Journal of Renewable Materials 2023, 11(10), 3595-3612. https://doi.org/10.32604/jrm.2023.030005
Received 18 March 2023; Accepted 30 May 2023; Issue published 10 August 2023
Abstract
A new method of pretreatment of corn straw with
Phanerochaete chrysosporium
combined with pyrolysis was proposed to improve the quality of bio-oil. The characterization results demonstrated that microbial pretreatment was an effective method to decrease the lignin, which can achieve a maximum removal rate of 44.19%. Due to the destruction of biomass structure, the content of alkali metal and alkaline earth metal is reduced. Meanwhile, the depolymerized biomass structure created better pyrolysis conditions to promote the pyrolysis efficiency, increase the average decomposition rate of pyrolysis and reduce the residue. In fast pyrolysis, because of the enrichment of cellulose and the removal of lignin, the contents of acids, linear carbonyls, furans, and sugars increased while the contents of phenols decreased. As for the catalytic pyrolysis, due to the hydrocarbon pool reaction and shape selection deoxidation of ZSM-5 catalyst, the total hydrocarbon and aromatics contents can significantly increase up to 34.37% and 30.59%, respectively, with 3 weeks of pretreatment. And the the low molecular content of bio-oil increased after pretreatment, which can significantly benefit the entry of primary pyrolysis steam into the catalyst pores to improve the catalytic efficiency and hydrocarbon contents. This method provides a new treatment idea for high-quality utilization of biomass.
---
Graphical Abstract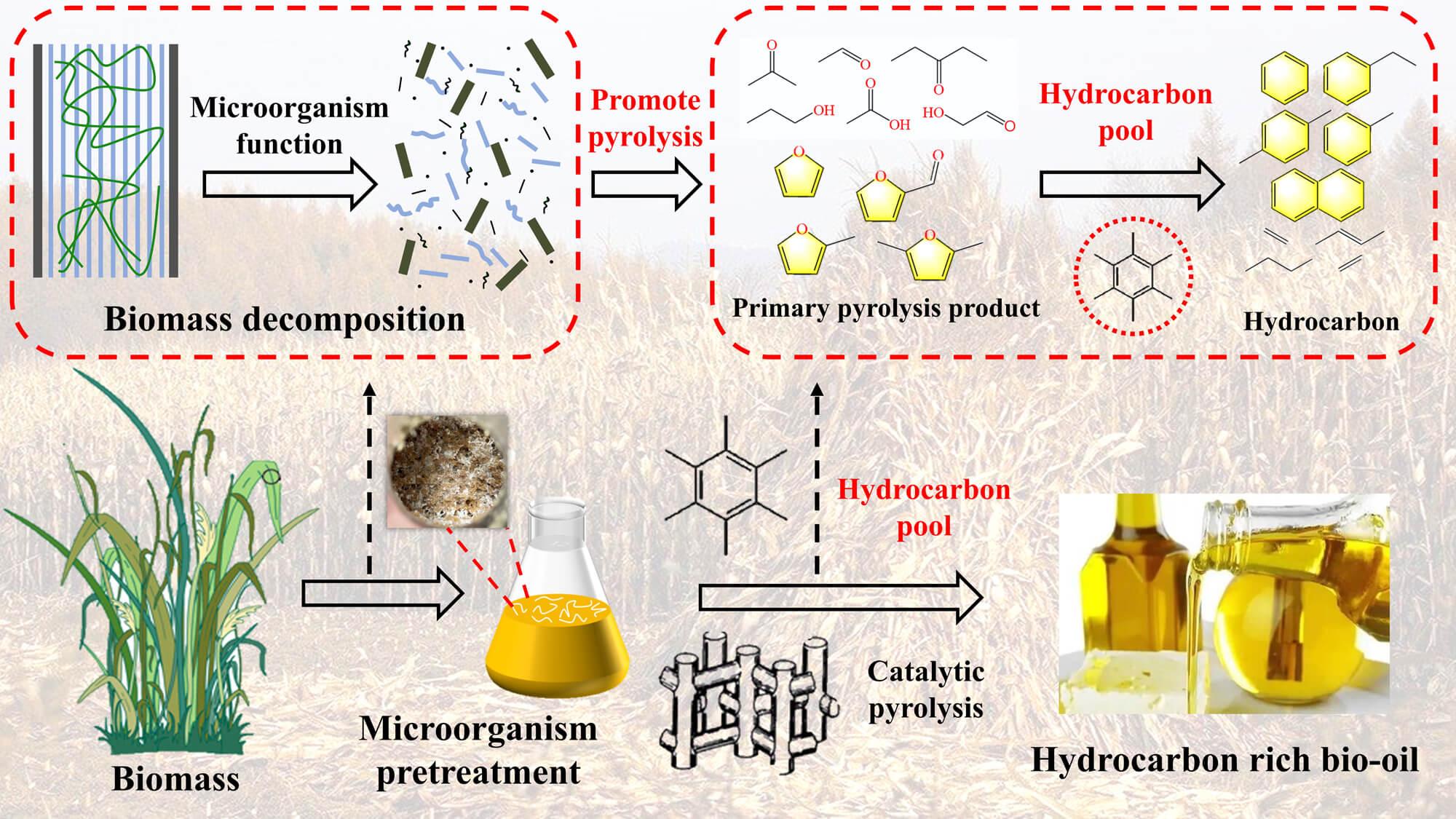 ---
Keywords
---
This work is licensed under a Creative
Commons Attribution 4.0 International License
, which permits unrestricted use, distribution, and reproduction in any medium, provided the original work is properly cited.