Open Access
REVIEW
Mini-organs with big impact: Organoids in liver cancer studies
1 Institute of Translational Medicine, Medical College, Yangzhou University, Yangzhou, China
2 Jiangsu Key Laboratory of Experimental and Translational Non-Coding RNA Research, Yangzhou, China
3 Applied Molecular Biology and Biomedicine Lab, Department of Zoology, University of Narowal, Narowal, Pakistan
4 Department of Oncology, Haian Hospital of Traditional Chinese Medicine, Haian, China
5 Molecular Medicine and Cancer Therapeutics Lab, Department of Zoology, Faculty of Sciences Technology, University of Central Punjab, Lahore, Pakistan
6 Chinese Institute for Brain Research (CIBR), Beijing, China
* Corresponding Author: HAIBO SUN. Email:
Oncology Research 2023, 31(5), 677-688. https://doi.org/10.32604/or.2023.029718
Received 04 March 2023; Accepted 14 June 2023; Issue published 21 July 2023
Abstract
Hepatocellular carcinoma, the most common primary liver cancer and a leading cause of death, is a difficult disease to treat due to its heterogeneous nature. Traditional models, such as 2D culture and patient-derived xenografts, have not proven effective. However, the development of 3D culture techniques, such as organoids, which can mimic the tumor microenvironment (TME) and preserve heterogeneity and pathophysiological properties of tumor cells, offers new opportunities for treatment and research. Organoids also have the potential for biomarker detection and personalized medication, as well as genome editing using CRISPR/Cas9 to study the behavior of certain genes and therapeutic interventions. This review explores to-the-date development of organoids with a focus on TME modeling in 3D organoid cultures. Further, it discusses gene editing using CRISPR/Cas9 in organoids, the challenges faced, and the prospects in the field of organoids.
---
Graphical Abstract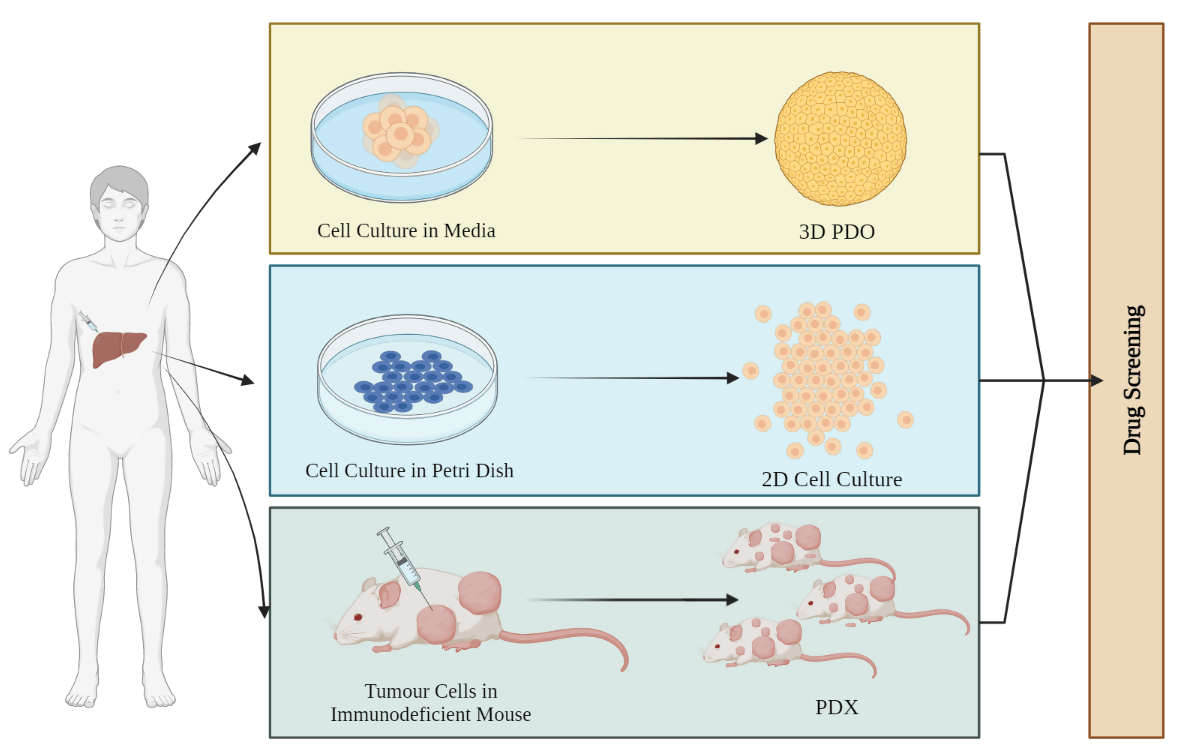 ---
Keywords
---
This work is licensed under a Creative
Commons Attribution 4.0 International License
, which permits unrestricted use, distribution, and reproduction in any medium, provided the original work is properly cited.