Open Access
ARTICLE
MUF Resins Improved by Citric Acid as Adhesives for Wood Veneer Panels
1 Department of Forestry Engineering, Faculty of Technology, University of Brasilia, Brasília, Brazil
2 LERMAB, University of Lorraine, Nancy, France
3 SeniorPost-Doctoral Internship, LERMAB-ENSTIB, University of Lorraine, Epinal, France
4 Yunnan Key Laboratory of Wood Adhesives and Glue Products, College of Material Science and Engineering, Southwest Forestry University, Kunming, China
5 International Joint Research Center for Biomass Materials, Southwest Forestry University, Kunming, China
* Corresponding Author: Antonio Pizzi. Email:
(This article belongs to this Special Issue: Renewable and Biosourced Adhesives-2021)
Journal of Renewable Materials 2023, 11(2), 539-553. https://doi.org/10.32604/jrm.2022.024971
Received 15 June 2022; Accepted 18 July 2022; Issue published 22 September 2022
Abstract
This article presents the first applied results of using citric acid in combinations with a melamine-urea-formaldehyde (MUF) resin for bonding wood veneers. The chemical reactions involved are shown based on a MALDI ToF analysis of the reaction of the MUF resin with citric acid. The preliminary results of the physical and mechanical properties of the LVL prepared are also presented. Veneers from Populus sp were used to manufacture 5-layer laminated veneer lumber (LVL) of small dimensions. Five combinations of the amount of citric acid, MUF spread rate and pressing parameters were tested. LVL bonded with 20% of citric acid + 100 g/m2 of MUF, hot-pressed using a 3-step process with maximum 1.5 MPa of pressure yielded the board with better dimensional stability and mechanical properties. It could be concluded that citric acid in combination with MUF can be used for bonding wood veneer and the research should be continued to study further the parameters involved and to enhance the results.
---
Graphical Abstract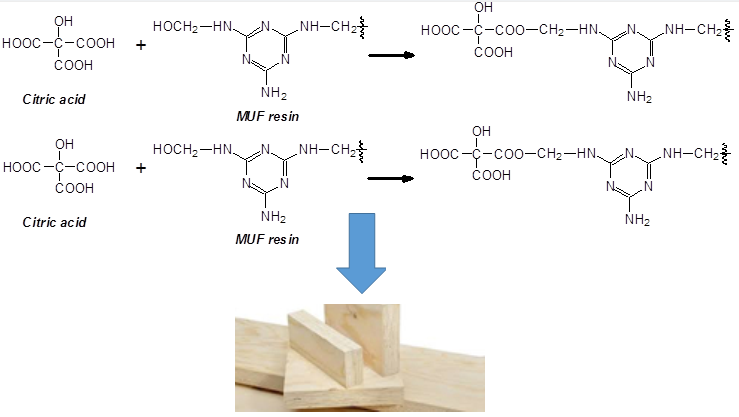 ---
Keywords
---
This work is licensed under a Creative
Commons Attribution 4.0 International License
, which permits unrestricted use, distribution, and reproduction in any medium, provided the original work is properly cited.