Energy Engineering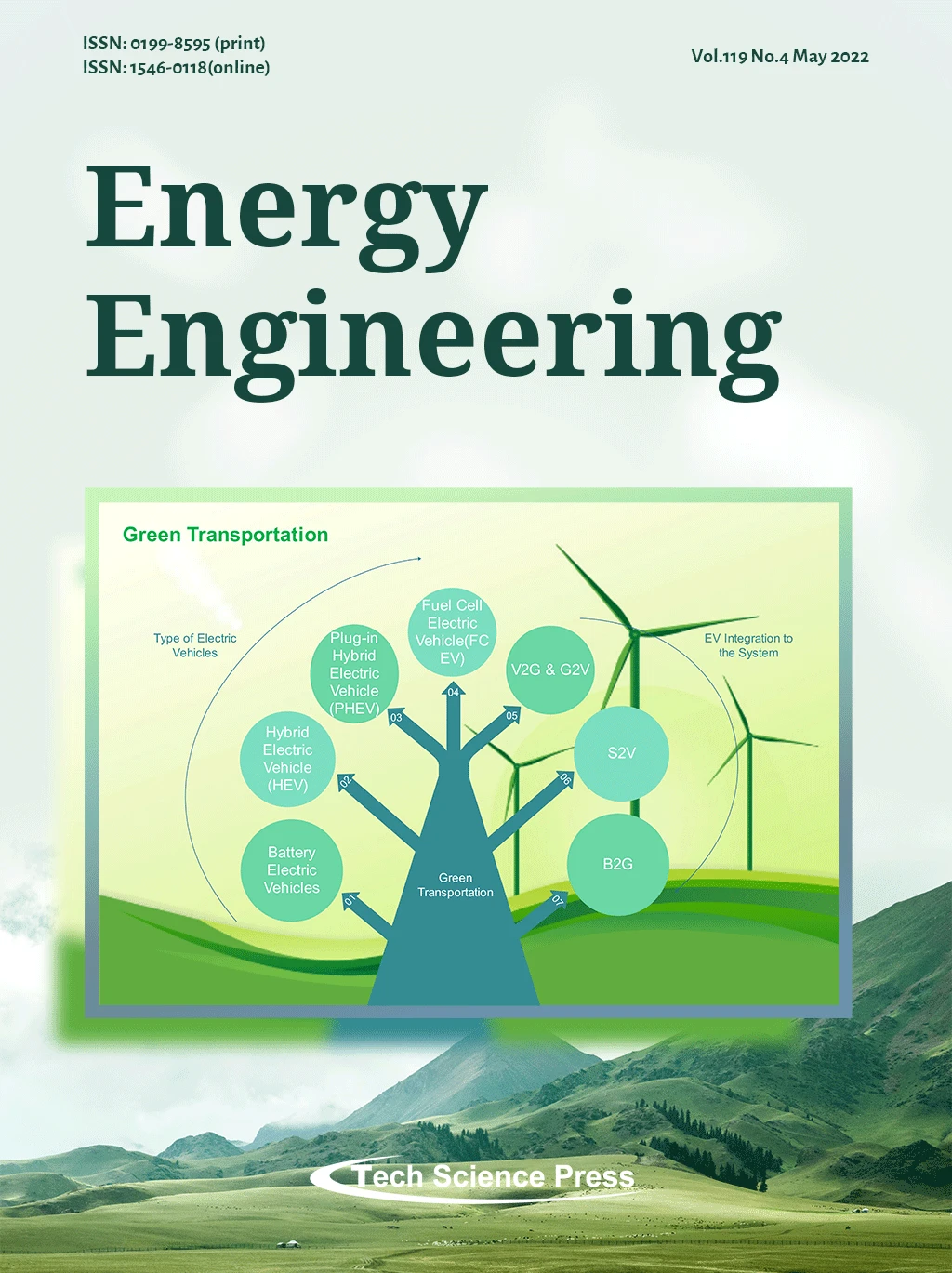 ISSN: 0199-8595 (print)

ISSN: 1546-0118 (online)

Publication Frequency: Bi-monthly
About the Journal
Energy Engineering is a bi-monthly peer-reviewed publication. The journal invites researchers, engineers, scientists, technologists, planners, and policy makers to present their original research results and findings on all important energy topics. The topics considered include energy generation, conversion, conservation, utilization, storage, transmission, system, technologies, management, and sustainability. The studies of the impacts of energy use and energy policy are also welcomed.
Indexing and Abstracting
Ei Compendex/Engineering Village (Elsevier); Scopus (Elsevier); WorldCat (OCLC); Google Scholar; ResearchGate; SCImago (SJR); Crossref; Sherpa/RoMEO; Letpub; Elektronische; Genamics JournalSeek; Dimensions; Portico, etc...
OPEN ACCESS

ARTICLE

Om Prakash Mahela1, Baseem Khan2,*, Rupendra Kumar Pachauri3

Energy Engineering, Vol.119, No.4, pp. 1261-1298, 2022, DOI:10.32604/ee.2022.018913

Abstract This paper proposes a vehicle-to-grid (V2G) system interfaced with a microgrid that is effective at regulating frequency on a microgrid over a 24-h cycle. A microgrid is designed and divided into four components. The first component is a diesel generator, which is used to act as the base power generator. The second component consists of renewable energy (RE) power plants, which include solar photovoltaic (PV) and wind plants. The third component is a V2G system. The last component is the load connected to the microgrid. A microgrid is designed to be of sufficient size to represent a community of one… More

Graphical Abstract
OPEN ACCESS

REVIEW

An Updated Review on Low-Temperature Nanocomposites with a Special Focus on Thermal Management in Buildings
John Paul1, K. Kadirgama1, M. Samykano2,*, R. Saidur3, A. K. Pandey3, R. V. Mohan4

Energy Engineering, Vol.119, No.4, pp. 1299-1325, 2022, DOI:10.32604/ee.2022.019172

Abstract

Buildings contribute to 33% of total global energy consumption, which corresponds to 38% of greenhouse gas emissions. Enhancing building's energy efficiency remains predominant in mitigating global warming. Advancements in thermal energy storage (TES) techniques using phase change material (PCM) have gained much attention among researchers, primarily to minimize energy consumption and to promote the use of renewable energy sources. PCM technology stays as the most promising technology for developing high-performance and energy-efficient buildings. The major drawback of PCM is its poor thermal conductivity which limits its potential use which could be resolved by dispersing conductive nanofillers. The acquired database on… More

Graphical Abstract
OPEN ACCESS

ARTICLE

Numerical Study on Heat Transfer Characteristic of the Plate-Fin Microchannel Heat Sink for Water-Based Thermal Management of CPU Chip
Jie-Chao Chen, Rui-Hao Luo, Wu-Zhi Yuan, Nan-Long Hong*, Wen-Hao Wang

Energy Engineering, Vol.119, No.4, pp. 1327-1339, 2022, DOI:10.32604/ee.2022.019331

(This article belongs to this Special Issue: Advanced Heat Pump Technologies for Renewable Energy Utilization)
Abstract For effective water-based thermal management of high heat generating CPU chip, a series of numerical simulation has been conducted to study the effects of heat flux, fin height and flow rate on convective thermal performance of the plate-fin microchannel heat sinks. The characteristics of heat transfer and flow resistance have been quantificationally discussed and JF factor is employed to evaluate the comprehensive efficiency of convective heat transfer of microchannel heat sink. Results show that the increase in fin height and flow rate of cooling water is helpful to decrease the maximum temperature of CPU chip. Large flow rate and heat… More
OPEN ACCESS

REVIEW

Yehong Dong1,2, Guangyin Tang3, Yan Jia4, Zekun Wang4,5, Xiaomin Rong5, Chang Cai5, Qingan Li5, Yingjian Yang4,5,*

Energy Engineering, Vol.119, No.4, pp. 1341-1360, 2022, DOI:10.32604/ee.2022.019150

(This article belongs to this Special Issue: Wind Energy Development and Utilization)
Abstract In recent years, the construction of offshore wind farms is developing rapidly. As the wake effect of the upstream wind turbines seriously affect the performance of the downstream wind turbines, the wake effect of offshore wind turbines has become one of the research hotspots. First, this article reviews the research methods of wake effects, including CFD numerical simulation method, wind turbine wake model based on roughness and engineering wake models. However, there is no general model that can be used directly. Then it puts forward some factors that affect the wake of offshore wind turbines. The turbulence intensity in offshore… More

Graphical Abstract
OPEN ACCESS

ARTICLE

Maryon Eliza Matius1, Mohd Azlan Ismail2, Adriana Erica Amaludin1, Yan Yan Farm2, Mohd Adzrie Radzali1, Ahmad Fazlizan3, Wan Khairul Muzammil2,*

Energy Engineering, Vol.119, No.4, pp. 1361-1377, 2022, DOI:10.32604/ee.2022.019497

Abstract This paper presents a detailed preliminary assessment of load consumption and solar power potential at the Eco-Tourism Centre of Liogu Ku Silou-Silou (EPLISSI), Kota Belud, Sabah. This initial investigation assessed the feasibility of an off-grid solar PV system at EPLISSI with a suitable solar panel system for project installation and commissioning purposes. Due to the absence of an electrical grid and power supply, no pre-existing electrical appliances could be found in EPLISSI. Hence, an excel-based software, the ESCoBox, was used to produce the load profiles. The input data for this software came from a list of required electrical appliances (LED… More

Graphical Abstract
OPEN ACCESS

ARTICLE

Shuang Zhao1,2,3, Xijun Li4, Jianwen Wang1,2,3,*

Energy Engineering, Vol.119, No.4, pp. 1379-1392, 2022, DOI:10.32604/ee.2022.019776

(This article belongs to this Special Issue: Wind Energy Development and Utilization)
Abstract The computational fluid dynamics method was used to simulate the flow field around a wind turbine at the yaw angles of 0°, 15°, 30°, and 45°. The angle of attack and the relative velocity of the spanwise sections of the blade were extracted with the reference points method. By analyzing the pressure distribution and the flow characteristics of the blade surface, the flow mechanism of the blade surface in the yawed condition was discussed. The results showed that the variations of the angle of attack and the relative velocity were related to the azimuth angle and the radius in the… More
OPEN ACCESS

ARTICLE

Case Analysis of a Pump-Driven Heat Pipe Heat Recovery Ventilator in an Existing Experiment Building
Zhun Li1,2,3,*, Zhengrong Ouyang1,2, Tianbao Sun3, Qiang Li3, Xiaobo Zhao3, Rong Yu3

Energy Engineering, Vol.119, No.4, pp. 1393-1402, 2022, DOI:10.32604/ee.2022.020488

Abstract The building energy consumption is an important part among the total society energy consumption, in which the energy consumption for air conditioning occupies almost 70%. The energy consumption of the air conditioning system for fresh air handling can be saved effectively when the exhaust air energy could be recovered to preheat or precool the fresh air. Considering the install locations requirements on field, the pump-driven heat pipes (PHP) were developed as heat recovery ventilators (HRVs) and used in an existing experiment building in Beijing Urban. The thermal performance of the PHP HRVs was tested in real operation time periods under… More
OPEN ACCESS

REVIEW

Prospects and Challenges of Utilizing Solar Energy for the COVID-19 Vaccine Cold Storage in Remote Clinics of Tropical Countries: Review
Indra Mamad Gandidi1,*, Apri Wiyono1, Nugroho Agung Pambudi2,*, Rahmat Romadhon3, Alfan Sarifudin2

Energy Engineering, Vol.119, No.4, pp. 1403-1418, 2022, DOI:10.32604/ee.2022.019200

Abstract The rapid spread of COVID-19 pandemic has forced several countries in the world to store vaccines in cold storage towards ensuring their protection from being damaged and to maintain their stability. However, most remote clinics, especially those in the equator and islands, are faced with the challenges of hot climates and the inability to afford electricity resources needed to power the cold storage facility. Meanwhile, the hot equatorial region has abundant solar energy to power the vaccine cold storage but previous studies showed that several field workers do not have the ability to maintain the vaccine storage temperature as indicated… More
OPEN ACCESS

ARTICLE

Zhongyao Du1,*, Xiaoying Chen1, Hao Wang2, Xuheng Wang1, Yu Deng1, Liying Sun1

Energy Engineering, Vol.119, No.4, pp. 1419-1438, 2022, DOI:10.32604/ee.2022.020283

Abstract To attain the goal of carbon peaking and carbon neutralization, the inevitable choice is the open sharing of power data and connection to the grid of high-permeability renewable energy. However, this approach is hindered by the lack of training data for predicting new grid-connected PV power stations. To overcome this problem, this work uses open and shared power data as input for a short-term PV-power-prediction model based on feature transfer learning to facilitate the generalization of the PV-power-prediction model to multiple PV-power stations. The proposed model integrates a structure model, heat-dissipation conditions, and the loss coefficients of PV modules. Clear-Sky… More
OPEN ACCESS

ARTICLE

Simulating Error-Opening of Pressure Relief Valves of a Station on a Continuous Undulating Oil Pipeline with Large Elevation Difference
Xiaohua Chen1,*, Caifu Lan1, Honghao Zheng2, Wang Li1, Chao Zhao1, Wenjun Dang3

Energy Engineering, Vol.119, No.4, pp. 1439-1452, 2022, DOI:10.32604/ee.2022.018208

(This article belongs to this Special Issue: Innovative Energy Systems Management under the Goals of Carbon Peaking and Carbon Neutrality)
Abstract For oil pipeline in mountain areas, high hydrostatic pressure in the pipeline may cause error-opening of pressure relief valves, and oil is discharged from the pipeline to the pressure relief tanks, bringing spilling-over risk of the pressure relief tanks. Therefore, simulating the error-opening situations of the pressure relief valves and investigating the oil discharge process are necessary for checking the possibility of the spilling-over accident and then proposing measures to improve the pressure relief system. This research focuses on a continuous undulating oil pipeline with large elevation difference and a station along this pipeline, which is named B station in… More
OPEN ACCESS

ARTICLE

Huakun Que1, Guolong Lin2, Wenchong Guo1, Xiaofeng Feng1, Zetao Jiang1, Yunfei Cao2,*, Jinmin Fan2, Zhixian Ni3

Energy Engineering, Vol.119, No.4, pp. 1453-1466, 2022, DOI:10.32604/ee.2022.018448

Abstract In order to solve the failure of electricity anti-stealing detection device triggered by the noise mixed in high-frequency electricity stealing signals, a denoising method based on variational mode decomposition (VMD) and wavelet threshold denoising (WTD) was applied to extract the effective high-frequency electricity stealing signals. First, the signal polluted by noise was pre-decomposed using the VMD algorithm, the instantaneous frequency means of each pre-decomposed components was analyzed, so as to determine the optimal K value. The optimal K value was used to decompose the polluted signal into K intrinsic mode components, and the sensitive mode components were determined through the… More

Graphical Abstract
OPEN ACCESS

ARTICLE

Bin Zhang, Yanjun Jin*

Energy Engineering, Vol.119, No.4, pp. 1467-1482, 2022, DOI:10.32604/ee.2022.018233

Abstract Under complex grid conditions, the grid voltage usually has an imbalance, low order harmonics, and a small of DC bias. When the grid voltage contains low order harmonics and a small amount of DC bias component, the inverter's output current cannot meet the grid connection requirements, and there is a three-phase current imbalance in the control strategy of common VSG under unbalanced voltage. A theoretical analysis of non-ideal power grids is carried out, and a VSG control strategy under complex operating conditions is proposed. Firstly, the third-order generalized integrator (TOGI) is used to eliminate the influence of the DC component… More
OPEN ACCESS

ARTICLE

Aravindh Madhavankutty Ambika1,2,*, Aarjab Ghimire2, Sreekumar Appukuttan2

Energy Engineering, Vol.119, No.4, pp. 1483-1499, 2022, DOI:10.32604/ee.2022.017618

(This article belongs to this Special Issue: Modeling of Artificial Intelligence controller for Microgrid and SmartGrid application)
Abstract This paper explains the experimental performance evaluation of a Corrugated Type Solar Air Heater (CTSAH) for understanding its performance in a humid tropical climatic condition in Puducherry, India. This helps in understanding its effectiveness in using it for drying application of products like seafood, etc. Experiments were conducted at different mass flow rates and their effect on the heat gain, efficiency, friction factor heat transfer, etc., was analyzed. Experiments were carried out at different mass flow rates, i.e., M1 = 0.06 kg/s, M2 = 0.14 kg/s, M3 = 0.17 kg/s, M4 = 0.25 kg/s, M5 = 0.3 kg/s, and were conducted from 11:00… More
OPEN ACCESS

ARTICLE

Te Xu1, Zhixian Lin1, Xinwei Lin1, Changsheng Lin1, Feng Gao1, Zixuan Li2, Peiwen Liu2,*

Energy Engineering, Vol.119, No.4, pp. 1501-1515, 2022, DOI:10.32604/ee.2022.020082

Abstract With the help of smart grid technologies, a lot of electrical loads can provide demand response to support the active power balance of the grid. Compared with centralized control methods, decentralized methods reduce the computational burden of the control center and enhance the reliability of the communication. In this paper, a novel second-order multi-agent consensus control method is proposed for load control problem. By introducing the velocity state into the model, the proposed method achieves better performance than traditional ones. Simulation results verify the effectiveness of the proposed method. More
OPEN ACCESS

ARTICLE

Yuqin Chen, Shihai Yang*, Yueping Kong, Mingming Chen

Energy Engineering, Vol.119, No.4, pp. 1517-1529, 2022, DOI:10.32604/ee.2022.019646

(This article belongs to this Special Issue: Key Technologies of Renewable Energy Consumption and Optimal Operation under "Dual Carbon Targets")
Abstract Traditional thermal power units are continuously replaced by renewable energies, of which fluctuations and intermittence impose pressure on the frequency stability of the power system. Electrolytic aluminum load (EAL) accounts for large amount of the local electric loads in some areas. The participation of EAL in local frequency control has huge application prospects. However, the controller design of EAL is difficult due to the measurement noise of the system frequency and the nonlinear dynamics of the EAL's electric power consumption. Focusing on this problem, this paper proposes a control strategy for EAL to participate in the frequency control. For the… More
OPEN ACCESS

ARTICLE

A Novel Aquila Optimizer Based PV Array Reconfiguration Scheme to Generate Maximum Energy under Partial Shading Condition
Dong An1, Junqing Jia1, Wenchao Cai1, Deyu Yang1, Chao Lv1, Jiawei Zhu2, Yingying Jiao3,*

Energy Engineering, Vol.119, No.4, pp. 1531-1545, 2022, DOI:10.32604/ee.2022.019284

(This article belongs to this Special Issue: Key Technologies of Renewable Energy Consumption and Optimal Operation under "Dual Carbon Targets")
Abstract This paper develops a real-time PV arrays maximum power harvesting scheme under partial shading condition (PSC) by reconfiguring PV arrays using Aquila optimizer (AO). AO is based on the natural behaviors of Aquila in capturing prey, which can choose the best hunting mechanism ingeniously and quickly by balancing the local exploitation and global exploration via four hunting methods of Aquila: choosing the searching area through high soar with the vertical stoop, exploring in different searching spaces through contour flight with quick glide attack, exploiting in convergence searching space through low flight with slow attack, and swooping through walk and grabbing… More

Graphical Abstract
OPEN ACCESS

ARTICLE

Suitability Evaluation of Hydrogen Production and Hydrogenation Station Based on AHP-Fuzzy Comprehensive Evaluation Method
Sainan Zhang, Jing Xue*, Xudong Sun

Energy Engineering, Vol.119, No.4, pp. 1547-1567, 2022, DOI:10.32604/ee.2022.019450

Abstract Since there are multiple influencing factors and lack of evaluation standards for the construction of hydrogen production and hydrogenation station in China, this paper establishes the suitability evaluation index system of hydrogen production and hydrogenation station from four aspects of technology, economy, environment and safety. Combined with actual conditions, this paper uses Analytic Hierarch Process (AHP) and Fuzzy Comprehensive evaluation to evaluate water electrolysis hydrogen and hydrogenation production station and natural gas reformation hydrogen production and hydrogenation station. The results show that hydrogen producing by water electrolysis is more efficient than natural gas reformation in hydrogen production and hydrogenation station,… More

Graphical Abstract
OPEN ACCESS

ARTICLE

Typical Application Scenarios and Economic Benefit Evaluation Methods of Battery Energy Storage System
Ming Zeng1,2, Haibin Cao1, Ting Pan1,2,*, Pinduan Hu1,2, Shi Tian1, Lijun Zhong3, Zhi Ling4

Energy Engineering, Vol.119, No.4, pp. 1569-1586, 2022, DOI:10.32604/ee.2022.019488

Abstract Energy storage system is an important means to improve the flexibility and safety of traditional power system, but it has the problem of high cost and unclear value recovery path. In this paper, the typical application scenarios of energy storage system are summarized and analyzed from the perspectives of user side, power grid side and power generation side. Based on the typical application scenarios, the economic benefit assessment framework of energy storage system including value, time and efficiency indicators is proposed. Typical battery energy storage projects are selected for economic benefit calculation according to different scenarios, and key factors are… More
OPEN ACCESS

ARTICLE

Experimental Investigation on Prototype Latent Heat Thermal Battery Charging and Discharging Function Integrated with Solar Collector
Farhood Sarrafzadeh Javadi1, Hendrik Simon Cornelis Metselaar1,2,*, Poo Balan Ganesan1

Energy Engineering, Vol.119, No.4, pp. 1587-1610, 2022, DOI:10.32604/ee.2022.020304

Abstract This paper reports the performance investigation of a newly developed Latent Heat Thermal Battery (LHTB) integrated with a solar collector as the main source of heat. The LHTB is a new solution in the field of thermal storage and developed based on the battery concept in terms of recharge ability, portability and usability as a standalone device. It is fabricated based on the thermal battery storage concept and consists of a plate-fin and tube heat exchanger located inside the battery casing and paraffin wax which is used as a latent heat storage material. Solar thermal energy is absorbed by solar… More
OPEN ACCESS

REVIEW

A Literature Review on Sustainability of Bio-Based and Biodegradable Plastics: Challenges and Opportunities
Taofeeq D. Moshood, Gusman Nawanir, Fatimah Mahmud*, Fazeeda Mohamad, Mohd Hanafiah Ahmad, Airin AbdulGhani

Energy Engineering, Vol.119, No.4, pp. 1611-1647, 2022, DOI:10.32604/ee.2022.019028

Abstract This study examines the literature on bio-based and biodegradable plastics published between 2000 and 2021 and provides insights and research suggestions for the future. The study gathers data from the Scopus and ISI Web of Science databases, then picks 1042 publications objectively and analyses their metadata. Furthermore, 144 papers from the Web of Science are analysed to present insights and classifications of the literature based on content analyses, including assessment/evaluation of the sustainability of bio-based and biodegradable Plastics, sustainability of biodegradable Plastics, and factors driving the uptake of biodegradable plastics. The study finds that most research on bio-based and biodegradable… More
OPEN ACCESS

ARTICLE

An Advanced Control Strategy for Dual-Actuator Driving System in Full-Scale Fatigue Test of Wind Turbine Blades
Guanhua Wang1, Jinghua Wang1, Xuemei Huang1,*, Leian Zhang1, Weisheng Liu2

Energy Engineering, Vol.119, No.4, pp. 1649-1662, 2022, DOI:10.32604/ee.2022.019695

Abstract A new dual-actuator fatigue loading system of wind turbine blades was designed. Compared with the traditional pendulum loading mode, the masses in this system only moved linearly along the loading direction to increase the exciting force. However, the two actuators and the blade constituted a complicated non-linear energy transferring system, which led to the non-synchronization of actuators. On-site test results showed that the virtual spindle synchronous strategy commonly used in synchronous control was undesirable and caused the instability of the blade's amplitude eventually. A cross-coupled control strategy based on the active disturbance rejection algorithm was proposed. Firstly, a control system… More
OPEN ACCESS

ARTICLE

Weifeng Gong1,3, Xiaohong Qi2, Chuanhui Wang1,*, Wenwen Li1,3, Yang Xu4

Energy Engineering, Vol.119, No.4, pp. 1663-1679, 2022, DOI:10.32604/ee.2022.018886

Abstract Bohai Rim region is an important economic development area and a large carbon emission area in China. It is of great significance to explore the total factor energy efficiency and its influencing factors for the low carbon transformation and high-quality development of the Bohai Rim region. Based on the total factor energy efficiency framework, the DDF-DEA model was used to calculate the total factor energy efficiency, and the internal and external differences of the total factor energy efficiency were further analyzed. The internal and external influencing factors were determined by ML index method and classical endogenous growth theory, and then… More
OPEN ACCESS

ARTICLE

Haihai Dong1, Yaguang Qu2,3,*, Ming Liu4, Lei Zhang1, Jiakun Wu5

Energy Engineering, Vol.119, No.4, pp. 1681-1695, 2022, DOI:10.32604/ee.2022.019843

Abstract For low permeability sandstone reservoirs, CO2 flooding has been proved to be an effective method to enhance oil recovery. Reservoir A is a typical conglomerate reservoir in Xinjiang oilfield. The reservoir has strong water sensitivity, and the injection pressure continues to rise. Furthermore the oil well pressure continues to drop. According to the screening conditions of CO2 flooding, the reservoir A can easily achieve CO2 miscible flooding with moderate temperature. And the reservoir has the advantage of being close to the gas source. Firstly, the relationship curve between CO2 oil displacement efficiency and oil displacement pressure was obtained by changing… More
OPEN ACCESS

ARTICLE

Xiangli Wang1, Peiyong Ni2,*

Energy Engineering, Vol.119, No.4, pp. 1697-1710, 2022, DOI:10.32604/ee.2022.021070

Abstract Diesel particulate filter (DPF) is a leading technology reducing particle emissions from marine diesel engines. The removal or regeneration of soot in DPF is an important issue. The purpose of this study is to provide some reference strategies to design the DPF for marine diesel engines. In this paper, a mathematical model of a marine DPF was built up and the particle trap process and the regeneration dynamics were simulated. The results show that the cake soot mass concentrations from 0 to 4.2 g/L during the trap process increase linearly with the increase of the exhaust gas flows while the… More
OPEN ACCESS

ARTICLE

Rong Huang1, Xiaojuan Lu2,*, Zeping Liang2, Pengfei Gao1, Tian Liang1

Energy Engineering, Vol.119, No.4, pp. 1711-1728, 2022, DOI:10.32604/ee.2022.019128

Abstract At present, solar thermal power generation is in the demonstration stage, and the large-scale production is affected by many factors. In view of the characteristics of different operating modes of photothermal power generation, it is analyzed that the turbine needs to be started and stopped frequently due to different operating modes, which will lead to the instability of the output energy and the reduction of power generation efficiency. In this paper, the dynamic equation of energy conversion process is established by using the law of conservation of energy and conservation of mass. Combined with the logic switching criterion of the… More

Graphical Abstract
OPEN ACCESS

ARTICLE

Hasan Falih, Ahmed J. Hamed, Abdul Hadi N. Khalifa*

Energy Engineering, Vol.119, No.4, pp. 1729-1744, 2022, DOI:10.32604/ee.2022.021190

Abstract In the present work, a 5-kW hybrid PV solar system was installed on the roof of a house in Diyala, Iraq (33.77° N, 45.14° E elevation 44 m). The system consists of two strings, where each string consists of nine polycrystalline PV modules with 355 Wp in series, and the two strings are in parallel. The energy storage system (ESS) consists of two parallel strings, each with four 12 V and 150 Ah tubular deep cycle batteries in series. A hybrid inverter of 5 kW rated power was operated in different modes. The results showed that May's monthly energy consumption was about 822.9… More

Graphical Abstract