CMC-Computers, Materials & Continua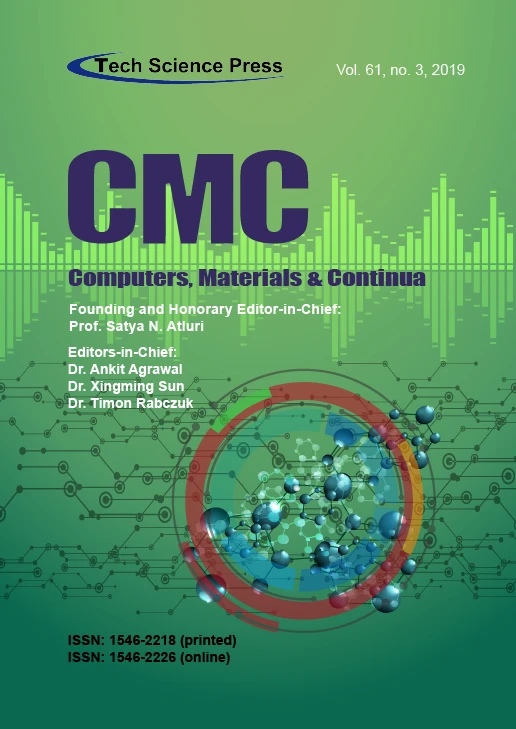 ISSN: 1546-2218 (print)

Impact Factor: 3.860

ISSN: 1546-2226 (online)

Publication Frequency: Monthly
About the Journal
Computers, Materials & Continua is a peer-reviewed Open Access journal that publishes all types of academic papers in the areas of computer networks, artificial intelligence, big data, software engineering, multimedia, cyber security, internet of things, materials genome, integrated materials science, and data analysis, modeling, designing and manufacturing of modern functional and multifunctional materials. This journal is published monthly by Tech Science Press.
Indexing and Abstracting
SCI: 2021 Impact Factor 3.860; Scopus CiteScore (Impact per Publication 2021): 4.9; SNIP (Source Normalized Impact per Paper 2021): 1.277; Ei Compendex; Cambridge Scientific Abstracts; INSPEC Databases; Science Navigator; EBSCOhost; ProQuest Central; Zentralblatt für Mathematik; Portico, etc.
OPEN ACCESS

ARTICLE

Kamel Jebreen1,2,3,*, Muhammad Haroon Aftab4, Mohammad Issa Sowaity5, Zeeshan Saleem Mufti4, Muhammad Hussain6

CMC-Computers, Materials & Continua, Vol.73, No.3, pp. 4455-4463, 2022, DOI:10.32604/cmc.2022.030246

Abstract In this article, we calculate various topological invariants such as symmetric division degree index, redefined Zagreb index, VL index, first and second exponential Zagreb index, first and second multiplicative exponential Zagreb indices, symmetric division degree entropy, redefined Zagreb entropy, VL entropy, first and second exponential Zagreb entropies, multiplicative exponential Zagreb entropy. We take the chemical compound named Proanthocyanidins, which is a very useful polyphenol in human's diet. They are very beneficial for one's health. These chemical compounds are extracted from grape seeds. They are tremendously anti-inflammatory. A subdivision form of this compound is presented in this article. The compound named… More
OPEN ACCESS

ARTICLE

Zia Ullah1, Muhammad Ismail Mohmand1, Sadaqat ur Rehman2,*, Muhammad Zubair3, Maha Driss4, Wadii Boulila5, Rayan Sheikh2, Ibrahim Alwawi6

CMC-Computers, Materials & Continua, Vol.73, No.3, pp. 4465-4487, 2022, DOI:10.32604/cmc.2022.029101

Abstract Facial expression recognition has been a hot topic for decades, but high intraclass variation makes it challenging. To overcome intraclass variation for visual recognition, we introduce a novel fusion methodology, in which the proposed model first extract features followed by feature fusion. Specifically, RestNet-50, VGG-19, and Inception-V3 is used to ensure feature learning followed by feature fusion. Finally, the three feature extraction models are utilized using Ensemble Learning techniques for final expression classification. The representation learnt by the proposed methodology is robust to occlusions and pose variations and offers promising accuracy. To evaluate the efficiency of the proposed model, we… More
OPEN ACCESS

ARTICLE

Muhammad Waqas1,3,*, Shehr Bano2, Fatima Hassan2, Shanshan Tu1, Ghulam Abbas2, Ziaul Haq Abbas4

CMC-Computers, Materials & Continua, Vol.73, No.3, pp. 4489-4499, 2022, DOI:10.32604/cmc.2022.029539

Abstract Cyber-physical wireless systems have surfaced as an important data communication and networking research area. It is an emerging discipline that allows effective monitoring and efficient real-time communication between the cyber and physical worlds by embedding computer software and integrating communication and networking technologies. Due to their high reliability, sensitivity and connectivity, their security requirements are more comparable to the Internet as they are prone to various security threats such as eavesdropping, spoofing, botnets, man-in-the-middle attack, denial of service (DoS) and distributed denial of service (DDoS) and impersonation. Existing methods use physical layer authentication (PLA), the most promising solution to detect… More
OPEN ACCESS

ARTICLE

Muhammad Ali1, Jamal Hussain Shah1, Muhammad Attique Khan2, Majed Alhaisoni3, Usman Tariq4, Tallha Akram5, Ye Jin Kim6, Byoungchol Chang7,*

CMC-Computers, Materials & Continua, Vol.73, No.3, pp. 4501-4518, 2022, DOI:10.32604/cmc.2022.030392

Abstract Tumor detection has been an active research topic in recent years due to the high mortality rate. Computer vision (CV) and image processing techniques have recently become popular for detecting tumors in MRI images. The automated detection process is simpler and takes less time than manual processing. In addition, the difference in the expanding shape of brain tumor tissues complicates and complicates tumor detection for clinicians. We proposed a new framework for tumor detection as well as tumor classification into relevant categories in this paper. For tumor segmentation, the proposed framework employs the Particle Swarm Optimization (PSO) algorithm, and for… More
OPEN ACCESS

ARTICLE

Gürcan Çetin*

CMC-Computers, Materials & Continua, Vol.73, No.3, pp. 4519-4539, 2022, DOI:10.32604/cmc.2022.031734

Abstract Recently, machine learning algorithms have been used in the detection and classification of network attacks. The performance of the algorithms has been evaluated by using benchmark network intrusion datasets such as DARPA98, KDD'99, NSL-KDD, UNSW-NB15, and Caida DDoS. However, these datasets have two major challenges: imbalanced data and high-dimensional data. Obtaining high accuracy for all attack types in the dataset allows for high accuracy in imbalanced datasets. On the other hand, having a large number of features increases the runtime load on the algorithms. A novel model is proposed in this paper to overcome these two concerns. The number of… More
OPEN ACCESS

ARTICLE

K. Shankar1, E. Laxmi Lydia2, Sachin Kumar1,*, Ali S. Abosinne3, Ahmed alkhayyat4, A. H. Abbas5, Sarmad Nozad Mahmood6

CMC-Computers, Materials & Continua, Vol.73, No.3, pp. 4541-4557, 2022, DOI:10.32604/cmc.2022.031247

Abstract Oral Squamous Cell Carcinoma (OSCC) is a type of Head and Neck Squamous Cell Carcinoma (HNSCC) and it should be diagnosed at early stages to accomplish efficient treatment, increase the survival rate, and reduce death rate. Histopathological imaging is a wide-spread standard used for OSCC detection. However, it is a cumbersome process and demands expert's knowledge. So, there is a need exists for automated detection of OSCC using Artificial Intelligence (AI) and Computer Vision (CV) technologies. In this background, the current research article introduces Improved Slime Mould Algorithm with Artificial Intelligence Driven Oral Cancer Classification (ISMA-AIOCC) model on Histopathological images… More
OPEN ACCESS

ARTICLE

Maria Sameen1, Seong Oun Hwang2,*

CMC-Computers, Materials & Continua, Vol.73, No.3, pp. 4559-4576, 2022, DOI:10.32604/cmc.2022.031091

Abstract Machine Learning (ML) systems often involve a re-training process to make better predictions and classifications. This re-training process creates a loophole and poses a security threat for ML systems. Adversaries leverage this loophole and design data poisoning attacks against ML systems. Data poisoning attacks are a type of attack in which an adversary manipulates the training dataset to degrade the ML system's performance. Data poisoning attacks are challenging to detect, and even more difficult to respond to, particularly in the Internet of Things (IoT) environment. To address this problem, we proposed DISTINÏCT, the first proactive data poisoning attack detection framework… More
OPEN ACCESS

ARTICLE

Chao-Lung Yang1, Yulius Harjoseputro2,3, Yu-Chen Hu4, Yung-Yao Chen2,*

CMC-Computers, Materials & Continua, Vol.73, No.3, pp. 4577-4593, 2022, DOI:10.32604/cmc.2022.031305

Abstract This research proposed an improved transfer-learning bird classification framework to achieve a more precise classification of Protected Indonesia Birds (PIB) which have been identified as the endangered bird species. The framework takes advantage of using the proposed sequence of Batch Normalization Dropout Fully-Connected (BNDFC) layers to enhance the baseline model of transfer learning. The main contribution of this work is the proposed sequence of BNDFC that can be applied to any Convolutional Neural Network (CNN) based model to improve the classification accuracy, especially for image-based species classification problems. The experiment results show that the proposed sequence of BNDFC layers outperform… More
OPEN ACCESS

ARTICLE

Deepak Sukheja1, Javaid Ahmad Shah2, G. Madhu3, K. Sandeep Kautish4, Fahad A. Alghamdi5, Ibrahim. S. Yahia6,7,8, El-Sayed M. El-Kenawy9,10, Ali Wagdy Mohamed11,12,*

CMC-Computers, Materials & Continua, Vol.73, No.3, pp. 4595-4609, 2022, DOI:10.32604/cmc.2022.029122

Abstract Efficient decision-making remains an open challenge in the research community, and many researchers are working to improve accuracy through the use of various computational techniques. In this case, the fuzzification and defuzzification processes can be very useful. Defuzzification is an effective process to get a single number from the output of a fuzzy set. Considering defuzzification as a center point of this research paper, to analyze and understand the effect of different types of vehicles according to their performance. In this paper, the multi-criteria decision-making (MCDM) process under uncertainty and defuzzification is discussed by using the center of the area… More
OPEN ACCESS

ARTICLE

A Novel Multiple Dependent State Sampling Plan Based on Time Truncated Life Tests Using Mean Lifetime
Pramote Charongrattanasakul1, Wimonmas Bamrungsetthapong2,*, Poom Kumam3

CMC-Computers, Materials & Continua, Vol.73, No.3, pp. 4611-4626, 2022, DOI:10.32604/cmc.2022.030856

Abstract The design of a new adaptive version of the multiple dependent state (AMDS) sampling plan is presented based on the time truncated life test under the Weibull distribution. We achieved the proposed sampling plan by applying the concept of the double sampling plan and existing multiple dependent state sampling plans. A warning sign for acceptance number was proposed to increase the probability of current lot acceptance. The optimal plan parameters were determined simultaneously with nonlinear optimization problems under the producer's risk and consumer's risk. A simulation study was presented to support the proposed sampling plan. A comparison between the proposed… More
OPEN ACCESS

ARTICLE

Timur Merembayev1,2,*, Yedilkhan Amirgaliyev1,3, Murat Kunelbayev1, Didar Yedilkhan1,4

CMC-Computers, Materials & Continua, Vol.73, No.3, pp. 4627-4640, 2022, DOI:10.32604/cmc.2022.027180

Abstract In this paper, we studied theoretically and numerically heated losses of a flat solar collector to model the solar water heating system for the Kazakhstan climate condition. For different climatic zones with a growing cost for energy or lack of central heating systems, promising is to find ways to improve the energy efficiency of the solar system. The mathematical model (based on ordinary differential equation) simulated the solar system work process under different conditions. To bridge the modeling and real values results, we studied the important physical parameters such as loss coefficient, Nu, Ra, and Pr values. They impacted the… More
OPEN ACCESS

ARTICLE

Mubashar Hussain1, Toqir A. Rana2,3, Aksam Iftikhar4, M. Usman Ashraf5,*, Muhammad Waseem Iqbal6, Ahmed Alshaflut7, Abdullah Alourani8

CMC-Computers, Materials & Continua, Vol.73, No.3, pp. 4641-4656, 2022, DOI:10.32604/cmc.2022.024759

Abstract In the field of sentiment analysis, extracting aspects or opinion targets from user reviews about a product is a key task. Extracting the polarity of an opinion is much more useful if we also know the targeted Aspect or Feature. Rule based approaches, like dependency-based rules, are quite popular and effective for this purpose. However, they are heavily dependent on the authenticity of the employed parts-of-speech (POS) tagger and dependency parser. Another popular rule based approach is to use sequential rules, wherein the rules formulated by learning from the user's behavior. However, in general, the sequential rule-based approaches have poor… More
OPEN ACCESS

ARTICLE

Adnan Ahmed Rafique1, Yazeed Yasin Ghadi2, Suliman A. Alsuhibany3, Samia Allaoua Chelloug4,*, Ahmad Jalal1, Jeongmin Park5

CMC-Computers, Materials & Continua, Vol.73, No.3, pp. 4657-4675, 2022, DOI:10.32604/cmc.2022.027720

Abstract Latest advancements in vision technology offer an evident impact on multi-object recognition and scene understanding. Such scene-understanding task is a demanding part of several technologies, like augmented reality-based scene integration, robotic navigation, autonomous driving, and tourist guide. Incorporating visual information in contextually unified segments, convolution neural networks-based approaches will significantly mitigate the clutter, which is usual in classical frameworks during scene understanding. In this paper, we propose a convolutional neural network (CNN) based segmentation method for the recognition of multiple objects in an image. Initially, after acquisition and preprocessing, the image is segmented by using CNN. Then, CNN features are… More
OPEN ACCESS

ARTICLE

Vicky Mudeng1,2, Jin-woo Jeong3, Se-woon Choe1,4,*

CMC-Computers, Materials & Continua, Vol.73, No.3, pp. 4677-4693, 2022, DOI:10.32604/cmc.2022.031046

Abstract A lump growing in the breast may be referred to as a breast mass related to the tumor. However, not all tumors are cancerous or malignant. Breast masses can cause discomfort and pain, depending on the size and texture of the breast. With an appropriate diagnosis, non-cancerous breast masses can be diagnosed earlier to prevent their cultivation from being malignant. With the development of the artificial neural network, the deep discriminative model, such as a convolutional neural network, may evaluate the breast lesion to distinguish benign and malignant cancers from mammogram breast masses images. This work accomplished breast masses classification… More
OPEN ACCESS

ARTICLE

Mohammed Altaf Ahmed1, Sara A Althubiti2, Dronamraju Nageswara Rao3, E. Laxmi Lydia4, Woong Cho5, Gyanendra Prasad Joshi6, Sung Won Kim7,*

CMC-Computers, Materials & Continua, Vol.73, No.3, pp. 4695-4711, 2022, DOI:10.32604/cmc.2022.032083

Abstract Cyberattacks are developing gradually sophisticated, requiring effective intrusion detection systems (IDSs) for monitoring computer resources and creating reports on anomalous or suspicious actions. With the popularity of Internet of Things (IoT) technology, the security of IoT networks is developing a vital problem. Because of the huge number and varied kinds of IoT devices, it can be challenging task for protecting the IoT framework utilizing a typical IDS. The typical IDSs have their restrictions once executed to IoT networks because of resource constraints and complexity. Therefore, this paper presents a new Blockchain Assisted Intrusion Detection System using Differential Flower Pollination with… More
OPEN ACCESS

ARTICLE

A. Baseera1, Abeer Abdullah Alsadhan2,*

CMC-Computers, Materials & Continua, Vol.73, No.3, pp. 4713-4726, 2022, DOI:10.32604/cmc.2022.029538

Abstract In the development of technology in various fields like big data analysis, data mining, big data, cloud computing, and blockchain technology, security become more constrained. Blockchain is used in providing security by encrypting the sharing of information. Blockchain is applied in the peer-to-peer (P2P) network and it has a decentralized ledger. Providing security against unauthorized breaches in the distributed network is required. To detect unauthorized breaches, there are numerous techniques were developed and those techniques are inefficient and have poor data integrity. Hence, a novel technique needs to be implemented to tackle the new breaches in the distributed network. This… More
OPEN ACCESS

ARTICLE

Lei Zhu1, Guojiang Xin1,2,*, Xin Wang1, Changsong Ding1,2, Hao Liang1,2, Qilei Chen3

CMC-Computers, Materials & Continua, Vol.73, No.3, pp. 4727-4742, 2022, DOI:10.32604/cmc.2022.028187

Abstract The collection and extraction of tongue images has always been an important part of intelligent tongue diagnosis. At present, the collection of tongue images generally needs to be completed in a sealed, stable light environment, which is not conducive to the promotion of extensive tongue image and intelligent tongue diagnosis. In response to the problem, a new algorithm named GCYTD (GELU-CA-YOLO Tongue Detection) is proposed to quickly detect and locate the tongue in a natural environment, which can greatly reduce the restriction of the tongue image collection environment. The algorithm is based on the YOLO (You Only Look Once) V4-tiny… More
OPEN ACCESS

ARTICLE

Yong-Woon Kim1, Yung-Cheol Byun2,*, Dong Seog Han3, Dalia Dominic1, Sibu Cyriac1

CMC-Computers, Materials & Continua, Vol.73, No.3, pp. 4743-4762, 2022, DOI:10.32604/cmc.2022.028632

Abstract A wide range of camera apps and online video conferencing services support the feature of changing the background in real-time for aesthetic, privacy, and security reasons. Numerous studies show that the Deep-Learning (DL) is a suitable option for human segmentation, and the ensemble of multiple DL-based segmentation models can improve the segmentation result. However, these approaches are not as effective when directly applied to the image segmentation in a video. This paper proposes an Adaptive N-Frames Ensemble (AFE) approach for high-movement human segmentation in a video using an ensemble of multiple DL models. In contrast to an ensemble, which executes… More
OPEN ACCESS

ARTICLE

Mir Mushhood Afsar1, Shizza Saqib1, Yazeed Yasin Ghadi2, Suliman A. Alsuhibany3, Ahmad Jalal1, Jeongmin Park4,*

CMC-Computers, Materials & Continua, Vol.73, No.3, pp. 4763-4777, 2022, DOI:10.32604/cmc.2022.028618

Abstract Virtual reality is an emerging field in the whole world. The problem faced by people today is that they are more indulged in indoor technology rather than outdoor activities. Hence, the proposed system introduces a fitness solution connecting virtual reality with a gaming interface so that an individual can play first-person games. The system proposed in this paper is an efficient and cost-effective solution that can entertain people along with playing outdoor games such as badminton and cricket while sitting in the room. To track the human movement, sensors Micro Processor Unit (MPU6050) are used that are connected with Bluetooth… More
OPEN ACCESS

ARTICLE

Phi-Hung Nguyen*

CMC-Computers, Materials & Continua, Vol.73, No.3, pp. 4779-4800, 2022, DOI:10.32604/cmc.2022.030745

Abstract In today's fast-challenging business environment, automobile manufacturers are required to supply customers with high-quality vehicles at competitive prices. However, existing research on factors influencing service quality lacks a detailed and systematic understanding, and there is no consensus study on causal relationship and measuring the weights of service quality factors in the automotive manufacturing industry. This study provides an integrated technique for evaluating the automotive service quality in the context of VinFast-the Vietnamese leading brand. First, the Grey Theory System (GTS) is utilized to estimate the subjective views of the decision maker (DM) and overcome incomplete and vague decision information. Then,… More
OPEN ACCESS

ARTICLE

Jyoti Arora1, Meena Tushir2, Keshav Sharma1, Lalit Mohan1, Aman Singh3,*, Abdullah Alharbi4, Wael Alosaimi4

CMC-Computers, Materials & Continua, Vol.73, No.3, pp. 4801-4817, 2022, DOI:10.32604/cmc.2022.025960

Abstract Datasets with the imbalanced class distribution are difficult to handle with the standard classification algorithms. In supervised learning, dealing with the problem of class imbalance is still considered to be a challenging research problem. Various machine learning techniques are designed to operate on balanced datasets; therefore, the state of the art, different under-sampling, over-sampling and hybrid strategies have been proposed to deal with the problem of imbalanced datasets, but highly skewed datasets still pose the problem of generalization and noise generation during resampling. To over-come these problems, this paper proposes a majority clustering model for classification of imbalanced datasets known… More
OPEN ACCESS

ARTICLE

Muhammad Faisal*, Sohail Khalid

CMC-Computers, Materials & Continua, Vol.73, No.3, pp. 4819-4832, 2022, DOI:10.32604/cmc.2022.029049

Abstract The design of single- and quad-band Bandpass Filter (BPF) topology has been presented in this paper for next-generation Internet of Things (IoT) devices. The main topology is constructed using the Split Ring Resonator (SRR), separated by the Anti-Parallel Coupled Line Structure (APCLS). A detailed analysis of APCLS has been presented, which is further used to construct the single- and quad-band BPF. The single-band BPF design consists of SRR loaded with APCLS. The developed single-band BPF displays a dual-mode response with a center frequency of 2.65 GHz and a measured fractional bandwidth of 17.17%. Moreover, a quad-band bandpass filter has been… More
OPEN ACCESS

ARTICLE

Swarming Computational Efficiency to Solve a Novel Third-Order Delay Differential Emden-Fowler System
Wajaree Weera1, Zulqurnain Sabir2, Muhammad Asif Zahoor Raja3, Sakda Noinang4, Thongchai Botmart1,*

CMC-Computers, Materials & Continua, Vol.73, No.3, pp. 4833-4849, 2022, DOI:10.32604/cmc.2022.030888

Abstract The purpose of this research is to construct an integrated neuro swarming scheme using the procedures of the artificial neural networks (ANNs) with the use of global search particle swarm optimization (PSO) along with the competent local search interior-point programming (IPP) called as ANN-PSOIPP. The proposed computational scheme is implemented for the numerical simulations of the third order nonlinear delay differential Emden-Fowler model (TON-DD-EFM). The TON-DD-EFM is based on two types along with the particulars of shape factor, delayed terms, and singular points. A merit function is performed using the optimization of PSOIPP to find the solutions to the TON-DD-EFM.… More
OPEN ACCESS

ARTICLE

Sakda Noinang1, Zulqurnain Sabir2, Gilder Cieza Altamirano3, Muhammad Asif Zahoor Raja4, Manuel Jesús Sànchez-Chero5, María-Verónica Seminario-Morales5, Wajaree Weera6,*, Thongchai Botmart6

CMC-Computers, Materials & Continua, Vol.73, No.3, pp. 4851-4868, 2022, DOI:10.32604/cmc.2022.029437

Abstract The current study relates to designing a swarming computational paradigm to solve the influenza disease system (IDS). The nonlinear system's mathematical form depends upon four classes: susceptible individuals, infected people, recovered individuals and cross-immune people. The solutions of the IDS are provided by using the artificial neural networks (ANNs) together with the swarming computational paradigm-based particle swarm optimization (PSO) and interior-point scheme (IPA) that are the global and local search approaches. The ANNs-PSO-IPA has never been applied to solve the IDS. Instead a merit function in the sense of mean square error is constructed using the differential form of each… More
OPEN ACCESS

ARTICLE

Tahir Alyas1,*, Khalid Alissa2, Abdul Salam Mohammad3, Shazia Asif4, Tauqeer Faiz5, Gulzar Ahmed6

CMC-Computers, Materials & Continua, Vol.73, No.3, pp. 4869-4883, 2022, DOI:10.32604/cmc.2022.031376

Abstract Fungal disease affects more than a billion people worldwide, resulting in different types of fungus diseases facing life-threatening infections. The outer layer of your body is called the integumentary system. Your skin, hair, nails, and glands are all part of it. These organs and tissues serve as your first line of defence against bacteria while protecting you from harm and the sun. The It serves as a barrier between the outside world and the regulated environment inside our bodies and a regulating effect. Heat, light, damage, and illness are all protected by it. Fungi-caused infections are found in almost every… More
OPEN ACCESS

ARTICLE

Muhammad Irfan1, Farman Ali2, Fazal Muhammad3,*, Saifur Rahman1, Ammar Armghan4, Yousaf Khan5, Faisal Althobiani6, Rehan Shafiq7, Mohammed Alshareef8, Mohammad E. Gommosani9

CMC-Computers, Materials & Continua, Vol.73, No.3, pp. 4885-4895, 2022, DOI:10.32604/cmc.2022.030157

Abstract The fiber nonlinearity and phase noise (PN) are the focused impairments in the optical communication system, induced by high-capacity transmission and high laser input power. The channels include high-capacity transmissions that cannot be achieved at the end side without aliasing because of fiber nonlinearity and PN impairments. Thus, addressing of these distortions is the basic objective for the 5G mobile network. In this paper, the fiber nonlinearity and PN are investigated using the assembled methodology of millimeter-wave and radio over fiber (mmWave-RoF). The analytical model is designed in terms of outage probability for the proposed mmWave-RoF system. The performance of… More
OPEN ACCESS

ARTICLE

Kuntharrgyal Khysru1,*, Jianguo Wei1,2, Jianwu Dang3

CMC-Computers, Materials & Continua, Vol.73, No.3, pp. 4897-4907, 2022, DOI:10.32604/cmc.2022.027591

Abstract In China, Tibetan is usually divided into three major dialects: the Am-do, Khams and Lhasa dialects. The Am-do dialect evolved from ancient Tibetan and is a local variant of modern Tibetan. Although this dialect has its own specific historical and social conditions and development, there have been different degrees of communication with other ethnic groups, but all the abovementioned dialects developed from the same language: Tibetan. This paper uses the particularity of Tibetan suffixes in pronunciation and proposes a lexicon for the Am-do language, which optimizes the problems existing in previous research. Audio data of the Am-do dialect are expanded… More
OPEN ACCESS

ARTICLE

Amruta S. Dixit1, Sumit Kumar1,*, Shabana Urooj2

CMC-Computers, Materials & Continua, Vol.73, No.3, pp. 4909-4921, 2022, DOI:10.32604/cmc.2022.027862

Abstract This paper proposes a stable gain and a compact Antipodal Vivaldi Antenna (AVA) for a 38 GHz band of 5G communication. A novel compact AVA is designed to provide constant gain, high front to back ratio (FBR), and very high efficiency. The performance of the proposed AVA is enhanced with the help of a dielectric lens (DL) and corrugations. A rectangular-shaped DL is incorporated in conventional AVA (CAVA) to enhance its gain up to 1 dBi and the bandwidth by 1.8 GHz. Next, the rectangular corrugations are implemented in CAVA with lens (CAVA-L) to further improve the gain and bandwidth. The proposed… More
OPEN ACCESS

ARTICLE

Nursyazwani Mohamad Noor1, Siti Ainor Mohd Yatim1,*, Nur Intan Raihana Ruhaiyem2

CMC-Computers, Materials & Continua, Vol.73, No.3, pp. 4923-4934, 2022, DOI:10.32604/cmc.2022.030414

Abstract In this paper, we present a three-compartment of pharmacokinetics model with irreversible rate constants. The compartment consists of arterial blood, tissues and venous blood. Fick's principle and the law of mass action were used to develop the model based on the diffusion process. The model is modified into a fractional pharmacokinetics model with the sense of Caputo derivative. The existence and uniqueness of the model are investigated and the positivity of the model is established. The behaviour of the model is investigated by implementing numerical algorithms for the numerical solution of the system of fractional differential equations. MATLAB software is… More
OPEN ACCESS

ARTICLE

Sadaf Hafeez1, Yazeed Yasin Ghadi2, Mohammed Alarfaj3, Tamara al Shloul4, Ahmad Jalal1, Shaharyar Kamal1, Dong-Seong Kim5,*

CMC-Computers, Materials & Continua, Vol.73, No.3, pp. 4935-4952, 2022, DOI:10.32604/cmc.2022.023841

Abstract Independent human living systems require smart, intelligent, and sustainable online monitoring so that an individual can be assisted timely. Apart from ambient assisted living, the task of monitoring human activities plays an important role in different fields including virtual reality, surveillance security, and human interaction with robots. Such systems have been developed in the past with the use of various wearable inertial sensors and depth cameras to capture the human actions. In this paper, we propose multiple methods such as random occupancy pattern, spatio temporal cloud, way-point trajectory, Hilbert transform, Walsh Hadamard transform and bone pair descriptors to extract optimal… More
OPEN ACCESS

ARTICLE

He Gong1,3,4, Mingwang Deng1, Shijun Li1,2,6,*, Tianli Hu1,3,4, Yu Sun1,3,4, Ye Mu1,3,4, Zilian Wang1, Chang Zhang1, Thobela Louis Tyasi5

CMC-Computers, Materials & Continua, Vol.73, No.3, pp. 4953-4969, 2022, DOI:10.32604/cmc.2022.027457

Abstract With the increasing intensive and large-scale development of the sika deer breeding industry, it is crucial to assess the health status of the sika deer by monitoring their behaviours. A machine vision–based method for the behaviour recognition of sika deer is proposed in this paper. Google Inception Net (GoogLeNet) is used to optimise the model in this paper. First, the number of layers and size of the model were reduced. Then, the 5 × 5 convolution was changed to two 3 × 3 convolutions, which reduced the parameters and increased the nonlinearity of the model. A 5 × 5 convolution… More
OPEN ACCESS

ARTICLE

He Gong1,2,3, Zilian Wang1,3, Zhiqiang Cheng4, Lin Chen1,3, Haohong Pan1,3, Daming Zhang2, Tianli Hu1,3,*, Thobela Louis Tyasi5

CMC-Computers, Materials & Continua, Vol.73, No.3, pp. 4971-4980, 2022, DOI:10.32604/cmc.2022.029433

Abstract Flexible strain sensor has attracted much attention because of its potential application in human motion detection. In this work, the prepared strain sensor was obtained by encapsulating electrospun carbonized sponge (CS) with room temperature vulcanized silicone rubber (RTVS). In this paper, the formation mechanism of conductive sponge was studied. Based on the combination of carbonized sponge and RTVS, the strain sensing mechanism and piezoresistive properties are discussed. After research and testing, the CS/RTVS flexible strain sensor has excellent fast response speed and stability, and the maximum strain coefficient of the sensor is 136.27. In this study, the self-developed CS/RTVS sensor… More
OPEN ACCESS

ARTICLE

Haykel Marouani1,*, Fahad Awjah Almehmadi1, Rihem Farkh2, Habib Dhahri3

CMC-Computers, Materials & Continua, Vol.73, No.3, pp. 4981-4994, 2022, DOI:10.32604/cmc.2022.029315

Abstract

In this work, the concepts of particle swarm optimization-based method, named non-Gaussian improved particle swarm optimization for minimizing the cost of energy (COE) of wind turbines (WTs) on high-altitude sites are introduced. Since the COE depends on site specification constants and initialized parameters of wind turbine, the focus was on the design optimization of rotor radius, hub height and rated power. Based on literature, the COE is converted to the Saudi Arabia context. Thus, the constrained wind turbine optimization problem is developed. Then, non-Gaussian improved particle swarm optimization is provided and compared with the conventional particle swarm optimization for solving… More
OPEN ACCESS

ARTICLE

Zhenzhou Wang1, Kangyang Li1, Xiang Wang1,*, Antonio Lee2

CMC-Computers, Materials & Continua, Vol.73, No.3, pp. 4995-5009, 2022, DOI:10.32604/cmc.2022.029650

Abstract Edge detection is one of the core steps of image processing and computer vision. Accurate and fine image edge will make further target detection and semantic segmentation more effective. Holistically-Nested edge detection (HED) edge detection network has been proved to be a deep-learning network with better performance for edge detection. However, it is found that when the HED network is used in overlapping complex multi-edge scenarios for automatic object identification. There will be detected edge incomplete, not smooth and other problems. To solve these problems, an image edge detection algorithm based on improved HED and feature fusion is proposed. On… More
OPEN ACCESS

ARTICLE

Mesfer Al Duhayyim1,*, Heba G. Mohamed2, Saud S. Alotaibi3, Hany Mahgoub4,5, Abdullah Mohamed6, Abdelwahed Motwakel7, Abu Sarwar Zamani7, Mohamed I. Eldesouki8

CMC-Computers, Materials & Continua, Vol.73, No.3, pp. 5011-5024, 2022, DOI:10.32604/cmc.2022.031096

Abstract Cyberbullying (CB) is a challenging issue in social media and it becomes important to effectively identify the occurrence of CB. The recently developed deep learning (DL) models pave the way to design CB classifier models with maximum performance. At the same time, optimal hyperparameter tuning process plays a vital role to enhance overall results. This study introduces a Teacher Learning Genetic Optimization with Deep Learning Enabled Cyberbullying Classification (TLGODL-CBC) model in Social Media. The proposed TLGODL-CBC model intends to identify the existence and non-existence of CB in social media context. Initially, the input data is cleaned and pre-processed to make… More
OPEN ACCESS

ARTICLE

Ahmed Ali Ajmi1,2, Noor Shakir Mahmood1,2, Khairur Rijal Jamaludin1,*, Hayati Habibah Abdul Talib1, Shamsul Sarip1, Hazilah Mad Kaidi1

CMC-Computers, Materials & Continua, Vol.73, No.3, pp. 5025-5039, 2022, DOI:10.32604/cmc.2022.031239

Abstract The literature that a lack of integration between the performance shaping factors (PSFs) and the energy management performance (EMP) is one of the critical problems that prevent performance improvement and reduces the power plant's efficiency. To solve this problem, this article aims to achieve two main objectives: (1) Systematically investigate and identify the critical success factors (CSFs) for integration with PSFs and EMP; (2) Develop a novel modelling approach to predict the performance of power plants based on innovative integrated strategies. The research methodology is grounded on the theoretical and practical approach to improving performance. The Newcastle Ottawa Scale (NOS)… More
OPEN ACCESS

ARTICLE

Mehrdad Ahmadi Kamarposhti1,*, Hassan Shokouhandeh2, Ilhami Colak3, Kei Eguchi4

CMC-Computers, Materials & Continua, Vol.73, No.3, pp. 5041-5061, 2022, DOI:10.32604/cmc.2022.031583

Abstract The advantage of fuzzy controllers in working with inaccurate and nonlinear inputs is that there is no need for an accurate mathematical model and fast convergence and minimal fluctuations in the maximum power point detector. The capability of online fuzzy tracking systems is maximum power, resistance to radiation and temperature changes, and no need for external sensors to measure radiation intensity and temperature. However, the most important issue is the constant changes in the amount of sunlight that cause the maximum power point to be constantly changing. The controller used in the maximum power point tracking (MPPT) circuit must be… More
OPEN ACCESS

ARTICLE

Mustafa M. Al Rifaee1,*, Mohammad M. Abdallah1, Mosa I. Salah2, Ayman M. Abdalla1

CMC-Computers, Materials & Continua, Vol.73, No.3, pp. 5063-5073, 2022, DOI:10.32604/cmc.2022.030033

Abstract Hand veins can be used effectively in biometric recognition since they are internal organs that, in contrast to fingerprints, are robust under external environment effects such as dirt and paper cuts. Moreover, they form a complex rich shape that is unique, even in identical twins, and allows a high degree of freedom. However, most currently employed hand-based biometric systems rely on hand-touch devices to capture images with the desired quality. Since the start of the COVID-19 pandemic, most hand-based biometric systems have become undesirable due to their possible impact on the spread of the pandemic. Consequently, new contactless hand-based biometric… More
OPEN ACCESS

ARTICLE

Abdullah A Asiri1, Akhtar Badshah2, Fazal Muhammad3,*, Hassan A Alshamrani1, Khalil Ullah4, Khalaf A Alshamrani1, Samar Alqhtani5, Muhammad Irfan6, Hanan Talal Halawani7, Khlood M Mehdar8

CMC-Computers, Materials & Continua, Vol.73, No.3, pp. 5075-5089, 2022, DOI:10.32604/cmc.2022.031156

Abstract Electroencephalogram (EEG) is a medical imaging technology that can measure the electrical activity of the scalp produced by the brain, measured and recorded chronologically the surface of the scalp from the brain. The recorded signals from the brain are rich with useful information. The inference of this useful information is a challenging task. This paper aims to process the EEG signals for the recognition of human emotions specifically happiness, anger, fear, sadness, and surprise in response to audiovisual stimuli. The EEG signals are recorded by placing neurosky mindwave headset on the subject's scalp, in response to audiovisual stimuli for the… More
OPEN ACCESS

ARTICLE

Eun-Tae Jang1, Sung Hoon Baek2, Ki-Woong Park1,*

CMC-Computers, Materials & Continua, Vol.73, No.3, pp. 5091-5102, 2022, DOI:10.32604/cmc.2022.026663

Abstract When a Windows-based system is used for an exceedingly long time, its performance degrades, and the error occurrence rate tends to increase. This is generally called system aging. To investigate the reasons for system aging, various studies have been conducted within the range of the operating system kernel to the user application. However, finding an accurate reason for system performance degradation remains challenging research topic. In this study, system monitoring was conducted by dividing a system into 'before software installation,' 'after software installation,' and 'after software removal.' We confirmed that when a software installed in a system is removed, various… More
OPEN ACCESS

ARTICLE

Eman K. Elsayed1, Asmaa K. Elsayed2,*, Kamal A. Eldahshan3

CMC-Computers, Materials & Continua, Vol.73, No.3, pp. 5103-5120, 2022, DOI:10.32604/cmc.2022.030803

Abstract Industry 4.0 production environments and smart manufacturing systems integrate both the physical and decision-making aspects of manufacturing operations into autonomous and decentralized systems. One of the key aspects of these systems is a production planning, specifically, Scheduling operations on the machines. To cope with this problem, this paper proposed a Deep Reinforcement Learning with an Actor-Critic algorithm (DRLAC). We model the Job-Shop Scheduling Problem (JSSP) as a Markov Decision Process (MDP), represent the state of a JSSP as simple Graph Isomorphism Networks (GIN) to extract nodes features during scheduling, and derive the policy of optimal scheduling which guides the included… More
OPEN ACCESS

ARTICLE

Hanan A. Hosni Mahmoud1,*, Alaaeldin M. Hafez2

CMC-Computers, Materials & Continua, Vol.73, No.3, pp. 5121-5136, 2022, DOI:10.32604/cmc.2022.031485

Abstract A substantial amount of textual data is present electronically in several languages. These texts directed the gear to information redundancy. It is essential to remove this redundancy and decrease the reading time of these data. Therefore, we need a computerized text summarization technique to extract relevant information from group of text documents with correlated subjects. This paper proposes a language-independent extractive summarization technique. The proposed technique presents a clustering-based optimization technique. The clustering technique determines the main subjects of the text, while the proposed optimization technique minimizes redundancy, and maximizes significance. Experiments are devised and evaluated using BillSum dataset for… More
OPEN ACCESS

ARTICLE

Jiabin Wu1,3, Boai Yang2, Yang Liu1, Fang Liu3,*, Nong Xiao1, Shuo Li4

CMC-Computers, Materials & Continua, Vol.73, No.3, pp. 5137-5150, 2022, DOI:10.32604/cmc.2022.028305

Abstract Building a new decentralized domain name system based on blockchain technology is helping to solve problems, such as load imbalance and over-dependence on the trust of the central node. However, in the existing blockchain storage system, the storage overhead is very high due to its full-replication data storage mechanism. The total storage consumption for each block is up to O(n) with n nodes. Erasure code applied to blockchains can significantly reduce the storage overhead, but also greatly lower the read performance. In this study, we propose a novel coding scheme for blockchain storage, Combination Locality based Erasure Code for Permissioned… More
OPEN ACCESS

ARTICLE

Habib Ullah Khan1,*, Anwar Hussain2, Shah Nazir2

CMC-Computers, Materials & Continua, Vol.73, No.3, pp. 5151-5167, 2022, DOI:10.32604/cmc.2022.030837

Abstract Seamless mobility is always one of the major requirements of modern-day communication. In a heterogeneous and massive IoT environment, efficient network-based mobility protocol such as proxy mobile IPv6 (PMIPv6), is potentially a good candidate for efficient mobility as well as resource utilization efficiency. Several extensions are devised for performance in the research domain. However, a multi-criterion decision-based resource-efficient PMIPv6 extension is required to achieve efficiency when network resources are overloaded. In this research, a multi-criterion decision-based PMIPv6 scheme is devised that provides better performance when the Local Mobility Anchor (LMA) or Mobile Access Gateway (MAG) is overloaded. The objective is… More
OPEN ACCESS

ARTICLE

Truncation and Rounding-Based Scalable Approximate Multiplier Design for Computer Imaging Applications
S. Rooban1,*, A. Yamini Naga Ratnam1, M. V. S. Ramprasad2, N. Subbulakshmi3, R. Uma Mageswari4

CMC-Computers, Materials & Continua, Vol.73, No.3, pp. 5169-5184, 2022, DOI:10.32604/cmc.2022.027974

Abstract Advanced technology used for arithmetic computing application, comprises greater number of approximate multipliers and approximate adders. Truncation and Rounding-based Scalable Approximate Multiplier (TRSAM) distinguish a variety of modes based on height (h) and truncation (t) as TRSAM (h, t) in the architecture. This TRSAM operation produces higher absolute error in Least Significant Bit (LSB) data shift unit. A new scalable approximate multiplier approach that uses truncation and rounding TRSAM (3, 7) is proposed to increase the multiplier accuracy. With the help of foremost one bit architecture, the proposed scalable approximate multiplier approach reduces the partial products. The proposed approximate TRSAM… More
OPEN ACCESS

ARTICLE

Guanghao Jin1, Chunmei Pei1, Na Zhao1, Hengguang Li2, Qingzeng Song3, Jing Yu1,*

CMC-Computers, Materials & Continua, Vol.73, No.3, pp. 5185-5196, 2022, DOI:10.32604/cmc.2022.027307

Abstract When utilizing the deep learning models in some real applications, the distribution of the labels in the environment can be used to increase the accuracy. Generally, to compute this distribution, there should be the validation set that is labeled by the ground truths. On the other side, the dependency of ground truths limits the utilization of the distribution in various environments. In this paper, we carried out a novel system for the deep learning-based classification to solve this problem. Firstly, our system only uses one validation set with ground truths to compute some hyper parameters, which is named as one-shot… More
OPEN ACCESS

ARTICLE

Hai Long1, Zhe Wang1, Yidi Cui2,3, Junhui Wang4, Bo Gao5, Chao Chen5, Yan Zhu5,*, Heinrich Herre1

CMC-Computers, Materials & Continua, Vol.73, No.3, pp. 5197-5217, 2022, DOI:10.32604/cmc.2022.029365

Abstract Psoriasis is a chronic, non-communicable, painful, disfiguring and disabling disease for which there is no cure, with great negative impact on patients' quality of life (QoL). Diagnosis and treatment with traditional Chinese medical technique based on syndrome differentiation has been used in practice for a long time and proven effective, though, up to now, there are only a few available studies about the use of semantic technologies and the knowledge systems that use Traditional Chinese Medicine (TCM)-syndrome differentiation for information retrieval and automated reasoning. In this paper we use semantic techniques based on ontologies to develop a prototypical system for… More
OPEN ACCESS

ARTICLE

Bennian Dou1,*, Lei Xu1, Xiaoling Yu2, Lin Mei1, Cong Zuo3

CMC-Computers, Materials & Continua, Vol.73, No.3, pp. 5219-5231, 2022, DOI:10.32604/cmc.2022.030270

Abstract This paper proposes the first code-based quantum immune sequential aggregate signature (SAS) scheme and proves the security of the proposed scheme in the random oracle model. Aggregate signature (AS) schemes and sequential aggregate signature schemes allow a group of potential signers to sign different messages respectively, and all the signatures of those users on those messages can be aggregated into a single signature such that the size of the aggregate signature is much smaller than the total size of all individual signatures. Because of the aggregation of many signatures into a single short signature, AS and SAS schemes can reduce… More
OPEN ACCESS

ARTICLE

Raed Alhamad1,*, Hatem Boujemaa2

CMC-Computers, Materials & Continua, Vol.73, No.3, pp. 5233-5244, 2022, DOI:10.32604/cmc.2022.030793

Abstract In this article, we optimize the powers associated to Non Orthogonal Multiple Access (NOMA) users, sensing and harvesting duration for Cognitive Radio Networks (CRN). The secondary source harvests energy from node A signal. Then, it senses the channel to detect primary source. Then, the secondary source transmits a signal that is reflected by Intelligent Reflecting Surfaces (IRS) so that all reflections have a zero phase at any user. A set Ii of reflectors are associated to user Ui. The use of M = Mi = 512, 256, 128, 64, 32, 16, 8 reflectors per user offers 45, 42, 39, 36, 33, 30, 27 dB gain… More
OPEN ACCESS

ARTICLE

Nashwa Nageh1, Ahmed Elshamy1, Abdel Wahab Said Hassan1, Mostafa Sami2, Mustafa Abdul Salam3,4,*

CMC-Computers, Materials & Continua, Vol.73, No.3, pp. 5245-5268, 2022, DOI:10.32604/cmc.2022.030906

Abstract Team Formation (TF) is considered one of the most significant problems in computer science and optimization. TF is defined as forming the best team of experts in a social network to complete a task with least cost. Many real-world problems, such as task assignment, vehicle routing, nurse scheduling, resource allocation, and airline crew scheduling, are based on the TF problem. TF has been shown to be a Nondeterministic Polynomial time (NP) problem, and high-dimensional problem with several local optima that can be solved using efficient approximation algorithms. This paper proposes two improved swarm-based algorithms for solving team formation problem. The… More
OPEN ACCESS

ARTICLE

Basim Aljabhan1, Mahmoud Ragab2,3,4,*, Sultanah M. Alshammari4,5, Abdullah S. Al-Malaise Al-Ghamdi4,6,7

CMC-Computers, Materials & Continua, Vol.73, No.3, pp. 5269-5282, 2022, DOI:10.32604/cmc.2022.030694

Abstract Traffic flow prediction becomes an essential process for intelligent transportation systems (ITS). Though traffic sensor devices are manually controllable, traffic flow data with distinct length, uneven sampling, and missing data finds challenging for effective exploitation. The traffic data has been considerably increased in recent times which cannot be handled by traditional mathematical models. The recent developments of statistic and deep learning (DL) models pave a way for the effectual design of traffic flow prediction (TFP) models. In this view, this study designs optimal attention-based deep learning with statistical analysis for TFP (OADLSA-TFP) model. The presented OADLSA-TFP model intends to effectually… More
OPEN ACCESS

ARTICLE

S. V. Ratankumar1,2, L. Koteswara Rao1,*, M. Kiran Kumar3

CMC-Computers, Materials & Continua, Vol.73, No.3, pp. 5283-5298, 2022, DOI:10.32604/cmc.2022.027975

Abstract The design of a three-input logic circuit using carbon nanotube field effect transistors (CNTFETs) is presented. Ternary logic must be an exact replacement for dual logic since it performs straightforwardly in digital devices, which is why this design is so popular, and it also reduces chip area, both of which are examples of circuit overheads. The proposed module we have investigated is a triple-logic-based one, based on advanced technology CNTFETs and an emphasis on minimizing delay times at various values, as well as comparisons of the design working with various load capacitances. Comparing the proposed design with the existing design,… More
OPEN ACCESS

ARTICLE

K. Pradeep Mohan Kumar1, Jenifer Mahilraj2, D. Swathi3, R. Rajavarman4, Subhi R. M. Zeebaree5, Rizgar R. Zebari6, Zryan Najat Rashid7, Ahmed Alkhayyat8,*

CMC-Computers, Materials & Continua, Vol.73, No.3, pp. 5299-5314, 2022, DOI:10.32604/cmc.2022.030825

Abstract Recently, smart cities have emerged as an effective approach to deliver high-quality services to the people through adaptive optimization of the available resources. Despite the advantages of smart cities, security remains a huge challenge to be overcome. Simultaneously, Intrusion Detection System (IDS) is the most proficient tool to accomplish security in this scenario. Besides, blockchain exhibits significance in promoting smart city designing, due to its effective characteristics like immutability, transparency, and decentralization. In order to address the security problems in smart cities, the current study designs a Privacy Preserving Secure Framework using Blockchain with Optimal Deep Learning (PPSF-BODL) model. The… More
OPEN ACCESS

ARTICLE

Abdullah Alsit*, Mohammad Alkhedher, Hasan Hamdan

CMC-Computers, Materials & Continua, Vol.73, No.3, pp. 5315-5329, 2022, DOI:10.32604/cmc.2022.031042

Abstract Stress Corrosion Cracking (SCC) process through which cracks occur in a variety of susceptible materials is a result of a combination of residual or applied stresses and corrosion. In oil and gas field, buried pipeline steels are made of low-alloy steels with a ferritic-pearlitic structure, such as X70. In dilute solutions, these materials are prone to SCC failure. The Near-neutral simulated soil solution (NS4) solution is established to imitate SCC conditions and subsequently became the industry requirement for crack growth experiments in the majority of laboratories. The strain-assisted active crack pathways are considered while modelling SCC growth as an oxide… More
OPEN ACCESS

ARTICLE

Ng Lai Yee1, Mohd Asyraf Zulkifley2,*, Adhi Harmoko Saputro3, Siti Raihanah Abdani4

CMC-Computers, Materials & Continua, Vol.73, No.3, pp. 5331-5348, 2022, DOI:10.32604/cmc.2022.028801

Abstract Micro-expression is manifested through subtle and brief facial movements that relay the genuine person's hidden emotion. In a sequence of videos, there is a frame that captures the maximum facial differences, which is called the apex frame. Therefore, apex frame spotting is a crucial sub-module in a micro-expression recognition system. However, this spotting task is very challenging due to the characteristics of micro-expression that occurs in a short duration with low-intensity muscle movements. Moreover, most of the existing automated works face difficulties in differentiating micro-expressions from other facial movements. Therefore, this paper presents a deep learning model with an attention… More
OPEN ACCESS

ARTICLE

N. Penchalaiah1, Abeer S. Al-Humaimeedy2, Mashael Maashi3, J. Chinna Babu4,*, Osamah Ibrahim Khalaf5, Theyazn H. H. Aldhyani6

CMC-Computers, Materials & Continua, Vol.73, No.3, pp. 5349-5365, 2022, DOI:10.32604/cmc.2022.029639

Abstract The expanding amounts of information created by Internet of Things (IoT) devices places a strain on cloud computing, which is often used for data analysis and storage. This paper investigates a different approach based on edge cloud applications, which involves data filtering and processing before being delivered to a backup cloud environment. This Paper suggest designing and implementing a low cost, low power cluster of Single Board Computers (SBC) for this purpose, reducing the amount of data that must be transmitted elsewhere, using Big Data ideas and technology. An Apache Hadoop and Spark Cluster that was used to run a… More
OPEN ACCESS

ARTICLE

Mustufa Haider Abidi*, Hisham Alkhalefah, Muneer Khan Mohammed

CMC-Computers, Materials & Continua, Vol.73, No.3, pp. 5367-5383, 2022, DOI:10.32604/cmc.2022.030018

Abstract In modern scenarios, Industry 4.0 entails invention with various advanced technology, and blockchain is one among them. Blockchains are incorporated to enhance privacy, data transparency as well as security for both large and small scale enterprises. Industry 4.0 is considered as a new synthesis fabrication technique that permits the manufacturers to attain their target effectively. However, because numerous devices and machines are involved, data security and privacy are always concerns. To achieve intelligence in Industry 4.0, blockchain technologies can overcome potential cybersecurity constraints. Nowadays, the blockchain and internet of things (IoT) are gaining more attention because of their favorable outcome… More
OPEN ACCESS

ARTICLE

Sofiene Haboubi1,*, Tawfik Guesmi2, Badr M Alshammari2, Khalid Alqunun2, Ahmed S Alshammari2, Haitham Alsaif2, Hamid Amiri1

CMC-Computers, Materials & Continua, Vol.73, No.3, pp. 5385-5397, 2022, DOI:10.32604/cmc.2022.029198

Abstract Handwriting recognition is a challenge that interests many researchers around the world. As an exception, handwritten Arabic script has many objectives that remain to be overcome, given its complex form, their number of forms which exceeds 100 and its cursive nature. Over the past few years, good results have been obtained, but with a high cost of memory and execution time. In this paper we propose to improve the capacity of bidirectional gated recurrent unit (BGRU) to recognize Arabic text. The advantages of using BGRUs is the execution time compared to other methods that can have a high success rate… More
OPEN ACCESS

ARTICLE

Abhishek Sharma1, Sushank Chaudhary2,*, Jyoteesh Malhotra3, Muhammad Saadi4, Sattam Al Otaibi5, Lunchakorn Wuttisittikulkij2

CMC-Computers, Materials & Continua, Vol.73, No.3, pp. 5399-5410, 2022, DOI:10.32604/cmc.2022.031173

Abstract Recent reports from World Health Organization (WHO) show the impact of human negligence as a serious concern for road accidents and casualties worldwide. There are number of reasons which led to this negligence; hence, need of intelligent transportation system (ITS) gains more attention from researchers worldwide. For achieving such autonomy different sensors are involved in autonomous vehicles which can sense road conditions and warn the control system about possible hazards. This work is focused on designing one such sensor system which can detect and range multiple targets under the impact of adverse atmospheric conditions. A high-speed Linear Frequency Modulated Continuous… More
OPEN ACCESS

ARTICLE

Abdullah G. Alharbi1, Jawad Mirza2, Mehak Raza3, Salman Ghafoor4,*

CMC-Computers, Materials & Continua, Vol.73, No.3, pp. 5411-5422, 2022, DOI:10.32604/cmc.2022.029317

Abstract In this paper, we report a simulation study on the performance enhancement of Praseodymium doped silica fiber amplifiers (PDFAs) in O-band (1270–1350 nm) in terms of small signal gain, power conversion efficiency (PCE), and output optical power by employing bidirectional pumping. The PDFA performance is examined by optimizing the length of Praseodymium doped silica fiber (PDF), its mode-field diameter (MFD) and the concentration of Pr3+. A small-signal peak gain of 56.4 dB, power conversion efficiency (PCE) of 47%, and output optical power of around 1.6 W (32 dBm) is observed at optimized parameters for input signal wavelength of 1310 nm.… More
OPEN ACCESS

ARTICLE

Khalid Hamid1, Muhammad Waseem Iqbal2,*, Erssa Arif1, Yasir Mahmood3,4, Ahmad Salman Khan3, Nazri Kama4, Azri Azmi4, Atif Ikram5,6

CMC-Computers, Materials & Continua, Vol.73, No.3, pp. 5423-5440, 2022, DOI:10.32604/cmc.2022.030927

Abstract Any number that can be uniquely determined by a graph is called graph invariants. During the most recent twenty years' innumerable numerical graph invariants have been described and used for correlation analysis. In the fast and advanced environment of manufacturing of networks and other products which used different networks, no dependable assessment has been embraced to choose, how much these invariants are connected with a network graph or molecular graph. In this paper, it will talk about three distinct variations of bridge networks with great capability of expectation in the field of computer science, chemistry, physics, drug industry, informatics, and… More
OPEN ACCESS

ARTICLE

Heba G. Mohamed1, Saud S. Alotaibi2, Majdy M. Eltahir3, Heba Mohsen4, Manar Ahmed Hamza5,*, Abu Sarwar Zamani5, Ishfaq Yaseen5, Abdelwahed Motwakel5

CMC-Computers, Materials & Continua, Vol.73, No.3, pp. 5441-5458, 2022, DOI:10.32604/cmc.2022.031887

Abstract The Internet of Drones (IoD) offers synchronized access to organized airspace for Unmanned Aerial Vehicles (known as drones). The availability of inexpensive sensors, processors, and wireless communication makes it possible in real time applications. As several applications comprise IoD in real time environment, significant interest has been received by research communications. Since IoD operates in wireless environment, it is needed to design effective intrusion detection system (IDS) to resolve security issues in the IoD environment. This article introduces a metaheuristics feature selection with optimal stacked autoencoder based intrusion detection (MFSOSAE-ID) in the IoD environment. The major intention of the MFSOSAE-ID… More
OPEN ACCESS

ARTICLE

Jinglin Liang1,2, Qian Sun1,2,*, Xiaoyi Wang3,2, Jiping Xu1,2, Huiyan Zhang1,2, Li Wang1,2, Jiabin Yu1,2, Jing Li4, Ruichao Wang5

CMC-Computers, Materials & Continua, Vol.73, No.3, pp. 5459-5471, 2022, DOI:10.32604/cmc.2022.029362

Abstract Underwater sensor networks have important application value in the fields of water environment data collection, marine environment monitoring and so on. It has some characteristics such as low available bandwidth, large propagation delays and limited energy, which bring new challenges to the current researches. The research on coverage control of underwater sensor networks is the basis of other related researches. A good sensor node coverage control method can effectively improve the quality of water environment monitoring. Aiming at the problem of high dynamics and uncertainty of monitoring targets, the random events level are divided into serious events and general events.… More
OPEN ACCESS

ARTICLE

Mesfer Al Duhayyim1,*, Areej A. Malibari2, Marwa Obayya3, Mohamed K. Nour4, Ahmed S. Salama5, Mohamed I. Eldesouki6, Abu Sarwar Zamani7, Mohammed Rizwanullah7

CMC-Computers, Materials & Continua, Vol.73, No.3, pp. 5473-5489, 2022, DOI:10.32604/cmc.2022.031976

Abstract The skeletal bone age assessment (BAA) was extremely implemented in development prediction and auxiliary analysis of medicinal issues. X-ray images of hands were detected from the estimation of bone age, whereas the ossification centers of epiphysis and carpal bones are important regions. The typical skeletal BAA approaches remove these regions for predicting the bone age, however, few of them attain suitable efficacy or accuracy. Automatic BAA techniques with deep learning (DL) methods are reached the leading efficiency on manual and typical approaches. Therefore, this study introduces an intellectual skeletal bone age assessment and classification with the use of metaheuristic with… More
OPEN ACCESS

ARTICLE

Mashael M. Asiri1, Saud S. Alotaibi2, Dalia H. Elkamchouchi3, Amira Sayed A. Aziz4, Manar Ahmed Hamza5,*, Abdelwahed Motwakel5, Abu Sarwar Zamani5, Ishfaq Yaseen5

CMC-Computers, Materials & Continua, Vol.73, No.3, pp. 5491-5507, 2022, DOI:10.32604/cmc.2022.031345

Abstract Wireless Sensor Network (WSN) is a vital element in Internet of Things (IoT) as the former enables the collection of huge quantities of data in energy-constrained environment. WSN offers independent access to the target region and performs data collection in an effective manner. But energy constraints remain a challenging issue in WSN since it operates on in-built battery. The studies conducted earlier recommended that the energy spent on communication process must be considerably reduced to improve the efficiency of WSN. Cluster organization and optimal selection of the routes are considered as NP hard optimization problems which can be resolved with… More
OPEN ACCESS

ARTICLE

Jun-Ping Yao1, Kai-Yuan Cheng1,*, Meng-Meng Ge2, Xiao-Jun Li1, Yi-Jing Wang1

CMC-Computers, Materials & Continua, Vol.73, No.3, pp. 5509-5524, 2022, DOI:10.32604/cmc.2022.030150

Abstract Recommendation algorithms regard user-item interaction as a sequence to capture the user's short-term preferences, but conventional algorithms cannot capture information of constantly-changing user interest in complex contexts. In these years, combining the knowledge graph with sequential recommendation has gained momentum. The advantages of knowledge graph-based recommendation systems are that more semantic associations can improve the accuracy of recommendations, rich association facts can increase the diversity of recommendations, and complex relational paths can hence the interpretability of recommendations. But the information in the knowledge graph, such as entities and relations, often fails to be fully utilized and high-order connectivity is unattainable… More
OPEN ACCESS

ARTICLE

Ahmed M. Agwa1, Mohamed Abdeen2, Shaaban M. Shaaban1,3,*

CMC-Computers, Materials & Continua, Vol.73, No.3, pp. 5525-5541, 2022, DOI:10.32604/cmc.2022.031580

Abstract In this study, a bald eagle optimizer (BEO) is used to get optimal parameters of the fractional-order proportional–integral–derivative (FOPID) controller for load frequency control (LFC). Since BEO takes only a very short time in finding the optimal solution, it is selected for designing the FOPID controller that improves the system stability and maintains the frequency within a satisfactory range at different loads. Simulations and demonstrations are carried out using MATLAB-R2020b. The performance of the BEO-FOPID controller is evaluated using a two-zone interlinked power system at different loads and under uncertainty of wind and solar energies. The robustness of the BEO-FOPID… More
OPEN ACCESS

ARTICLE

Thavavel Vaiyapuri1, S. Srinivasan2, Mohamed Yacin Sikkandar3, T. S. Balaji4,5, Seifedine Kadry6, Maytham N. Meqdad7, Yunyoung Nam8,*

CMC-Computers, Materials & Continua, Vol.73, No.3, pp. 5543-5557, 2022, DOI:10.32604/cmc.2022.023919

Abstract In past decades, retinal diseases have become more common and affect people of all age grounds over the globe. For examining retinal eye disease, an artificial intelligence (AI) based multilabel classification model is needed for automated diagnosis. To analyze the retinal malady, the system proposes a multiclass and multi-label arrangement method. Therefore, the classification frameworks based on features are explicitly described by ophthalmologists under the application of domain knowledge, which tends to be time-consuming, vulnerable generalization ability, and unfeasible in massive datasets. Therefore, the automated diagnosis of multi-retinal diseases becomes essential, which can be solved by the deep learning (DL)… More
OPEN ACCESS

ARTICLE

Integrated Evolving Spiking Neural Network and Feature Extraction Methods for Scoliosis Classification
Nurbaity Sabri1,2,*, Haza Nuzly Abdull Hamed1, Zaidah Ibrahim3, Kamalnizat Ibrahim4, Mohd Adham Isa1

CMC-Computers, Materials & Continua, Vol.73, No.3, pp. 5559-5573, 2022, DOI:10.32604/cmc.2022.029221

Abstract Adolescent Idiopathic Scoliosis (AIS) is a deformity of the spine that affects teenagers. The current method for detecting AIS is based on radiographic images which may increase the risk of cancer growth due to radiation. Photogrammetry is another alternative used to identify AIS by distinguishing the curves of the spine from the surface of a human's back. Currently, detecting the curve of the spine is manually performed, making it a time-consuming task. To overcome this issue, it is crucial to develop a better model that automatically detects the curve of the spine and classify the types of AIS. This research… More
OPEN ACCESS

ARTICLE

Ali Hanafiah Rambe1, Muzammil Jusoh2,3, Samir Salem Al-Bawri4,5,*, Mahmoud A. Abdelghany6,7

CMC-Computers, Materials & Continua, Vol.73, No.3, pp. 5575-5587, 2022, DOI:10.32604/cmc.2022.030902

Abstract This paper proposed integrating the communication system on the garment, which can be utilized to detect breast cancer at an early stage by using an ultra-wideband (UWB) wearable antenna. Breast cancer is an abnormal cell that is located in the breast tissue. Early detection of breast cancer plays an important role, and it helps in the long term for all women. The proposed UWB wearable antenna successfully operates at 3.1–10.6 GHz under an acceptable reflection coefficient of −10 dB. The fabricated wearable antenna was made from Shieldit Super and felt both conductive and nonconductive wearable materials. Few measurement studies of… More
OPEN ACCESS

ARTICLE

Thongchai Botmart1, Zulqurnain Sabir2,3, Afaf S. Alwabli4, Salem Ben Said2, Qasem Al-Mdallal2, Maria Emilia Camargo5, Wajaree Weera1,*

CMC-Computers, Materials & Continua, Vol.73, No.3, pp. 5589-5607, 2022, DOI:10.32604/cmc.2022.032087

Abstract The motive of this work is to present a computational design using the stochastic scaled conjugate gradient (SCG) neural networks (NNs) called as SCGNNs for the socio-ecological dynamics (SED) with reef ecosystems and conservation estimation. The mathematical descriptions of the SED model are provided that is dependent upon five categories, macroalgae M(v), breathing coral C(v), algal turf T(v), the density of parrotfish P(v) and the opinion of human opinion X(v). The stochastic SCGNNs process is applied to formulate the SED model based on the sample statistics, testing, accreditation and training. Three different variations of the SED have been provided to… More
OPEN ACCESS

ARTICLE

Woo Hyun Park1, Isma Farah Siddiqui3, Nawab Muhammad Faseeh Qureshi2,*

CMC-Computers, Materials & Continua, Vol.73, No.3, pp. 5609-5624, 2022, DOI:10.32604/cmc.2022.030235

Abstract With the advent of the big data era, security issues in the context of artificial intelligence (AI) and data analysis are attracting research attention. In the metaverse, which will become a virtual asset in the future, users' communication, movement with characters, text elements, etc., are required to integrate the real and virtual. However, they can be exposed to threats. Particularly, various hacker threats exist. For example, users' assets are exposed through notices and mail alerts regularly sent to users by operators. In the future, hacker threats will increase mainly due to naturally anonymous texts. Therefore, it is necessary to use… More
OPEN ACCESS

ARTICLE

Saeed M. Alshahrani1, Nayyar Ahmed Khan1,*, Jameel Almalki2, Waleed Al Shehri2

CMC-Computers, Materials & Continua, Vol.73, No.3, pp. 5625-5640, 2022, DOI:10.32604/cmc.2022.030982

Abstract The continuous destruction and frauds prevailing due to phishing URLs make it an indispensable area for research. Various techniques are adopted in the detection process, including neural networks, machine learning, or hybrid techniques. A novel detection model is proposed that uses data mining with the Particle Swarm Optimization technique (PSO) to increase and empower the method of detecting phishing URLs. Feature selection based on various techniques to identify the phishing candidates from the URL is conducted. In this approach, the features mined from the URL are extracted using data mining rules. The features are selected on the basis of URL… More
OPEN ACCESS

ARTICLE

Samer Alabed*, Mohammad Al-Rabayah, Wael Hosny Fouad Aly

CMC-Computers, Materials & Continua, Vol.73, No.3, pp. 5641-5653, 2022, DOI:10.32604/cmc.2022.030371

Abstract Rotman lens, which is a radio frequency beam-former that consists of multiple input and multiple output beam ports, can be used in industrial, scientific, and medical applications as a beam steering device. The input ports collect the signals to be propagated through the lens cavity toward the output ports before being transmitted by the antenna arrays to the destination in order to enhance the error performance by optimizing the overall signal to noise ratio (SNR). In this article, a low-cost Rotman lens antenna is designed and deployed to enhance the overall performance of the conventional cooperative communication systems without needing… More
OPEN ACCESS

ARTICLE

Abeer Abdulaziz AlArfaj, Hanan Ahmed Hosni Mahmoud*

CMC-Computers, Materials & Continua, Vol.73, No.3, pp. 5655-5669, 2022, DOI:10.32604/cmc.2022.031135

Abstract Lie detection test is highly significant task due to its impact on criminology and society. Computerized lie detection test model using electroencephalogram (EEG) signals is studied in literature. In this paper we studied deep learning framework in lie detection test paradigm. First, we apply a preprocessing technique to utilize only a small fragment of the EEG image instead of the whole image. Our model describes a temporal feature map of the EEG signals measured during the lie detection test. A deep learning attention model (V-TAM) extracts the temporal map vector during the learning process. This technique reduces computational time and… More
OPEN ACCESS

ARTICLE

Yongjiang Zhao, Jae Hung Yoo, Chang Gyoon Lim*

CMC-Computers, Materials & Continua, Vol.73, No.3, pp. 5671-5686, 2022, DOI:10.32604/cmc.2022.027443

Abstract With the rapid economic growth and improved living standards, electricity has become an indispensable energy source in our lives. Therefore, the stability of the grid power supply and the conservation of electricity is critical. The following are some of the problems facing now: 1) During the peak power consumption period, it will pose a threat to the power grid. Enhancing and improving the power distribution infrastructure requires high maintenance costs. 2) The user's electricity schedule is unreasonable due to personal behavior, which will cause a waste of electricity. Controlling load as a vital part of incentive demand response (DR) can… More
OPEN ACCESS

ARTICLE

Hong Lei1,2,3, Jun Li1,*, Suozai Li4, Ming Huang4, Jieren Cheng5, Yirui Bai1, Xinman Luo1, Chao Liu6

CMC-Computers, Materials & Continua, Vol.73, No.3, pp. 5687-5702, 2022, DOI:10.32604/cmc.2022.030995

Abstract The past decade has seen the rapid development of data in many areas. Data has enormous commercial potential as a new strategic resource that may efficiently boost technical growth and service innovation. However, individuals are becoming increasingly concerned about data misuse and leaks. To address these issues, in this paper, we propose TrustControl, a trusted data usage control system to control, process, and protect data usage without revealing privacy. A trusted execution environment (TEE) is exploited to process confidential user data. First of all, we design a secure and reliable remote attestation mechanism for ARM TrustZone, which can verify the… More
OPEN ACCESS

ARTICLE

Harbi Al-Mahafzah1, Tamer AbuKhalil1, Bassam A. Y. Alqaralleh2,*

CMC-Computers, Materials & Continua, Vol.73, No.3, pp. 5703-5715, 2022, DOI:10.32604/cmc.2022.030399

Abstract Biometric verification has become essential to authenticate the individuals in public and private places. Among several biometrics, iris has peculiar features and its working mechanism is complex in nature. The recent developments in Machine Learning and Deep Learning approaches enable the development of effective iris recognition models. With this motivation, the current study introduces a novel Chaotic Krill Herd with Deep Transfer Learning Based Biometric Iris Recognition System (CKHDTL-BIRS). The presented CKHDTL-BIRS model intends to recognize and classify iris images as a part of biometric verification. To achieve this, CKHDTL-BIRS model initially performs Median Filtering (MF)-based preprocessing and segmentation for… More
OPEN ACCESS

ARTICLE

Arooj Nasir1,2, Dumitru Baleanu3,4,5, Ali Raza6,*, Pervez Anwar7, Nauman Ahmed8, Muhammad Rafiq9, Tahir Nawaz Cheema10

CMC-Computers, Materials & Continua, Vol.73, No.3, pp. 5717-5734, 2022, DOI:10.32604/cmc.2022.031879

Abstract In 2020, the reported cases were 0.12 million in the six regions to the official report of the World Health Organization (WHO). For most children infected with leprosy, 0.008629 million cases were detected under fifteen. The total infected ratio of the children population is approximately 4.4 million. Due to the COVID-19 pandemic, the awareness programs implementation has been disturbed. Leprosy disease still has a threat and puts people in danger. Nonlinear delayed modeling is critical in various allied sciences, including computational biology, computational chemistry, computational physics, and computational economics, to name a few. The time delay effect in treating leprosy… More
OPEN ACCESS

ARTICLE

Abdullah A. Asiri1, Muhammad Aamir2, Ahmad Shaf2,*, Tariq Ali2, Muhammad Zeeshan3, Muhammad Irfan4, Khalaf A. Alshamrani1, Hassan A. Alshamrani1, Fawaz F. Alqahtani1, Ali H. D. Alshehri1

CMC-Computers, Materials & Continua, Vol.73, No.3, pp. 5735-5753, 2022, DOI:10.32604/cmc.2022.031747

Abstract The precise brain tumor diagnosis is critical and shows a vital role in the medical support for treating tumor patients. Manual brain tumor segmentation for cancer analysis from many Magnetic Resonance Images (MRIs) created in medical practice is a problematic and timewasting task for experts. As a result, there is a critical necessity for more accurate computer-aided methods for early tumor detection. To remove this gap, we enhanced the computational power of a computer-aided system by proposing a fine-tuned Block-Wise Visual Geometry Group19 (BW-VGG19) architecture. In this method, a pre-trained VGG19 is fine-tuned with CNN architecture in the block-wise mechanism… More
OPEN ACCESS

ARTICLE

Amal H. Alharbi, Hanan A. Hosni Mahmoud*

CMC-Computers, Materials & Continua, Vol.73, No.3, pp. 5755-5769, 2022, DOI:10.32604/cmc.2022.032212

Abstract In the last decades, technology has used Copper for IC interconnect and it has been the best material used in the wire downsizing. However, Copper is now showing inefficiency as downscaling is getting deeper. Recent research starts to show Tungsten (W) as a possible replacement, for its better downsizing characteristic. The scaling-down of interconnects dimension has to be augmented with thin diffusion layers. It is crucial to subdue tungsten diffusion in the nickel-based thermal spray Flexicord (NiCrAlY) coating layers. Inappropriately, diffusion barriers with thicknesses less than 4.3 nm do not to execute well. With the introduction of two dimensional layers,… More
OPEN ACCESS

ARTICLE

Doaa Sami Khafaga1, El-Sayed M. El-kenawy2,3, Faten Khalid Karim1,*, Sameer Alshetewi4, Abdelhameed Ibrahim5, Abdelaziz A. Abdelhamid6,7

CMC-Computers, Materials & Continua, Vol.73, No.3, pp. 5771-5788, 2022, DOI:10.32604/cmc.2022.032229

Abstract Metamaterial Antennas are a type of antenna that uses metamaterial to enhance performance. The bandwidth restriction associated with small antennas can be solved using metamaterial antennas. Machine learning is gaining popularity as a way to improve solutions in a range of fields. Machine learning approaches are currently a big part of current research, and they're likely to be huge in the future. The model utilized determines the accuracy of the prediction in large part. The goal of this paper is to develop an optimized ensemble model for forecasting the metamaterial antenna's bandwidth and gain. The basic models employed in the… More
OPEN ACCESS

ARTICLE

Saravanan Manikandan1, Mosiur Rahaman1, Yu-Lin Song1,2,*

CMC-Computers, Materials & Continua, Vol.73, No.3, pp. 5789-5808, 2022, DOI:10.32604/cmc.2022.031490

Abstract The Internet of Vehicles (IoV) has evolved as an advancement over the conventional Vehicular Ad-hoc Networks (VANETs) in pursuing a more optimal intelligent transportation system that can provide various intelligent solutions and enable a variety of applications for vehicular traffic. Massive volumes of data are produced and communicated wirelessly among the different relayed entities in these vehicular networks, which might entice adversaries and endanger the system with a wide range of security attacks. To ensure the security of such a sensitive network, we proposed a distributed authentication mechanism for IoV based on blockchain technology as a distributed ledger with an… More
OPEN ACCESS

ARTICLE

Fahad F. Alruwaili*

CMC-Computers, Materials & Continua, Vol.73, No.3, pp. 5809-5824, 2022, DOI:10.32604/cmc.2022.031613

Abstract Internet of Things (IoT) is one of the hottest research topics in recent years, thanks to its dynamic working mechanism that integrates physical and digital world into a single system. IoT technology, applied in industries, is termed as Industrial IoT (IIoT). IIoT has been found to be highly susceptible to attacks from adversaries, based on the difficulties observed in IIoT and its increased dependency upon internet and communication network. Intentional or accidental attacks on these approaches result in catastrophic effects like power outage, denial of vital health services, disruption to civil service, etc., Thus, there is a need exists to… More
OPEN ACCESS

ARTICLE

Akbar Khan1, Kushsairy Abdul Kadir1,*, Jawad Ali Shah2, Waleed Albattah3, Muhammad Saeed4, Haidawati Nasir5, Megat Norulazmi Megat Mohamed Noor5, Muhammad Haris Kaka Khel1

CMC-Computers, Materials & Continua, Vol.73, No.3, pp. 5825-5844, 2022, DOI:10.32604/cmc.2022.027077

Abstract With the rapid progress of deep convolutional neural networks, several applications of crowd counting have been proposed and explored in the literature. In congested scene monitoring, a variety of crowd density estimating approaches has been developed. The understanding of highly congested scenes for crowd counting during Muslim gatherings of Hajj and Umrah is a challenging task, as a large number of individuals stand nearby and, it is hard for detection techniques to recognize them, as the crowd can vary from low density to high density. To deal with such highly congested scenes, we have proposed the Congested Scene Crowd Counting… More
OPEN ACCESS

ARTICLE

Settawit Poochaya1,*, Peerapong Uthansakul1, Monthippa Uthansakul1, Patikorn Anchuen2, Kontorn Thammakul3, Arfat Ahmad Khan4, Niwat Punanwarakorn5, Pech Sirivoratum5, Aranya Kaewkrad5, Panrawee Kanpan5, Apichart Wantamee5

CMC-Computers, Materials & Continua, Vol.73, No.3, pp. 5845-5862, 2022, DOI:10.32604/cmc.2022.031162

Abstract The number of accidents in the campus of Suranaree University of Technology (SUT) has increased due to increasing number of personal vehicles. In this paper, we focus on the development of public transportation system using Intelligent Transportation System (ITS) along with the limitation of personal vehicles using sharing economy model. The SUT Smart Transit is utilized as a major public transportation system, while MoreSai@SUT (electric motorcycle services) is a minor public transportation system in this work. They are called Multi-Mode Transportation system as a combination. Moreover, a Vehicle to Network (V2N) is used for developing the Multi-Mode Transportation system in… More
OPEN ACCESS

ARTICLE

Samah Alshathri1,*, Fatma M. Talaat2, Aida A. Nasr3

CMC-Computers, Materials & Continua, Vol.73, No.3, pp. 5863-5885, 2022, DOI:10.32604/cmc.2022.026547

Abstract Virtual cloud network (VCN) usage is popular today among large and small organizations due to its safety and money-saving. Moreover, it makes all resources in the company work as one unit. VCN also facilitates sharing of files and applications without effort. However, cloud providers face many issues in managing the VCN on cloud computing including these issues: Power consumption, network failures, and data availability. These issues often occur due to overloaded and unbalanced load tasks. In this paper, we propose a new automatic system to manage VCN for executing the workflow. The new system called Multi-User Hybrid Scheduling (MUSH) can… More
OPEN ACCESS

ARTICLE

Saba Sana*, Mohammad Shoaib

CMC-Computers, Materials & Continua, Vol.73, No.3, pp. 5887-5909, 2022, DOI:10.32604/cmc.2022.028046

Abstract Explainable recommendation systems deal with the problem of 'Why'. Besides providing the user with the recommendation, it is also explained why such an object is being recommended. It helps to improve trustworthiness, effectiveness, efficiency, persuasiveness, and user satisfaction towards the system. To recommend the relevant information with an explanation to the user is required. Existing systems provide the top-k recommendation options to the user based on ratings and reviews about the required object but unable to explain the matched-attribute-based recommendation to the user. A framework is proposed to fetch the most specific information that matches the user requirements based on… More
OPEN ACCESS

ARTICLE

Yang Wu1, Lei Guo1, Xiaodong Dai1, Bin Zhang1, Dong-Won Park2, Ming Ma1,*

CMC-Computers, Materials & Continua, Vol.73, No.3, pp. 5911-5924, 2022, DOI:10.32604/cmc.2022.031664

Abstract Action recognition has become a current research hotspot in computer vision. Compared to other deep learning methods, Two-stream convolutional network structure achieves better performance in action recognition, which divides the network into spatial and temporal streams, using video frame images as well as dense optical streams in the network, respectively, to obtain the category labels. However, the two-stream network has some drawbacks, i.e., using dense optical flow as the input of the temporal stream, which is computationally expensive and extremely time-consuming for the current extraction algorithm and cannot meet the requirements of real-time tasks. In this paper, instead of the… More
OPEN ACCESS

ARTICLE

Phung Nhu Hai1, Nguyen Chi Thanh1,*, Nguyen Thanh Trung2, Tran Trung Kien1

CMC-Computers, Materials & Continua, Vol.73, No.3, pp. 5925-5941, 2022, DOI:10.32604/cmc.2022.031027

Abstract Coronary artery disease (CAD) is one of the most common pathological conditions and the major global cause of death. Myocardial perfusion imaging (MPI) using single-photon emission computed tomography (SPECT) is a non-invasive method and plays an essential role in diagnosing CAD. However, there is currently a shortage of doctors who can diagnose using SPECT-MPI in developing countries, especially Vietnam. Research on deploying machine learning and deep learning in supporting CAD diagnosis has been noticed for a long time. However, these methods require a large dataset and are therefore time-consuming and labor-intensive. This study aims to develop a cost-effective and high-performance… More
OPEN ACCESS

ARTICLE

P. Ganeshkumar*, Talal Albalawi

CMC-Computers, Materials & Continua, Vol.73, No.3, pp. 5943-5959, 2022, DOI:10.32604/cmc.2022.030388

Abstract

Internet of things (IoT) comprises many heterogeneous nodes that operate together to accomplish a human friendly or a business task to ease the life. Generally, IoT nodes are connected in wireless media and thus they are prone to jamming attacks. In the present scenario jamming detection (JD) by using machine learning (ML) algorithms grasp the attention of the researchers due to its virtuous outcome. In this research, jamming detection is modelled as a classification problem which uses several features. Using one/two or minimum number of features produces vague results that cannot be explained. Also the relationship between the feature and… More
OPEN ACCESS

ARTICLE

Ngoc Thai Huynh1, Tien V. T. Nguyen2, Quoc Manh Nguyen3,*

CMC-Computers, Materials & Continua, Vol.73, No.3, pp. 5961-5983, 2022, DOI:10.32604/cmc.2022.029484

Abstract To achieve high work performance for compliant mechanisms of motion scope, continuous work condition, and high frequency, we propose a new hybrid algorithm that could be applied to multi-objective optimum design. In this investigation, we use the tools of finite element analysis (FEA) for a magnification mechanism to find out the effects of design variables on the magnification ratio of the mechanism and then select an optimal mechanism that could meet design requirements. A poly-algorithm including the Grey-Taguchi method, fuzzy logic system, and adaptive neuro-fuzzy inference system (ANFIS) algorithm, was utilized mainly in this study. The FEA outcomes indicated that… More
OPEN ACCESS

ARTICLE

Hanan M. Alghamdi1, Saadia H.A. Hamza2, Aisha M. Mashraqi3, Sayed Abdel-Khalek4,5,*

CMC-Computers, Materials & Continua, Vol.73, No.3, pp. 5985-5999, 2022, DOI:10.32604/cmc.2022.031732

Abstract World Wide Web enables its users to connect among themselves through social networks, forums, review sites, and blogs and these interactions produce huge volumes of data in various forms such as emotions, sentiments, views, etc. Sentiment Analysis (SA) is a text organization approach that is applied to categorize the sentiments under distinct classes such as positive, negative, and neutral. However, Sentiment Analysis is challenging to perform due to inadequate volume of labeled data in the domain of Natural Language Processing (NLP). Social networks produce interconnected and huge data which brings complexity in terms of expanding SA to an extensive array… More
OPEN ACCESS

ARTICLE

Hasnain Kashif*, Muhammad Nasir Khan

CMC-Computers, Materials & Continua, Vol.73, No.3, pp. 6001-6017, 2022, DOI:10.32604/cmc.2022.031291

Abstract Recently, free space optical (FSO) communication is gaining much attention towards the research community. The reason for this attention is the promises of high data-rate, license-free deployment, and non-interfering links. It can, however, give rise to major system difficulties concerning alignment and atmospheric turbulence. FSO is the degradation in the signal quality because of atmospheric channel impairments and conditions. The worst effect is due to fog particles. Though, Radio Frequency (RF) links are able to transmit the data in foggy conditions but not in rain. To overcome these issues related to both the FSO and RF links. A free space… More
OPEN ACCESS

ARTICLE

Anwer Mustafa Hilal1,2,*, Aisha Hassan Abdalla Hashim1, Heba G. Mohamed3, Mohammad Alamgeer4,5, Mohamed K. Nour6, Anas Abdelrahman7, Abdelwahed Motwakel2

CMC-Computers, Materials & Continua, Vol.73, No.3, pp. 6019-6035, 2022, DOI:10.32604/cmc.2022.031425

Abstract Smart Grid (SG) technologies enable the acquisition of huge volumes of high dimension and multi-class data related to electric power grid operations through the integration of advanced metering infrastructures, control systems, and communication technologies. In SGs, user demand data is gathered and examined over the present supply criteria whereas the expenses are then informed to the clients so that they can decide about electricity consumption. Since the entire procedure is valued on the basis of time, it is essential to perform adaptive estimation of the SG's stability. Recent advancements in Machine Learning (ML) and Deep Learning (DL) models enable the… More
OPEN ACCESS

ARTICLE

Rehan Ullah Khan1, Ali Mustafa Qamar2,*, Suliman A. Alsuhibany2, Mohammed Alsuhaibani2

CMC-Computers, Materials & Continua, Vol.73, No.3, pp. 6037-6046, 2022, DOI:10.32604/cmc.2022.031626

Abstract Bloom filter (BF) is a space-and-time efficient probabilistic technique that helps answer membership queries. However, BF faces several issues. The problems with traditional BF are generally two. Firstly, a large number of false positives can return wrong content when the data is queried. Secondly, the large size of BF is a bottleneck in the speed of querying and thus uses large memory. In order to solve the above two issues, in this article, we propose the check bits concept. From the implementation perspective, in the check bits approach, before saving the content value in the BF, we obtain the binary… More
OPEN ACCESS

ARTICLE

Dalwinder Singh1, Deepak Prashar1, Jimmy Singla1, Arfat Ahmad Khan2, Mohammed Al-Sarem3,4,*, Neesrin Ali Kurdi3

CMC-Computers, Materials & Continua, Vol.73, No.3, pp. 6047-6068, 2022, DOI:10.32604/cmc.2022.031255

Abstract The hepatitis B virus is the most deadly virus, which significantly affects the human liver. The termination of the hepatitis B virus is mandatory and can be done by taking precautions as well as a suitable cure in its introductory stage; otherwise, it will become a severe problem and make a human liver suffer from the most dangerous diseases, such as liver cancer. In this paper, two medical diagnostic systems are developed for the diagnosis of this life-threatening virus. The methodologies used to develop these models are fuzzy logic and the neuro-fuzzy technique. The diverse parameters that assist in the… More
OPEN ACCESS

ARTICLE

Yousef Ibrahim Daradkeh1,*, Volodymyr Gorokhovatskyi2, Iryna Tvoroshenko2, Medien Zeghid3,4

CMC-Computers, Materials & Continua, Vol.73, No.3, pp. 6069-6084, 2022, DOI:10.32604/cmc.2022.030254

Abstract The problem of image recognition in the computer vision systems is being studied. The results of the development of efficient classification methods, given the figure of processing speed, based on the analysis of the segment representation of the structural description in the form of a set of descriptors are provided. We propose three versions of the classifier according to the following principles: "object–etalon", "object descriptor–etalon" and "vector description of the object–etalon", which are not similar in level of integration of researched data analysis. The options for constructing clusters over the whole set of descriptions of the etalon database, separately for… More
OPEN ACCESS

ARTICLE

M. Hashim Dahri1, M. H. Jamaluddin2, M. Inam3, M. R. Kamarudin4, F. C. Seman4, A. Y. I. Ashyap4, Z. A. Shamsan5,*, K. Almuhanna5, F. Alorifi5

CMC-Computers, Materials & Continua, Vol.73, No.3, pp. 6085-6101, 2022, DOI:10.32604/cmc.2022.031532

Abstract A reflectarray antenna consisting of asymmetrical patch elements is proposed, which is capable of producing dual linear and dual circular polarized operation at 26 GHz frequency. The main purpose of this design is to support four different polarizations using the same patch element. The proposed reflectarray has a single layer configuration with a linearly polarized feed and circular ring slots in the ground plane. Asymmetric patch element is designed from a square patch element by tilting its one vertical side to some optimized inclination. A wide reflection phase range of 600° is obtained with the asymmetric patch element during unit cell… More
OPEN ACCESS

ARTICLE

An Adaptive Genetic Algorithm-Based Load Balancing-Aware Task Scheduling Technique for Cloud Computing
Mohit Agarwal1,*, Shikha Gupta2

CMC-Computers, Materials & Continua, Vol.73, No.3, pp. 6103-6119, 2022, DOI:10.32604/cmc.2022.030778

Abstract Task scheduling in highly elastic and dynamic processing environments such as cloud computing have become the most discussed problem among researchers. Task scheduling algorithms are responsible for the allocation of the tasks among the computing resources for their execution, and an inefficient task scheduling algorithm results in under-or over-utilization of the resources, which in turn leads to degradation of the services. Therefore, in the proposed work, load balancing is considered as an important criterion for task scheduling in a cloud computing environment as it can help in reducing the overhead in the critical decision-oriented process. In this paper, we propose… More
OPEN ACCESS

ARTICLE

Nabilah Abughazalah1, Majid Khan2,*, Noor Munir2, Ammar S. Alanazi3, Iqtadar Hussain4,5

CMC-Computers, Materials & Continua, Vol.73, No.3, pp. 6121-6138, 2022, DOI:10.32604/cmc.2022.031417

Abstract Nowadays most communications are done by utilizing digital transmission mechanisms. The security of this digital information transmitted through different communication systems is quite important. The secrecy of digital data is one of the burning topics of the digitally developed world. There exist many traditional algorithms in the literature to provide methods for robust communication. The most important and recent modern block cipher named the advanced encryption standard (AES) is one of the extensively utilized encryption schemes with binary based. AES is a succession of four fundamental steps: round key, sub-byte, shift row, and mix column. In this work, we will… More
OPEN ACCESS

ARTICLE

Yanyi Wu1, Xiaoyu Li2, Qinsheng Zhu1,*, Xiaolei Liu2, Hao Wu1, Shan Yang3

CMC-Computers, Materials & Continua, Vol.73, No.3, pp. 6139-6149, 2022, DOI:10.32604/cmc.2022.032086

Abstract As an essential part of artificial intelligence, many works focus on image processing which is the branch of computer vision. Nevertheless, image localization faces complex challenges in image processing with image data increases. At the same time, quantum computing has the unique advantages of improving computing power and reducing energy consumption. So, combining the advantage of quantum computing is necessary for studying the quantum image localization algorithms. At present, many quantum image localization algorithms have been proposed, and their efficiency is theoretically higher than the corresponding classical algorithms. But, in quantum computing experiments, quantum gates in quantum computing hardware need… More
OPEN ACCESS

ARTICLE

Latika Kakkar1, Deepali Gupta1, Sarvesh Tanwar2, Sapna Saxena3, Khalid Alsubhi4, Divya Anand5, Irene Delgado Noya6,7, Nitin Goyal1,*

CMC-Computers, Materials & Continua, Vol.73, No.3, pp. 6151-6168, 2022, DOI:10.32604/cmc.2022.023769

Abstract To provide faster access to the treatment of patients, healthcare system can be integrated with Internet of Things to provide prior and timely health services to the patient. There is a huge limitation in the sensing layer as the IoT devices here have low computational power, limited storage and less battery life. So, this huge amount of data needs to be stored on the cloud. The information and the data sensed by these devices is made accessible on the internet from where medical staff, doctors, relatives and family members can access this information. This helps in improving the treatment as… More
OPEN ACCESS

ARTICLE

Wahaj Abbas Awan1, Do Min Choi1, Niamat Hussain1, Issa Elfergani2,3, Seong Gyoon Park4, Nam Kim1,*

CMC-Computers, Materials & Continua, Vol.73, No.3, pp. 6169-6180, 2022, DOI:10.32604/cmc.2022.026343

Abstract This paper presents the design of wideband and high gain Frequency Selective Surface (FSS) loaded antenna for ultra-wideband (UWB) wireless applications requiring high-gain. The antenna consists of a monopole and an FSS reflector. Initially, a conventional rectangular monopole antenna is modified using slot and stub to achieve wide operational bandwidth and size reduction. This modified antenna shows 50% miniaturization compared to a primary rectangular monopole, having a wide impedance bandwidth of 3.6–11.8 GHz. Afterward, an FSS is constructed by the combination of circular and square ring structures. The FSS array consisting of 8 × 8-unit cells are integrated with the antenna as… More
OPEN ACCESS

ARTICLE

Xukun Zhang1, Wei Song1,2,3,*, Ganghua Lin2,4, Yuxi Shi5

CMC-Computers, Materials & Continua, Vol.73, No.3, pp. 6181-6193, 2022, DOI:10.32604/cmc.2022.027215

Abstract In ground-based observations of the Sun, solar images are often affected by appearance of thin clouds, which contaminate the images and affect the scientific results from data analysis. In this paper, the improved Pixel to Pixel Network (Pix2Pix) network is used to convert polluted images to clear images to remove the cloud shadow in the solar images. By adding attention module to the model, the hidden layer of Pix2Pix model can infer the attention map of the input feature vector according to the input feature vector. And then, the attention map is multiplied by the input feature map to give… More
OPEN ACCESS

ARTICLE

Mu Ye1,2,3,4, Li Ji1, Luo Tianye1, Li Sihan5, Zhang Tong1, Feng Ruilong1, Hu Tianli1,2,3,4, Gong He1,2,3,4, Guo Ying1,2,3,4, Sun Yu1,2,3,4, Thobela Louis Tyasi6, Li Shijun7,8,*

CMC-Computers, Materials & Continua, Vol.73, No.3, pp. 6195-6205, 2022, DOI:10.32604/cmc.2022.026880

Abstract Remote sensing image analysis is a basic and practical research hotspot in remote sensing science. Remote sensing images contain abundant ground object information and it can be used in urban planning, agricultural monitoring, ecological services, geological exploration and other aspects. In this paper, we propose a lightweight model combining vgg-16 and u-net network. By combining two convolutional neural networks, we classify scenes of remote sensing images. While ensuring the accuracy of the model, try to reduce the memory of the model. According to the experimental results of this paper, we have improved the accuracy of the model to 98%. The… More
OPEN ACCESS

ARTICLE

Sumbal Khalil1, Sajida Kousar1, Nasreen Kausar2, Muhammad Imran3, Georgia Irina Oros4,*

CMC-Computers, Materials & Continua, Vol.73, No.3, pp. 6207-6224, 2022, DOI:10.32604/cmc.2022.030547

Abstract Bipolar Interval-valued neutrosophic set is another generalization of fuzzy set, neutrosophic set, bipolar fuzzy set and bipolar neutrosophic set and thus when applied to the optimization problem handles uncertain data more efficiently and flexibly. Current work is an effort to design a flexible optimization model in the backdrop of interval-valued bipolar neutrosophic sets. Bipolar interval-valued neutrosophic membership grades are picked so that they indicate the restriction of the plausible infringement of the inequalities given in the problem. To prove the adequacy and effectiveness of the method a unified system of sustainable medical healthcare supply chain model with an uncertain figure… More
OPEN ACCESS

ARTICLE

Biswaranjan Panda1, Nitin Kumar Tripathy1, Shibashankar Sahu1, Bikash K. Behera2, Walaa E. Elhady3,*

CMC-Computers, Materials & Continua, Vol.73, No.3, pp. 6225-6236, 2022, DOI:10.32604/cmc.2022.028394

Abstract In this paper, we propose a novel algorithm based on Zidan's quantum computing model for remotely controlling the direction of a quantum-controlled mobile robot equipped with n-movements. The proposed algorithm is based on the measurement of concurrence value for the different movements of the robot. Consider a faraway robot that moves in the deep space (e.g., moves toward a galaxy), and it is required to control the direction of this robot from a ground station by some person Alice. She sends an unknown qubit α |0⟩ + β |1⟩ via the teleportation protocol to the robot. Then, the proposed algorithm decodes the… More
OPEN ACCESS

ARTICLE

Amal H. Alharbi, Hanan A. Hosni Mahmoud*

CMC-Computers, Materials & Continua, Vol.73, No.3, pp. 6237-6252, 2022, DOI:10.32604/cmc.2022.030963

Abstract Hazardous incidences have significant influences on human life, and fire is one of the foremost causes of such hazard in most nations. Fire prediction and classification model from a set of fire images can decrease the risk of losing human lives and assets. Timely promotion of fire emergency can be of great aid. Therefore, construction of these prediction models is relevant and critical. This article proposes an operative fire prediction model that depends on a prediction unit embedded in the processor UDOO BOLT V8 hardware to predict fires in real time. A fire image database is improved to enhance the… More
OPEN ACCESS

ARTICLE

Nithya Rekha Sivakumar1,*, Sara Abdelwahab Ghorashi1, Faten Khalid Karim1, Eatedal Alabdulkreem1, Amal Al-Rasheed2

CMC-Computers, Materials & Continua, Vol.73, No.3, pp. 6253-6267, 2022, DOI:10.32604/cmc.2022.029266

Abstract Mobile clouds are the most common medium for aggregating, storing, and analyzing data from the medical Internet of Things (MIoT). It is employed to monitor a patient's essential health signs for earlier disease diagnosis and prediction. Among the various disease, skin cancer was the wide variety of cancer, as well as enhances the endurance rate. In recent years, many skin cancer classification systems using machine and deep learning models have been developed for classifying skin tumors, including malignant melanoma (MM) and other skin cancers. However, accurate cancer detection was not performed with minimum time consumption. In order to address these… More
OPEN ACCESS

ARTICLE

Martin Augustynek, Jan Kubicek*, Jaroslav Thomas, Marek Penhaker, Dominik Vilimek, Michal Strycek, Ondrej Sojka, Antonino Proto

CMC-Computers, Materials & Continua, Vol.73, No.3, pp. 6269-6287, 2022, DOI:10.32604/cmc.2022.028644

Abstract The usability assessment of a pacemaker is a complex task where the dedicated programmer for testing programmed algorithms is necessary. This paper provides the outcomes of development and complex testing of the artificial cardiac system to evaluate the pacemaker's functionality. In this work, we used the modular laboratory platform ELVIS II and created graphical user interface in LabVIEW programming environment. The electrical model of the heart allows signals generation (right atrium, right ventricle) and the monitoring of the stimulation pulses. The LabVIEW user interface allows to set the parameters of the generated signals and the simulation of the cardiac rhythm… More
OPEN ACCESS

ARTICLE

M. Premkumar1, R. Sowmya2, S. Sridhar3, C. Kumar4, Mohamed Abbas5,6, Malak S. Alqahtani7, Kottakkaran Sooppy Nisar8,*

CMC-Computers, Materials & Continua, Vol.73, No.3, pp. 6289-6306, 2022, DOI:10.32604/cmc.2022.030490

Abstract It is critical to have precise data about Lithium-ion batteries, such as the State-of-Charge (SoC), to maintain a safe and consistent functioning of battery packs in energy storage systems of electric vehicles. Numerous strategies for estimating battery SoC, such as by including the coulomb counting and Kalman filter, have been established. As a result of the differences in parameter values between each cell, when these methods are applied to high-capacity battery packs, it has difficulties sustaining the prediction accuracy of overall cells. As a result of aging, the variation in the parameters of each cell is higher as more time… More
OPEN ACCESS

ARTICLE

Wael Deabes1,2,*, Kheir Eddine Bouazza1,3

CMC-Computers, Materials & Continua, Vol.73, No.3, pp. 6307-6326, 2022, DOI:10.32604/cmc.2022.030420

Abstract Great achievements have been made during the last decades in the field of Electrical Capacitance Tomography (ECT) image reconstruction. However, there is still a need to make these image reconstruction results faster and of better quality. Recently, Deep Learning (DL) is flourishing and is adopted in many fields. The DL is very good at dealing with complex nonlinear functions and it is built using several series of Artificial Neural Networks (ANNs). An ECT image reconstruction model using DNN is proposed in this paper. The proposed model mainly uses Residual Autoencoder called (ECT_ResAE). A large-scale dataset of 320 k instances have… More
OPEN ACCESS

ARTICLE

K. Santosh Jhansi1,2,*, P. Ravi Kiran Varma2, Sujata Chakravarty3

CMC-Computers, Materials & Continua, Vol.73, No.3, pp. 6327-6345, 2022, DOI:10.32604/cmc.2022.030878

Abstract Malware Security Intelligence constitutes the analysis of applications and their associated metadata for possible security threats. Application Programming Interfaces (API) calls contain valuable information that can help with malware identification. The malware analysis with reduced feature space helps for the efficient identification of malware. The goal of this research is to find the most informative features of API calls to improve the android malware detection accuracy. Three swarm optimization methods, viz., Ant Lion Optimization (ALO), Cuckoo Search Optimization (CSO), and Firefly Optimization (FO) are applied to API calls using auto-encoders for identification of most influential features. The nature-inspired wrapper-based algorithms… More
OPEN ACCESS

ARTICLE

Shahid Zaman1, Ali N. A. Koam2, Ali Al Khabyah2, Ali Ahmad3,*

CMC-Computers, Materials & Continua, Vol.73, No.3, pp. 6347-6365, 2022, DOI:10.32604/cmc.2022.031958

Abstract Spanning tree () has an enormous application in computer science and chemistry to determine the geometric and dynamics analysis of compact polymers. In the field of medicines, it is helpful to recognize the epidemiology of hepatitis C virus (HCV) infection. On the other hand, Kemeny's constant () is a beneficial quantifier characterizing the universal average activities of a Markov chain. This network invariant infers the expressions of the expected number of time-steps required to trace a randomly selected terminus state since a fixed beginning state . Levene and Loizou determined that the Kemeny's constant can also be obtained through eigenvalues.… More
OPEN ACCESS

ARTICLE

Farhan Amin, Gyu Sang Choi*

CMC-Computers, Materials & Continua, Vol.73, No.3, pp. 6367-6391, 2022, DOI:10.32604/cmc.2022.029927

Abstract The Internet of Things (IoT) has the potential to be applied to social networks due to innovative characteristics and sophisticated solutions that challenge traditional uses. Social network analysis (SNA) is a good example that has recently gained a lot of scientific attention. It has its roots in social and economic research, as well as the evaluation of network science, such as graph theory. Scientists in this area have subverted predefined theories, offering revolutionary ones regarding interconnected networks, and they have highlighted the mystery of six degrees of separation with confirmation of the small-world phenomenon. The motivation of this study is… More
OPEN ACCESS

ARTICLE

Salem Alkhalaf*, Fahad Alturise

CMC-Computers, Materials & Continua, Vol.73, No.3, pp. 6393-6405, 2022, DOI:10.32604/cmc.2022.031698

Abstract Software-defined network (SDN) is a new form of network architecture that has programmability, ease of use, centralized control, and protocol independence. It has received high attention since its birth. With SDN network architecture, network management becomes more efficient, and programmable interfaces make network operations more flexible and can meet the different needs of various users. The mainstream communication protocol of SDN is OpenFlow, which contains a Match Field in the flow table structure of the protocol, which matches the content of the packet header of the data received by the switch, and completes the corresponding actions according to the matching… More
OPEN ACCESS

ARTICLE

Xiliang Zhang1, Jin Liu1,*, Yue Li1, Zhongdai Wu2,3, Y. Ken Wang4

CMC-Computers, Materials & Continua, Vol.73, No.3, pp. 6407-6424, 2022, DOI:10.32604/cmc.2022.027097

Abstract Performance of Video Question and Answer (VQA) systems relies on capturing key information of both visual images and natural language in the context to generate relevant questions' answers. However, traditional linear combinations of multimodal features focus only on shallow feature interactions, fall far short of the need of deep feature fusion. Attention mechanisms were used to perform deep fusion, but most of them can only process weight assignment of single-modal information, leading to attention imbalance for different modalities. To address above problems, we propose a novel VQA model based on Triple Multimodal feature Cyclic Fusion (TMCF) and Self-Adaptive Multimodal Balancing… More
OPEN ACCESS

ARTICLE

Hunger Search Optimization with Hybrid Deep Learning Enabled Phishing Detection and Classification Model
Hadil Shaiba1, Jaber S. Alzahrani2, Majdy M. Eltahir3, Radwa Marzouk4, Heba Mohsen5, Manar Ahmed Hamza6,*

CMC-Computers, Materials & Continua, Vol.73, No.3, pp. 6425-6441, 2022, DOI:10.32604/cmc.2022.031625

Abstract Phishing is one of the simplest ways in cybercrime to hack the reliable data of users such as passwords, account identifiers, bank details, etc. In general, these kinds of cyberattacks are made at users through phone calls, emails, or instant messages. The anti-phishing techniques, currently under use, are mainly based on source code features that need to scrape the webpage content. In third party services, these techniques check the classification procedure of phishing Uniform Resource Locators (URLs). Even though Machine Learning (ML) techniques have been lately utilized in the identification of phishing, they still need to undergo feature engineering since… More
OPEN ACCESS

ARTICLE

Areej A. Malibari1, Jaber S. Alzahrani2, Marwa Obayya3, Noha Negm4,5, Mohammed Abdullah Al-Hagery6, Ahmed S. Salama7, Anwer Mustafa Hilal8,*

CMC-Computers, Materials & Continua, Vol.73, No.3, pp. 6443-6459, 2022, DOI:10.32604/cmc.2022.031324

Abstract Osteosarcoma is a type of malignant bone tumor that is reported across the globe. Recent advancements in Machine Learning (ML) and Deep Learning (DL) models enable the detection and classification of malignancies in biomedical images. In this regard, the current study introduces a new Biomedical Osteosarcoma Image Classification using Elephant Herd Optimization and Deep Transfer Learning (BOIC-EHODTL) model. The presented BOIC-EHODTL model examines the biomedical images to diagnose distinct kinds of osteosarcoma. At the initial stage, Gabor Filter (GF) is applied as a pre-processing technique to get rid of the noise from images. In addition, Adam optimizer with MixNet model… More
OPEN ACCESS

ARTICLE

Siwar Ben Haj Hassine1, Saud S. Alotaibi2, Hadeel Alsolai3, Reem Alshahrani4, Lilia Kechiche5, Mrim M. Alnfiai6, Amira Sayed A. Aziz7, Manar Ahmed Hamza8,*

CMC-Computers, Materials & Continua, Vol.73, No.3, pp. 6461-6477, 2022, DOI:10.32604/cmc.2022.032353

Abstract Nowadays, vehicular ad hoc networks (VANET) turn out to be a core portion of intelligent transportation systems (ITSs), that mainly focus on achieving continual Internet connectivity amongst vehicles on the road. The VANET was utilized to enhance driving safety and build an ITS in modern cities. Driving safety is a main portion of VANET, the privacy and security of these messages should be protected. In this aspect, this article presents a blockchain with sunflower optimization enabled route planning scheme (BCSFO-RPS) for secure VANET. The presented BCSFO-RPS model focuses on the identification of routes in such a way that vehicular communication… More
OPEN ACCESS

ARTICLE

Saqib Iqbal1, Rehan Khan2, Hikmat Ullah Khan2,*, Fawaz Khaled Alarfaj4, Abdullah Mohammed Alomair3, Muzamil Ahmed2

CMC-Computers, Materials & Continua, Vol.73, No.3, pp. 6479-6493, 2022, DOI:10.32604/cmc.2022.030881

Abstract The exchange of information is an innate and natural process that assist in content dispersal. Social networking sites emerge to enrich their users by providing the facility for sharing information and social interaction. The extensive adoption of social networking sites also resulted in user content generation. There are diverse research areas explored by the researchers to investigate the influence of social media on users and confirmed that social media sites have a significant impact on markets, politics and social life. Facebook is extensively used platform to share information, thoughts and opinions through posts and comments. The identification of influential users… More
OPEN ACCESS

ARTICLE

Ibrahim El rube'*

CMC-Computers, Materials & Continua, Vol.73, No.3, pp. 6495-6511, 2022, DOI:10.32604/cmc.2022.031602

Abstract The repeatability rate is an important measure for evaluating and comparing the performance of keypoint detectors. Several repeatability rate measurements were used in the literature to assess the effectiveness of keypoint detectors. While these repeatability rates are calculated for pairs of images, the general assumption is that the reference image is often known and unchanging compared to other images in the same dataset. So, these rates are asymmetrical as they require calculations in only one direction. In addition, the image domain in which these computations take place substantially affects their values. The presented scatter diagram plots illustrate how these directional… More
OPEN ACCESS

ARTICLE

Yinghua Zhang1,*, Rui Cao1, Lixin Tian1, Rong Dai2, Zhennan Cao2, Jim Feng3

CMC-Computers, Materials & Continua, Vol.73, No.3, pp. 6513-6534, 2022, DOI:10.32604/cmc.2022.029467

Abstract With the continuous maturity of the fifth generation (5G) communications, industrial Internet of Things (IIoT) technology has been widely applied in fields such as smart factories. In smart factories, 5G-based production line monitoring can improve production efficiency and reduce costs, but there are problems with limited monitoring coverage and insufficient wireless spectrum resources, which restricts the application of IIoT in the construction of smart factories. In response to these problems, we propose a hybrid spectrum access mechanism based on Non-Orthogonal Multiple Access (NOMA) cooperative relaying transmission to improve the monitoring coverage and spectrum efficiency. As there are a large number… More
OPEN ACCESS

ARTICLE

Ngo Quang Trung, Nguyen Van Thanh*

CMC-Computers, Materials & Continua, Vol.73, No.3, pp. 6535-6546, 2022, DOI:10.32604/cmc.2022.031815

Abstract Sustainable marketing, often known as green marketing, has grown in popularity over the last two decades. Government is currently putting pressure to encourage firms to become environmentally aware in multiple aspects like human and financial utilization, advertisement, and product movement. Different types of companies are including many environmental campaigns into their own products to take advantage of the problem. Although many scholars have addressed the relevance of green marketing as well as theory development, this study is unique in that it examines both techniques in a fuzzy context. The integrated Fuzzy Multicriteria Decision Making Model (MCDM) of the analytical hierarchy… More
OPEN ACCESS

ARTICLE

Anwer Mustafa Hilal1,2,*, Aisha Hassan Abdalla Hashim1, Sami Dhahbi3, Dalia H. Elkamchouchi4, Jaber S. Alzahrani5, Mrim M. Alnfiai6, Amira Sayed A. Aziz7, Abdelwahed Motwakel2

CMC-Computers, Materials & Continua, Vol.73, No.3, pp. 6547-6561, 2022, DOI:10.32604/cmc.2022.031660

Abstract Wireless Sensor Networks (WSN) interlink numerous Sensor Nodes (SN) to support Internet of Things (loT) services. But the data gathered from SNs can be divulged, tempered, and forged. Conventional WSN data processes manage the data in a centralized format at terminal gadgets. These devices are prone to attacks and the security of systems can get compromised. Blockchain is a distributed and decentralized technique that has the ability to handle security issues in WSN. The security issues include transactions that may be copied and spread across numerous nodes in a peer-peer network system. This breaches the mutual trust and allows data… More
OPEN ACCESS

ARTICLE

Manar Ahmed Hamza1,*, Hadeel Alsolai2, Jaber S. Alzahrani3, Mohammad Alamgeer4,5, Mohamed Mahmoud Sayed6, Abu Sarwar Zamani1, Ishfaq Yaseen1, Abdelwahed Motwakel1

CMC-Computers, Materials & Continua, Vol.73, No.3, pp. 6563-6577, 2022, DOI:10.32604/cmc.2022.031541

Abstract Intelligent Transportation System (ITS) is one of the revolutionary technologies in smart cities that helps in reducing traffic congestion and enhancing traffic quality. With the help of big data and communication technologies, ITS offers real-time investigation and highly-effective traffic management. Traffic Flow Prediction (TFP) is a vital element in smart city management and is used to forecast the upcoming traffic conditions on transportation network based on past data. Neural Network (NN) and Machine Learning (ML) models are widely utilized in resolving real-time issues since these methods are capable of dealing with adaptive data over a period of time. Deep Learning… More
OPEN ACCESS

ARTICLE

Hyperparameter Tuned Deep Learning Enabled Intrusion Detection on Internet of Everything Environment
Manar Ahmed Hamza1,2,*, Aisha Hassan Abdalla Hashim1, Heba G. Mohamed3, Saud S. Alotaibi4, Hany Mahgoub5,6, Amal S. Mehanna7, Abdelwahed Motwakel2

CMC-Computers, Materials & Continua, Vol.73, No.3, pp. 6579-6594, 2022, DOI:10.32604/cmc.2022.031303

Abstract Internet of Everything (IoE), the recent technological advancement, represents an interconnected network of people, processes, data, and things. In recent times, IoE gained significant attention among entrepreneurs, individuals, and communities owing to its realization of intense values from the connected entities. On the other hand, the massive increase in data generation from IoE applications enables the transmission of big data, from context-aware machines, into useful data. Security and privacy pose serious challenges in designing IoE environment which can be addressed by developing effective Intrusion Detection Systems (IDS). In this background, the current study develops Intelligent Multiverse Optimization with Deep Learning… More
OPEN ACCESS

ARTICLE

Nisha Mary1, Bilal Khan1, Abdullah A. Asiri2, Fazal Muhammad3,*, Salman Khan3, Samar Alqhtani4, Khlood M. Mehdar5, Hanan Talal Halwani4, Muhammad Irfan6, Khalaf A. Alshamrani2

CMC-Computers, Materials & Continua, Vol.73, No.3, pp. 6595-6616, 2022, DOI:10.32604/cmc.2022.032384

Abstract Heart disease prognosis (HDP) is a difficult undertaking that requires knowledge and expertise to predict early on. Heart failure is on the rise as a result of today's lifestyle. The healthcare business generates a vast volume of patient records, which are challenging to manage manually. When it comes to data mining and machine learning, having a huge volume of data is crucial for getting meaningful information. Several methods for predicting HD have been used by researchers over the last few decades, but the fundamental concern remains the uncertainty factor in the output data, as well as the need to decrease… More
OPEN ACCESS

ARTICLE

Intelligent Optimization-Based Clustering with Encryption Technique for Internet of Drones Environment
Dalia H. Elkamchouchi1, Jaber S. Alzahrani2, Hany Mahgoub3,4, Amal S. Mehanna5, Anwer Mustafa Hilal6,*, Abdelwahed Motwakel6, Abu Sarwar Zamani6, Ishfaq Yaseen6

CMC-Computers, Materials & Continua, Vol.73, No.3, pp. 6617-6634, 2022, DOI:10.32604/cmc.2022.031909

Abstract The recent technological developments have revolutionized the functioning of Wireless Sensor Network (WSN)-based industries with the development of Internet of Things (IoT). Internet of Drones (IoD) is a division under IoT and is utilized for communication amongst drones. While drones are naturally mobile, it undergoes frequent topological changes. Such alterations in the topology cause route election, stability, and scalability problems in IoD. Encryption is considered as an effective method to transmit the images in IoD environment. The current study introduces an Atom Search Optimization based Clustering with Encryption Technique for Secure Internet of Drones (ASOCE-SIoD) environment. The key objective of… More