Journal of Renewable Materials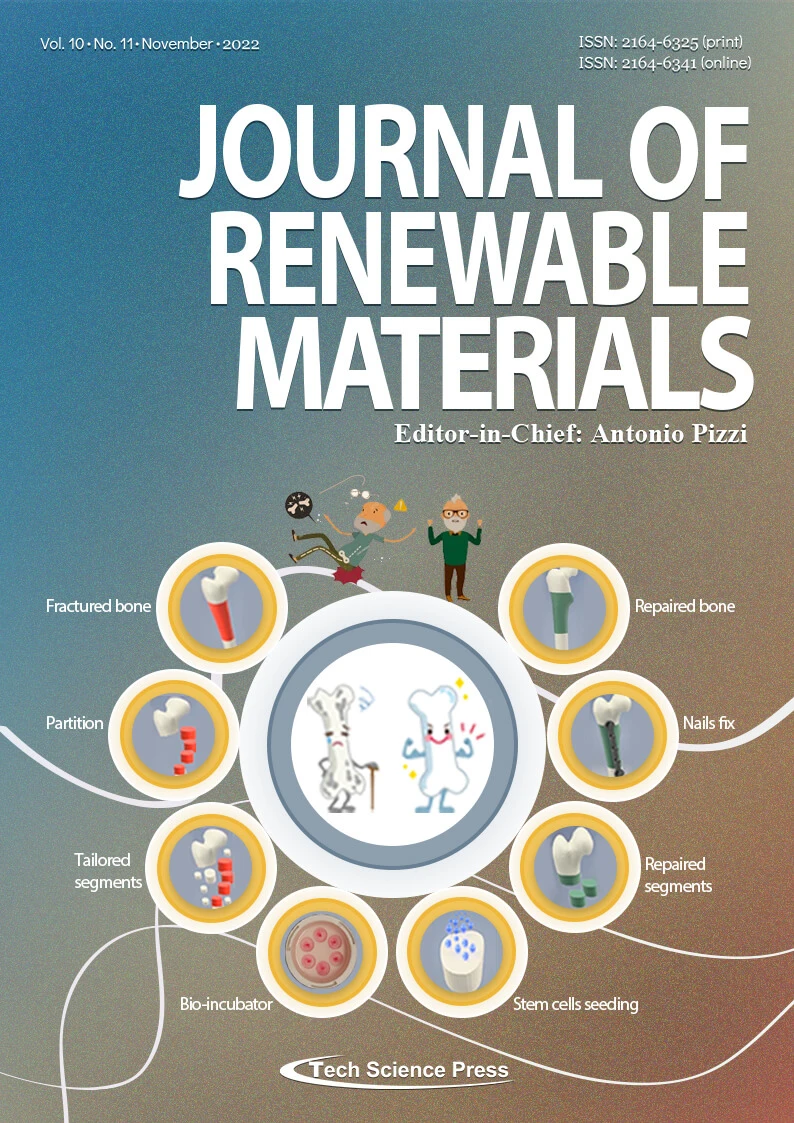 ISSN: 2164-6325 (print)

Impact Factor: 2.115

ISSN: 2164-6341 (online)

Publication Frequency: Monthly
About the Journal
Journal of Renewable Materials (JRM) is an interdisciplinary journal publishing original research covering all aspects of bio-based materials, sustainable materials, and green chemistry. The scope of the journal is devoted to reports of new and original experimental and theoretical research in the areas of materials, engineering, physics, bioscience, and chemistry, which are related to the critical renewable and recyclable applications.
Indexing and Abstracting
Science Citation Index-Expanded (Web of Science); 2021 Impact Factor 2.115; Current Contents: Physical, Chemical & Earth Sciences; Scopus Citescore (Impact per Publication 2021): 2.9; SNIP (Source Normalized Impact per Paper 2021): 0.504; JCR in the subject categories Materials Science, Composites (Q3) ; Polymer Science (Q3); and the new subject category Green & Sustainable Science & Technology (Q4); Scopus; Ingenta Connect; Chemical Abstracting Services; Polymer Library: Google Scholar; AGRICOLA; Meta; Baidu Xueshu (China); Portico, etc...
OPEN ACCESS

ARTICLE

Construction of Customized Bio Incubator and Designing of Tailored Scaffolds for Bone Tissue Engineering from Laboratory Scale Up to Clinical Scale
Soliman Abdalla1,2,*, Shiref Kandil2

Journal of Renewable Materials, Vol.10, No.11, pp. 2699-2716, 2022, DOI:10.32604/jrm.2022.022334

(This article belongs to this Special Issue: Advancement of Biopolymers in Biomedical Materials)
Abstract In order to obtain larger, clinical-scale and practical-scale bone grafts, we have designed both tailored scaffolds and tailored bio incubator with optimal bio-production characteristics. Using DIC files to Simpleware Scan-IP (Simple-ware-exeter United Kingdom), we have digitally reconstructed segmental additive bone-tissue in order to perform images processing. Both hydroxyapatite and tannin composites have been used in order to get the final bone modules combined for retexturing of segmental bone defect. We have found that sectioning of bone segment deficiency reorganizations into well disk-shaped design permits one to standardize the cell culture and seeding protocol, to get better products. The present study… More
OPEN ACCESS

ARTICLE

Environmental Protection and Energy Color Changing Clothing Design under the Background of Sustainable Development
Jingyu Dai1,*, Hongyu Dai2, Yutong Xie3, T. Indumathi4

Journal of Renewable Materials, Vol.10, No.11, pp. 2717-2728, 2022, DOI:10.32604/jrm.2022.019735

(This article belongs to this Special Issue: Advanced Renewable Energy Storage Materials and Their Composite: Preparation, Characterization and Applications)
Abstract In order to promote the application of clean energy technology in clothing and promote the integration of industrial development and artificial intelligence wearable technology, this study elaborates the energy application characteristics of intelligent wearable products at home and abroad and its application in different fields, aiming at the current research status of wearable technology in the field of textile and clothing. The wearable distributed generation technology is classified, and a creative clothing design for detecting climate temperature is designed. Based on the monitoring of body temperature, the changes in clothing pattern color can reflect people's health and emotional status. At… More
OPEN ACCESS

ARTICLE

Yiming Zhao1,2, Hongsheng Zhao3, Zhili Wei4, Jie Yuan1, Jie Jian1, Fankai Kong1, Haojiang Xie1, Xingliang Xiong1,2,*

Journal of Renewable Materials, Vol.10, No.11, pp. 2729-2746, 2022, DOI:10.32604/jrm.2022.019721

(This article belongs to this Special Issue: Biomass-Derived Functional Hydrogels)
Abstract The flexible wearable sensors with excellent stretchability, high sensitivity and good biocompatibility are signifi- cantly required for continuously physical condition tracking in health management and rehabilitation monitoring. Herein, we present a high-performance wearable sensor. The sensor is prepared with nanocomposite hydrogel by using silk fibroin (SF), polyacrylamide (PAM), polydopamine (PDA) and graphene oxide (GO). It can be used to monitor body motions (including large-scale and small-scale motions) as well as human electrophysiological (ECG) signals with high sensitivity, wide sensing range, and fast response time. Therefore, the proposed sensor is promising in the fields of rehabilitation, motion monitoring and disease diagnosis. More
OPEN ACCESS

ARTICLE

Xuechuan Wang1,2, Wenying Zhao1,2, Xugang Dang1,2,*, Yiqing Wang1,2, Huijie Zhang1,2,*

Journal of Renewable Materials, Vol.10, No.11, pp. 2747-2763, 2022, DOI:10.32604/jrm.2022.021555

Abstract As a non-toxic, highly reactive biomass material, gelatin is wildly used as the component of biomass-based adhesive. However, like most aqueous adhesives, gelatin-based adhesives suffer from long solidifying time or high solidifying temperature due to the low volatility of water, which highly limits the application potential of gelatinbased adhesives. Inspired by the fast adhesion of marine organisms through the formation of chemical crosslinks, herein, a kind of low temperature curable eco-friendly gelatin-based adhesive with good adhesive properties and fast curing at low temperature is developed by introducing clicking chemical Diels-Alder (DA) reaction between blocked waterborne polyurethane (MWPU) and gelatin. The… More

Graphical Abstract
OPEN ACCESS

ARTICLE

Thi Thanh Hien Nguyen1,*, Nho Quyet Tran2, Thi Minh Nguyet Nguyen1, Hien Mai Trinh1, Xuan Phuong Le1, Trong Kien Nguyen1

Journal of Renewable Materials, Vol.10, No.11, pp. 2765-2780, 2022, DOI:10.32604/jrm.2022.019634

Abstract This study aimed to evaluate the effect of natural weathering on some surface characteristics and mechanical properties of Styrax wood treated with mixtures of 1.0%, 2.0%, or 4.0% rosin sizing agent and 3% copper sulfate. Wood samples after treatment were exposed to outdoor conditions for one year and changes in color, glossiness, weight loss, compression strength parallel to grain (CSPG), modulus of rupture (MOR), and modulus of elasticity (MOE) were investigated after 6 and 12-month of natural weathering. The results showed that rosin-copper treatment could improve color stability and gloss of samples after weathering. Mass losses of all rosin-copper treated… More

Graphical Abstract
OPEN ACCESS

ARTICLE

Effect of Active Zeolite in the Pyrolysis of Polypropylene and Low Density Polyethylene Types of Plastic Waste
Aman Santoso1,*, Amirotus Sholikhah1, Sumari Sumari1, Muhammad Roy Asrori1, Anugrah Ricky Wijaya1, Rini Retnosari1,2, Ihsan Budi Rachman1,3

Journal of Renewable Materials, Vol.10, No.11, pp. 2781-2789, 2022, DOI:10.32604/jrm.2022.021401

Abstract Plastic is a basic need for humans, but it has also caused big problems for the environment. Then, the purpose of this study was to determine the effect of the type of plastic and the addition of a zeolite catalyst on the oil yield from the pyrolysis of plastic waste. The research stages were natural zeolite activation, pyrolysis reactor settings, pyrolysis of plastic waste (PP and LDPE types), and characterization. The results showed that the used natural zeolite had a mordenite phase and activated natural zeolite had a higher Si/Al ratio than the inactivated one. The addition of a zeolite… More

Graphical Abstract
OPEN ACCESS

ARTICLE

Acoustics Performance Research and Analysis of Light Timber Construction Wall Elements Based on Helmholtz Metasurface
Si Chen1, Yuhao Zhou1, Sarah Mohrmann2, Haiyan Fu1, Yuying Zou1, Zheng Wang1,*

Journal of Renewable Materials, Vol.10, No.11, pp. 2791-2803, 2022, DOI:10.32604/jrm.2022.021531

(This article belongs to this Special Issue: Functionalization of Wood and Bamboo-Based Materials)
Abstract Based on the efficient sound absorption characteristics of Helmholtz resonance structures in the range of medium and low frequency acoustic waves, this paper investigates an effective solution for light timber construction walls with acoustic problems. This study takes the light timber construction wall structure as the research object. Based on the Helmholtz resonance principle, the structure design of the wall unit, impedance tube experiment and COMSOL MULTIPHYSICS simulation calculation were carried out to obtain the change rule of acoustic performance of the Helmholtz resonance wall unit structure. The research results show that the overall stability of sound insulation of the… More

Graphical Abstract
OPEN ACCESS

ARTICLE

Utilization of Bitter Orange Seed as a Novel Pectin Source: Compositional and Rheological Characterization
Diako Khodaei1, Mohammad Nejatian2,*, Hassan Ahmadi Gavlighi2, Farhad Garavand3,*, Ilaria Cacciotti4

Journal of Renewable Materials, Vol.10, No.11, pp. 2805-2817, 2022, DOI:10.32604/jrm.2022.021752

(This article belongs to this Special Issue: From Food By-Products to Value-Added Biomaterials)
Abstract The seeds from bitter orange, the by-product of juice making units, hold the potential to facilitate novel, easy yet high-quality pectin extraction. To test this hypothesis, orange seed pectin (OSP) was extracted by distilled water and its compositional parameters and rheological behavior were then evaluated. Results showed that galacturonic acid was the major component of OSP (∼425 mg/g) confirming the purity of the extracted pectin, followed by glucose and some minor neutral sugars. The Mw (weight-average molar mass), Rn (number average molar mass), and Rz (z-average molar mass) values for the OSP were 4511.8 kDa, 61 nm, and 61.1 nm,… More

Graphical Abstract
OPEN ACCESS

ARTICLE

Pulse Laser Deposition of HfO2 Nanoporous-Like Structure, Physical Properties for Device Fabrication
Shams B. Ali1, Sarmad Fawzi Hamza Alhasan1, Evan T. Salim2,*, Forat H. Alsultany3, Omar S. Dahham4,5

Journal of Renewable Materials, Vol.10, No.11, pp. 2819-2834, 2022, DOI:10.32604/jrm.2022.021609

Abstract The pulsed laser deposition (PLD) technology was used to effectively create conductive nano and micro hafnium oxide with great purity and transparency for (HfO2) nanofilms. In many optoelectronics devices and their applications, the presence of a high dielectric substance like a nano HfO2, between the metal contacts and the substrates was critical. We used the Pulsed Laser Deposition method to fabricate an Al/HfO2/p-Si Schottky barrier diode where the nanostructured HfO2 films as an intermediate layer and varied substrate temperatures. The optical result reveals a high degree of transparency (93%). The optical bandgap of deposited HfO2 films was observed to vary… More
OPEN ACCESS

ARTICLE

Multi-Layer and Multi-Objective Optimization Design of Supporting Structure of Large-Scale Spherical Solar Concentrator for the Space Solar Power Station
Yang Yang, Jun Hu, Lin Zhu*, Mengchen Pei

Journal of Renewable Materials, Vol.10, No.11, pp. 2835-2849, 2022, DOI:10.32604/jrm.2022.021840

(This article belongs to this Special Issue: Computational Tools for Renewable Materials)
Abstract Space solar power station is a novel renewable energy equipment in space to provide the earth with abundant and continuous power. The Orb-shaped Membrane Energy Gathering Array, one of the alternative construction schemes in China, is promising for collecting space sunlight with a large-scale spherical concentrator. Both the structural and optical performances such as root mean square deformation, natural frequency, system mass, and sunlight blocking rate have significant influences on the system property of the concentrator. Considering the comprehensive performance of structure and optic, this paper proposes a novel mesh grid based on normal polyhedron projection and spherical arc bisection… More

Graphical Abstract
OPEN ACCESS

ARTICLE

Bending, Compression and Bonding Performance of Cross-Laminated Timber (CLT) Made from Malaysian Fast-Growing Timbers
Norshariza Mohamad Bhkari1,2,*, Lum Wei Chen1, Anis Azmi2, Muhammad Shaiful Nordin2, Norman Wong Shew Yam3, Zakiah Ahmad2, Lee Seng Hua4

Journal of Renewable Materials, Vol.10, No.11, pp. 2851-2869, 2022, DOI:10.32604/jrm.2022.022326

(This article belongs to this Special Issue: Advances in Eco-friendly Wood-Based Composites: Design, Manufacturing, Properties and Applications)
Abstract This study investigated the bending, compression as well as the bonding performance of CLT panels made from fast-growing timber species, i.e., Laran (Neolamarckia cadamba) and Batai (Paraserianthes falcataria). The variables studied were timber species (Laran and Batai), layers of lamination (3-layer and 5-layer), loading direction in bending (in-plane and out-of-plane), loading direction in compression (x-, y-, and z-axis) and different treatment conditions for bonding performance test. The desired outputs of this study were bending and compression properties (strength and stiffness) as well as bonding performance (block shear strength, wood failure percentage and delamination value). The bending and compression test were… More
OPEN ACCESS

ARTICLE

Jiayu Zhang, Zhenyang Li, Xinli Zhang*

Journal of Renewable Materials, Vol.10, No.11, pp. 2871-2881, 2022, DOI:10.32604/jrm.2022.019373

(This article belongs to this Special Issue: Renewable Material from Agricultural Waste and By-Product and Its Applications)
Abstract Geopolymers are inorganic aluminosilicate materials, which have been a great research interest as a material for sustainable development. However, they possess relatively low toughness properties similar to brittle solids. The limitation may be altered by fiber reinforcement to improve their strength and toughness. This research describes the synthesis of bamboo shaving (BS) reinforced geopolymer composites and the characterization of their mechanical properties. The effect of BS content (0–2 wt. %) on the physical and mechanical properties and microstructure of metakaolin based geopolymer paste were investigated. The workability, setting time, bulk density, apparent porosity, thermal conductivity, compressive strength, flexural strength, scanning… More
OPEN ACCESS

ARTICLE

Effectively Inhibit Phase Separation to Improve Efficiency and Stability of All-Inorganic Planar CsPbIBr2 Perovskite Solar Cells
Miao He*, Miao Wu#, Duofa Wang, Tianjin Zhang*

Journal of Renewable Materials, Vol.10, No.11, pp. 2883-2894, 2022, DOI:10.32604/jrm.2022.020535

(This article belongs to this Special Issue: Perovskite Solar Cells)
Abstract The advancement in a power conversion efficiency (PCE) to reach 25%, the inorganic perovskites are being explored intensively as promising optoelectronic materials due to their excellent photovoltaic performance, i.e., thermal stability and efficiency. Lately, the inorganic cesium lead halide perovskite is studied to show enhanced light absorption, however, it suffers from the phase separate into I-rich and Br-rich phase which leads to poor film quality due to difference of electronegativity. Herein, we propose a unique solution of controlling the rate of solvent volatilization followed by gel method to inhibit phase separation effectively to obtain the homogenous and pinhole-free CsPbIBr2 films… More
OPEN ACCESS

ARTICLE

Effects of Porous Graphene on LiOH Based Composite Materials for Low Temperature Thermochemical Heat Storage
Lisheng Deng1,2, Hongyu Huang2,*, Zhaohong He2, Shijie Li2, Zhen Huang2, Mitsuhiro Kubota3, You Zhou4,*, Dezhen Chen1

Journal of Renewable Materials, Vol.10, No.11, pp. 2895-2906, 2022, DOI:10.32604/jrm.2022.019071

(This article belongs to this Special Issue: New Trends in Sustainable Materials for Energy Conversion, CO2 Capture and Pollution Control)
Abstract Thermochemical heat storage material inorganic hydrate LiOH is selected as a promising candidate material for storing low-temperature heat energy because of its high energy density (1440 kJ/kg) and mild reaction process. However, the low hydration rate of LiOH limits the performance of low temperature thermochemical heat storage system as well as the thermal conductivity. In this study, porous-graphene/LiOH composite thermochemical heat storage materials with strong water sorption property and higher thermal conductivity were synthesized by hydrothermal process. The experimental results show that the hydration rate of the composites was greatly improved. The heat storage density of the composite materials was… More
OPEN ACCESS

ARTICLE

Jianxin Cui1,#, Zehui Ju1,#, Lu Hong2, Biqing Shu1,3, Xiaoning Lu1,*

Journal of Renewable Materials, Vol.10, No.11, pp. 2907-2919, 2022, DOI:10.32604/jrm.2022.019270

(This article belongs to this Special Issue: Renewable Material from Agricultural Waste and By-Product and Its Applications)
Abstract In order to improve hydrophobic characteristics which will affect the service performance of fast-growing poplar due to growing bacteria in the humid environment. In this study, a simple method was proposed to treat poplar via the high voltage electric field (HVEF) with copper as the electrode plate. Scanning electron microscope (SEM), Fourier transforms infrared spectroscopy (FTIR), X-ray diffraction (XRD) and contact angle tester were adopted to evaluate the surface morphology, surface group of poplar, crystallinity and wettability under HVEF. It was found by SEM that a large number of copper particles were uniformly attached to the surface of poplar. In… More
OPEN ACCESS

ARTICLE

Preparation and Performance of Ternesite-Ye'Elimite Clinker Produced from Steel Slag at Lower Temperature
Zhengyang Li1, Wei Guo1,*, Yueyang Hu1, Xiao Wang1, Binbin Qian2, Cuifeng Jiang1

Journal of Renewable Materials, Vol.10, No.11, pp. 2921-2935, 2022, DOI:10.32604/jrm.2022.019258

Abstract Ternesite (4CaO·2SiO2·CaSO4)-Ye'elimite (3CaO·3Al2O3·CaSO4) (simplified as TY) cement clinker was successfully prepared from steel slag at 1200°C in this study. XRD, TG/DSC and SEM were used to analyze the mineral composition and hydration products of the TY clinker. The sintering process and hydration mechanism of the TY clinker were investigated. Results show that a large amount of ternesite and ye'elimite have been formed at 1200°C, while ternesite has not been decomposed. Clinker minerals include ternesite, ye'elimite, gypsum and a small amount of iron phase. Iron phase from steel slag can promote the formation of liquid phase with the presence of gypsum… More
OPEN ACCESS

ARTICLE

Ping Zhang, Siyu Gan, Lin Chen*, Hao Chen, Chunhui Jia, Yingke Fu, Ying Xiong*

Journal of Renewable Materials, Vol.10, No.11, pp. 2937-2947, 2022, DOI:10.32604/jrm.2022.019590

(This article belongs to this Special Issue: Bio-based Halogen-free Flame Retardant Polymeric Materials)
Abstract Nano filler synergistic intumescent flame retardant (IFR) system is an effective way to improve the flame retardant properties of polymer. In this study, the effects of montmorillonite (MMT) on the flame retardant properties of polylactic acid/layered double hydroxides (PLA/LDH) and PLA/IFR/LDH were investigated. The results show that both LDH and LDH/IFR can reduce the peak heat release rate (HRR) of PLA and prolong the combustion time of PLA; When a proportionate MMT is introduced into PLA/LDH and PLA/IFR/LDH systems, respectively, MMT will not only affect the degradation process of PLA composites during combustion, but also the PLA composites can form… More
OPEN ACCESS

ARTICLE

Yongjie Zheng1,2,3,*, Mingjian Xu1, Jingzhi Tian1, Meihong Yu1, Bin Tan4, Hong Zhao2,3,*, Yin Tang2,3

Journal of Renewable Materials, Vol.10, No.11, pp. 2949-2959, 2022, DOI:10.32604/jrm.2022.019702

(This article belongs to this Special Issue: Bio-based/Degradable Materials towards A Sustainable Future)
Abstract Fully bio-based and biodegradable starch/polylactic acid blends have received increasing attentions for their biodegradability and potential to offset the use of unsustainable fossil resources, specifically, their application in packaging. Herein, corn starch was first esterified with maleic anhydride and then compounded with polylactide (PLA) to prepare esterified corn starch/polylactic acid blends with starch content up to 35 wt%. The structures, morphologies, thermal and mechanical properties of starch or blends were investigated. The results showed that corn starch was successfully grafted with maleic anhydride, which showed increased crystallinity and particle size than native starch. Esterified corn starch/polylactic acid blends showed good… More
OPEN ACCESS

ARTICLE

Chaodong Liu, Yutong Yang, Boyu Cui, Weihong Wang*

Journal of Renewable Materials, Vol.10, No.11, pp. 2961-2972, 2022, DOI:10.32604/jrm.2022.019761

(This article belongs to this Special Issue: Natural Fibre Composites: Design, Materials Selection and Fabrication)
Abstract Microfibrillated cellulose (MFC) is often added to polylactic acid (PLA) matrixes as a reinforcing filler to obtain fully-biodegradable composites with improved mechanical properties. However, the incompatibility between MFC and the PLA matrix limits the mechanical performance of MFC-reinforced PLA composites. In this paper, DL-lactic acid-grafted-MFC (MFC-g-DL) was used to improve the compatibility with PLA. Reinforced composites were prepared by melt extrusion and hot-cold pressing. The tensile strength of the PLA/MFC-g-DL composite increased by 22.1% compared with that of PLA after adding 1% MFC-g-DL. Scanning electron microscopy (SEM), differential scanning calorimetry (DSC), and dynamic thermomechanical analysis (DMA) were used to explore… More

Graphical Abstract
OPEN ACCESS

ARTICLE

Damage and Deterioration Model of Basalt Fiber/Magnesium Oxychloride Composites Based on GM(1, 1)-Markov in the Salt Spray Corrosion Environment
Jianqiao Yu1,*, Hongxia Qiao1,2, Theogene Hakuzweyezu1, Feifei Zhu1

Journal of Renewable Materials, Vol.10, No.11, pp. 2973-2987, 2022, DOI:10.32604/jrm.2022.019620

(This article belongs to this Special Issue: Natural Fibre Composites: Design, Materials Selection and Fabrication)
Abstract This study was designed to solve the problem of magnesium hazards due to potash extraction in the salt lake region. Using basalt fiber (BF) as the reinforcement material and magnesium oxychloride cement (MOC) as the gelling material, a BF/MOC composite material was prepared. Firstly, the effect of BF addition content on the basic mechanical properties of the composites was investigated. Then, through the salt spray corrosion test, the durability damage deterioration evaluation analysis was carried out from both macroscopic and microscopic aspects using mass change, relative dynamic modulus of elasticity (RDME) change, SEM analysis and FT-IR analysis. Finally, a GM(1,… More
OPEN ACCESS

ARTICLE

Kai Zhang1,2, Qunshan Wei1,2,*, Shuai Jiang3, Zhemin Shen4, Yanxia Zhang1,2, Rui Tang1,2, Aiwu Yang1,2, Christopher W. K. Chow5

Journal of Renewable Materials, Vol.10, No.11, pp. 2989-3008, 2022, DOI:10.32604/jrm.2022.019821

(This article belongs to this Special Issue: Recycled Concrete Towards a Sustainable Society)
Abstract In this study, the dredged river sediment, soft texture and fine particles, is mixed with other materials and transformed into eco-friendly autoclaved aerated concrete (hereinafter referred to as AAC) blocks. The results indicated the bricks produced under the conditions of 30%–34% dredged river sediment, 24% cement, 10% quick lime, 30% fly ash, 2% gypsum and 0.09% aluminum powder with 0.5 water to material ratio, 2.2 MPa autoclave pressure and 6 h autoclave time, the average compressive strength of 4.5 MPa and average dry density of 716.56 kg/m³ were obtained, the two parameters (strength & density) both met the requirement of… More
OPEN ACCESS

ARTICLE

Bowen Liu1, Yunxia Zhou1, Hisham Essawy2, Shang Feng1, Xuehui Li1, Jingjing Liao1, Xiaojian Zhou1,3,*, Jun Zhang1,*, Sida Xie1

Journal of Renewable Materials, Vol.10, No.11, pp. 3009-3024, 2022, DOI:10.32604/jrm.2022.019848

(This article belongs to this Special Issue: Renewable Foam Materials and Composites)
Abstract This study presents easily prepared free formaldehyde bio-based foam based on a prepared thermosetting resin comprising tannin–lignin–furfuryl alcohol-glyoxal (TLFG) via mechanical stirring in presence of ether as a foaming agent. The foam was developed through a co-polycondensation reaction of glyoxal and furfuryl alcohol with condensed tannin and lignin, which is a forest-derived product. Investigation using scanning electron microscopy (SEM) showed more closed-cell structure without cracks and collapse in the TLFG foam, with a higher apparent density with respect to tannin–furanic–formaldehyde (TFF) foam. Differential scanning calorimetry (DSC), dynamic thermomechanical analysis (DTMA), and thermogravimetric analysis (TGA) investigations revealed that the curing process… More
OPEN ACCESS

ARTICLE

Study on the Structural Characteristics and Physical and Mechanical Properties of Phoebe bournei Thinning Wood
Jiabiao Wu, Jiayin Liang, Muyang Chen, Siqi Zheng, Jianying Xu*

Journal of Renewable Materials, Vol.10, No.11, pp. 3025-3039, 2022, DOI:10.32604/jrm.2022.019989

(This article belongs to this Special Issue: Renewable Material from Agricultural Waste and By-Product and Its Applications)
Abstract The artificial afforestation of precious Phoebe bournei has been carried out in China. During the cultivation process, thinning wood will be produced. The properties of thinning wood might vary greatly with matured wood and require evaluation for better utilization. The objective of the present study aims to determine the wood structure, fiber morphology, and physical and mechanical properties of the Phoebe bournei thinning wood to help us understand the wood properties and improve its utility value. Three 14-year-old Phoebe bournei were cut from Jindong Forestry Farm of Hunan Province, China. The wood structure and fiber morphology were observed and analyzed… More

Graphical Abstract
OPEN ACCESS

ARTICLE

Jiamao Li1,2,*, Tao Si1, Lin Li1, Chuangang Fan1,*, Zhaofang He3, Yuandi Qian3

Journal of Renewable Materials, Vol.10, No.11, pp. 3041-3058, 2022, DOI:10.32604/jrm.2022.020054

Abstract The purpose of this paper was using gold mine tailings and cemented materials with low alkalinity to fabricate baking-free bricks. The obtained baking-free brick samples were evaluated by unconfined compressive strength (UCS), water absorption percentage, freezing-thawing cycle, and drying-wetting cycle. The microstructures of the baking-free brick samples were analyzed using X-ray diffraction (XRD) and scanning electron microscope (SEM) techniques. The baking-free brick specimens cured for 28 days with the addition of 10% mixing water consumption and 1:6 cement/tailing ratio tended to obtain favorable comprehensive properties such as a high compressive strength of 15.15 MPa, a low water absorption percentage of… More

Graphical Abstract
OPEN ACCESS

ARTICLE

Study on the Durability of Recycled Powder Concrete against Sulfate Attack under Partial Immersion Condition
Hualei Bai1,2, Ying Li1,2,*, Dahu Dai1,2

Journal of Renewable Materials, Vol.10, No.11, pp. 3059-3078, 2022, DOI:10.32604/jrm.2022.020148

(This article belongs to this Special Issue: Recycled Concrete Towards a Sustainable Society)
Abstract In order to make full use of waste recycled fine powder (RFP) in concrete and achieve the goal of carbon neutrality in the concrete industry, the durability of sulfate resistance is an important aspect of evaluating the performance of recycled powder concrete (RPC). Therefore, the durability of RPC under partial sulfate immersion was studied to provide theoretical guidance for understanding the erosion mechanism of RPC. The compressive strength, mass loss, and microstructure change patterns of RPC under partial immersion of 5% Na2SO4 and MgSO4 solutions were analyzed by cubic compressive strength, mass loss rate, SEM-EDS, and XRD. The results showed… More
OPEN ACCESS

ARTICLE

Mingxin Li, Benzhi Hou, Yihua Zheng*

Journal of Renewable Materials, Vol.10, No.11, pp. 3079-3091, 2022, DOI:10.32604/jrm.2022.020167

(This article belongs to this Special Issue: New Trends in Sustainable Materials for Energy Conversion, CO2 Capture and Pollution Control)
Abstract This work proposes a novel heating and cooling system, with incorporated thermoelectric module, that can achieve energy balance using a self-water supply heat exchange subsystem. The thermoelectric effect is used to achieve controlled and adjustable heating of the circulating water. Simulations were conducted to study the thermal performance of the system while it simultaneously produces hot and cold water, with different working conditions for the hot-and cold-side water outlets. The results show that the water temperature at the hot side outlet increases from 32°C to 75°C when the power increases from 4.5 to 50 W. Additionally, the use of thermoelectric… More